I've seen a couple of articles recommend AWF and I wanted to provide my coverage view and position on this closed end fund. The purpose of this article is to highlight AllianceBernstein Global High Income Fund, an income closed end fund that could offer an investor's portfolio solid monthly income, a high yield, an efficient expense ratio, and diversification (against an equity heavy portfolio or a basket of equity heavy closed end funds). Highlighted on Morningstar's website, AWF seeks high current income and capital appreciation through investment in high yielding government and corporate fixed income securities.
Quote Snapshot
Market Cap: $1,314.5mil
Distribution Rate: 7.86%
Total Leverage Ratio: 10.03%
52 Week Range: $13.72 - 17.25
Premium/Discount: -0.39%
Current Market Price: $15.19
NAV: $15.28
Expense Ratio: 0.98%
Here is why you should add AWF to your portfolio if you are a yield hungry investor:
Distribution Composition (view chart below) - For the last five years this fund has paid out Fund Income (better than S/T or L/T capital gains for returning capital to investors), which is a financially healthy sign from a distribution perspective. Similar funds, specifically funds like the P

IMCO Global StocksPLUS&Income Fund

PGP and the

PIMCO High Income Fund

PHK, have returned capital to investors which is not always a good thing from a capital preservation perspective (note: I believe that ROC, returning capital, is not a good thing when it comes to high yielding leveraged CEFs. I believe that ROC has the impact of increasing the total leverage ratio and the expense ratio, if the fund is leveraged and executes a consistent strategy, overtime. I would rather see a fund decrease the leverage ratio (decrease risk in tandem too) and increase NAV than return capital as distributions).
Very Low Expense Ratio - When reviewing this CEF, I was actually very surprised to learn that the expense ratio was below 1%, considering that other funds with similar strategies have relatively higher expense ratios (specifically referring to PGP, which has a 2.64% Expense Ratio and similar asset allocation. Read my analysis on PGP here). The low expense ratio is definitely a pro for AWF and would make an investor's portfolio more efficient from an expense ratio perspective. However, if a CEF had a higher expense ratio, I wouldn't factor it out without considering all variables (yield, leverage, distribution track record, fund manager reputation, etc…).
Diversification (from equities) - Like many bond closed end funds, they offer solid diversification for equity heavy portfolios. The asset allocation AWF is made up of is 90.46% bonds, 7.94% other, and 1.57% cash, which would go very well with an Equities heavy portfolio (or other equity closed end funds).
Low Total Leverage - Another attractive AWF characteristic is the leverage ratio, which stands at about 10%. From my understanding, AWF may increase, or decrease, leverage based on their evolving strategy to seek out opportunities (read the Morningstar Silver Rating section below to understand the leverage ratio increase/decrease comment better). So, note that this could change drastically from quarter to quarter or year to year (but AWF is unlikely to swing above 30% total leverage).
Market Capitalization - There are only a few closed end funds that have a market capitalization that ranges over $1,000mil, including PHK and the

NFJ Dividend&Premium Strategy Fund

NFJ (which I have also written coverage articles for), and this is viewed as a strong point in the closed end fund industry (the bigger the fund, the more on the line for the investment manager to perform and deliver strong results in terms of reputation).
Morningstar Silver Rating (this is a secondary consideration in my honest opinion, not a primary one when conducting research on AWF) - "AllianceBernstein Global High Income AWF might be suitable for investors looking for high levels of income but also willing to take on a lot of risk. The fund has a go-anywhere strategy, which allows mangers to allocate assets across several different fixed-income sectors and take on varying degrees of leverage as they see fit. In all, the fund has a good track record, relatively low fees, and a well-staffed management team. Our negative view on AllianceBernstein as a parent is the only major detractor, so the fund has a Morningstar Analyst Rating of Silver."
Here is why I haven't added AWF to my portfolio:
Distribution Yield/Rate (remember, I am a yield hungry investor) - Less than 8% per year is just not going to cut it when comparing AWF to similar funds. For a fund with almost no discount, this fund would need to compensate me for the 2% in lost yield I could gain when investing in PHK, PGP, or other high yield bond funds, in price appreciation to make it a definite buy for my portfolio.
Discount to NAV - From an investment opportunity perspective, the NAV isn't that attractive and if an investor is going to invest in a fund that yields around 8% per year, he/she would want at least a 10% discount on this fund with the hopes that the discount to NAV would close (this is what I mean by relativity when it comes to buy/sell decisions on CEFs. Read my article on determining buy/sell decisions relative to premiums/discounts when reviewing comparable funds with attractive yields).
Potentially Risky - Mentioned earlier, Morningstar stated that "The fund has a go-anywhere strategy, which allows mangers to allocate assets across several different fixed-income sectors and take on varying degrees of leverage as they see fit," which means that if my intention was to buy this fund for consistency/security/safety (because I already have a portfolio of highly leveraged CEFs), I may have made the wrong decisions when buying this fund (if my intention was to buy a low leverage/consistent strategy fund).
Competitors are More Appealing - The reality is my money goes a lot further with other closed end funds from a yield/risk basis. Since I know there is risk and potential strategy/leverage changes involved in AWF, I would rather just go with a fund that will compensate me more for the risk. Competitors like: EHI (Read my article on that EHI, which I currently hold in my portfolio) and PHK (which offers a whopping 12% distribution, but higher leverage, expense ratio, and a huge premium).
What other Closed End Funds would go great with AWF in a high yield Income Portfolio (when using AWF as one of the less yielding funds in the portfolio):
NFJ - From a fund diversification perspective, NFJ would be a great addition to a portfolio containing AWF. NFJ has zero leverage, a low expense ratio, and focuses on US Stocks (equity heavy), balancing out AWF nicely. These two funds should always be bought together, giving the investor fund manager diversity and more yield/expense ratio efficiency. The only thing to watch out for is the return of capital that NFJ pays out (monitor NFJ for the ROC ratio of distributions, which is currently higher than an investor would normally want).

Guggenheim Enhanced Equity Income Fund (

GPM) - If you are very bullish on the equity markets, pick up GPM, giving you significant exposure to Equities and several large ETFs that track multiple sectors (while enjoying a very generous yield).

AGIC Convertible&Income Fund II (

NCZ) - NCZ will offer some extra high yield (NCZ yields 11%+ per year) plus equity exposure, balancing out an investor's portfolio better overall.

AGIC Convertible&Income Fund (

NCV) - Currently expensive to add to any portfolio (compared to NCZ), but if the price drops to yield the same amount as NCZ, it would be nicely coupled with AWF as well.
Betalyst View: When it comes to High Yielding CEFs, AWF is not on top of my buy list. Mentioned earlier, the distribution rate is below the competition's and the way I see it, all CEFs have their own risks, and since we're going to take risk, let's be efficient about it and pick up more efficient (on a yield basis) closed end funds, like NFJ, NCZ, PHK, and PGP, that could generate greater returns (even on slightly greater risk). Additionally, 90.81% of AWF's bonds are BBB or lower (view chart below), which to me just says this fund could get risky if the fund takes on more leverage. It's a No from me on AWF.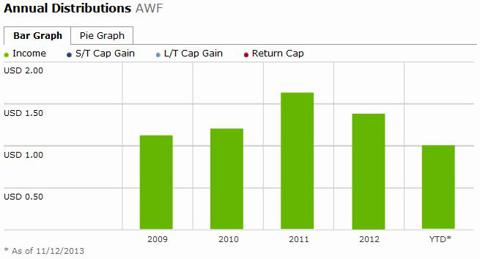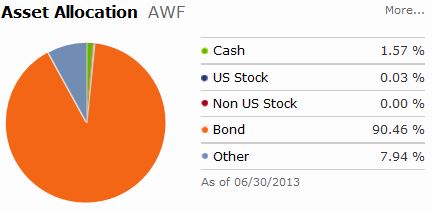 (Morningstar.com was the main and only source for this article.)
Disclosure: I am long PHK, NCV, NCZ, EHI, NFJ. I wrote this article myself, and it expresses my own opinions. I am not receiving compensation for it (other than from Seeking Alpha). I have no business relationship with any company whose stock is mentioned in this article.