Titan International Inc. (NYSE:TWI) continues to suffer from a build-up in tire inventory in the farm and construction industry and weak pricing. This Zacks Rank #5 (Strong Sell) is expected to see a 50% earnings decline in 2013 on tough market conditions.
Titan International supplies wheels, tires and assemblies for off-highway equipment used in agriculture and earthmoving/construction.
When agriculture and mining was booming, tire sales were too. In 2011, farmers took home record income and Titan's earnings jumped 253%.
But excess inventory that has been dropped into the aftermarket from the farm, construction and mining industries has impacted pricing.
Another Big Miss in Q3
On Oct 29, Titan reported third quarter results and missed for the fourth quarter in a row.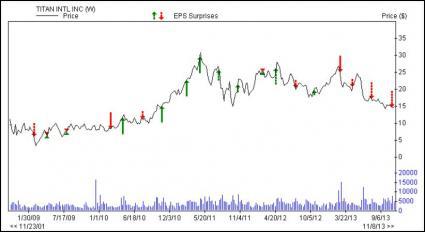 It was another big miss of 11 cents, or 44%. Earnings were $0.14 compared to the Zacks Consensus of $0.25.
Gross profit fell to 12.6% of net sales, or $62.5 million, from 16.6% of sales, or $67.2 million, in the third quarter of 2012.
Agriculture held steady, but earthmoving and construction declined again. Continuing decreases in raw material prices impacted margins.
Titan expects tire prices to drop through the end of the year. The mining companies are also expected to drop their tire inventory from 14 months to 6 months and then buy what they use going forward at lower prices.
On the bright side, Titan expects the smaller construction businesses to expand 20-25% in 2014 based on information from the OEMs.
Full Year Estimates Lowered Again
The analysts continue to see weakness in 2013 and are also unsettled about 2014.
Five estimates were lowered for 2013 since the report pushing the Zacks Consensus down to $0.93 from $1.28. That's an earnings decline of 50% as Titan made $1.93 in 2012.
Analysts expect a small rebound in 2014, but five estimates have also been cut in the last 30 days. The Zacks Consensus has fallen to $1.05.
Shares Near 52-Week Low
Shares have sunk to near 52-week lows over the prior five months as the news out of the company hasn't improved with each quarterly report.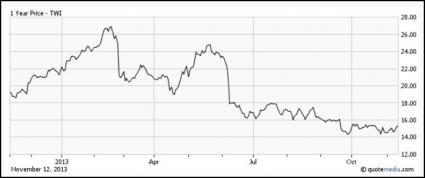 Still, it's not altogether "cheap" as it trades with a forward P/E of 16.3 which puts it in line with the average of the S&P 500.
Titan is expected to announce management goals for 2014 sales in the week of Dec 15. Stay tuned.
Right now, the farm machinery industry is a difficult place for investors. It currently ranks 248 out of 265 in the Zacks Industry Rank, or in the bottom 6.4%.
But if you must buy in this industry, AGCO Corporation (NYSE:AGCO) is a Zacks Rank #3 (Hold). It's not beholden to the tire market as it makes the machinery itself.
AGCO CORP (AGCO): Free Stock Analysis Report
TITAN INTL INC (TWI): Free Stock Analysis Report