As of this writing, AT&T (NYSE:T) is the third worst performer among the 30 Dow stocks year to date, in terms of share price increase. Only Caterpillar Inc (NYSE:CAT) and IBM (NYSE:IBM) lag behind AT&T. AT&T's rival Verizon (NYSE:VZ) is up 16% compared to AT&T's 4%. The company's recent earnings aren't too encouraging either as the table below shows, missing the estimates twice.

(Source: Finance.Yahoo.Com)
So, are things just gloomy for AT&T and its investors ? Aren't there any positives? This article presents a few reasons why AT&T might deserve a look in. Let us get into the details.
Valuation: AT&T is trading at a forward multiple of 13, with an expected EPS of $2.68 and a current share price of $35. Verizon in comparison trades at a forward multiple of 15. However, with both AT&T and Verizon, looking at earnings per share and PE alone might get tricky as explained in the "Free Cash Flow" section below.

(Source: Finance.Yahoo.Com)
Upcoming Dividend Increase: AT&T paid out its quarterly dividend of 45 cents per share to shareholders on November 1st, making it 4 consecutive quarters of 45 cents payouts. Given the company's 29 year old tradition of increasing dividends each year, one can certainly expect another increase very soon. However, the dividend growth rate has been painfully low over the past 5 years, increasing by 4 cents per year. It will be mighty surprising if the next increase is by more than one cent again. That said, even a dividend payment of $1.84 per year would give AT&T a yield of close to 5.3% based on the current share price of $35. Verizon yields 4.2% to put that into perspective.
Free Cash Flow: This section is divided into 4 different points as there are a lot of misconceptions when it comes to AT&T's ability to pay dividends.
a) According to both Yahoo and Google Finance, the trailing twelve month EPS is about $1.40, while the annual dividend per share is $1.80. This immediately raises a red flag and conveys an opinion that the company cannot sustain dividend payments. But with capital intensive companies like AT&T, free cash flow might be a better indicator.
b) The chart below shows AT&T's free cash flow over the past 5 years. The 5 year average is $4.18 billion, the lowest is $2.27 billion with the highest being $6.45 billion. Note these numbers as they are used again in the section below.

(Source: YCharts.Com)
c) Check out a recent comment from Chowder, one of SA's well-known dividend proponents, about AT&T's cash flow. The point to be considered is that capital expenses plus depreciation make the earnings per share appear lower than the company's actual earnings potential.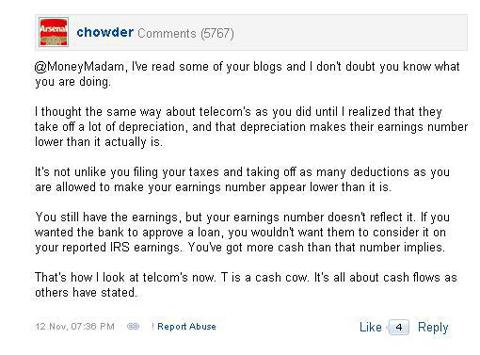 d) If push comes to shove, AT&T's management has shown they care about shareholders by increasing dividends for almost 30 years. As of now, AT&T has about 5.268 billion shares outstanding. Multiplying that by the quarterly dividend of 45 cents per share, we get a total of $2.3 billion that AT&T has to pay each quarter as dividends. As a reminder, AT&T's lowest free cash flow over the past 5 years stands at $2.37 billion. So the company has enough free cash flow to support and increase its dividends.
Technical Indicator: This is for the technical fans out there. With pretty much all the stocks at their 52 week highs or even all time highs, it is very rare to find a stock that is not overheated. AT&T's Relative Strength Index (RSI) shows the stock is not overbought and might soon enter oversold territory. A RSI value of 30 and below indicates oversold conditions and AT&T's is in the 40s. As a comparison, Verizon's RSI is well above 60 right now.

(Source: Nasdaq.Com)
Growth: This is mentioned as the last point because growth is the last thing that comes to mind when speaking of AT&T. But the company has shown interest in Vodafone (NASDAQ:VOD) recently as a means of expanding in Europe. Also, the wireless growth in the recent quarter surprised many. Not to forget the existing and potential partnerships with car makers as highlighted in this article by SA contributor Fusion Research. None of these strategies seem very convincing at the moment but it shows the company is not sitting idle as it has been accused of.
Conclusion: It is pretty easy to avoid or even hate AT&T for its recent underperformance or its lack of growth. But, as highlighted above, there are indeed some positives for its investors. While the company tries to figure out how to find the next big growth catalyst, investors are paid (increasingly) handsomely to wait. With a low beta of 0.4, it is hard to not recommend this stock for income investors seeking steady dividends, especially when the market seems ripe for a pullback.
Disclosure: I am long T. I wrote this article myself, and it expresses my own opinions. I am not receiving compensation for it (other than from Seeking Alpha). I have no business relationship with any company whose stock is mentioned in this article.