American Capital Agency (NASDAQ:AGNC) reported fairly disappointing Q3 2013 results back in October with a net loss of $1.80 per share (vs. a gain of $4.61 in the second quarter of 2013) and a net book value per share decline to $25.27 (a minus of 1% q-o-q). More importantly, AGNC's book value has declined 22% since last year which is the main reason why shares of this mREIT started to tank in May.
AGNC's book value decline is in good company with ARMOUR Residential (NYSE:ARR), one of the most punished mREITs in the sector, and Annaly (NYSE:NLY) which also reported a continued book value per share decline in the last quarter (ARMOUR's book value was down 3% q-o-q and Annaly's 2.5%).
What's more important to realize is that book value erosion has become a sector wide theme affecting both the larger-cap mREITs such Annaly and AGNC and smaller peers like ARMOUR Residential. Declines in book value, precipitated by higher interest rates (and volatility), have caused havoc in the mREIT space with share values tanking across the board.
After AGNC reported Q3 results shares went down 7% and eradicated nearly half of the yearly cash flow yield. AGNC has lost a staggering 29% just this year; a multiple of its current dividend yield of 15%.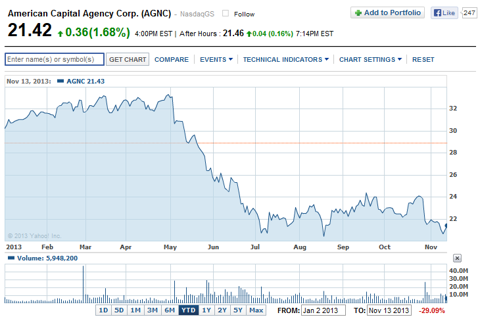 But AGNC isn't the only company posting massive shareholder value destruction. Other mREITs have posted equally depressing share performances. ARMOUR Residential remains the most punished mREIT in the sector with a five-year negative performance of 55.33%. Hatteras Financial (NYSE:HTS) has lost just about as much as AGNC with 22%. Especially over the last two years, when dividends started to contract, the performances have become worse. The share development for a variety of mREITs over a one-, two- and five year measurement period is depicted in the table below.

AGNC's historical dividends and projections
AGNC's dividend record is limited. Full yearly dividends were paid in 2009 the first time. AGNC has paid its highest yearly distributions ($5.60 per common share) in 2010 and 2011. Yearly distributions have been declining since then. I estimate that AGNC will hold its Q4 2013 dividend payment steady at the Q3 level of $0.80 per share. This would bring down AGNC's yearly dividend for 2013 to $3.90 per common share (a decline of more than 30% since 2010/2011).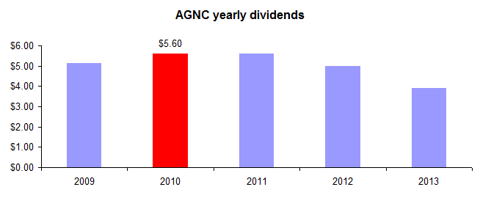 AGNC's quarterly dividend record appears to show accelerating declines in distributions. AGNC paid its highest quarterly distribution in Q2 2009 with $1.50 per share. In Q3 2013 the mREIT paid just $0.80 per share which represents a decline of 47%. AGNC's Q2 2013 dividend stood at $1.05 (a q-o-q cut of 16%) and its Q3 2013 dividend at $0.80 (a q-o-q cut of 24%). Accelerated dividend cuts indicate that AGNC, too, has entered a cyclical trend of distribution adjustments. My estimates for AGNC's 2014 quarterly dividends are depicted below: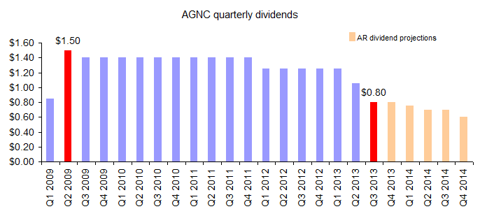 MREITs like AGNC are going to have to align their dividends with their profitability. Higher interest rates in the future will deeply impact highly-leveraged businesses like AGNC that make money on net interest spreads. After all, AGNC operates in a cyclical business and its dividends should reflect this characteristic.
Conclusion
MREITs have performed for multiple quarters but many companies lack a longer dividend track record, including AGNC. Annaly has one of the longest dividend records in the mREIT space and its dividend pattern shows that payouts are highly cyclical.
Investors purchasing mREITs need to understand that ongoing sector-wide declines in book value can quickly lead to sell-offs in the market as evidenced by AGNC's 7% drop after Q3 results. In such an event, a daily loss in share price could eradicate the entire yearly cash flow yield. Investors need to realize that they purchase a highly risky business which makes money through leverage and through a reliance on short-term funding; Both are unsustainable, long-term business practices.
A focus on dividends alone isn't sufficient. Dividend cuts and reduced dividend yields could lead to further sell-offs as mREITs as an asset class could become significantly less attractive. Falling share prices could be the consequence in order to realign risk with yield.
Given the consistently falling book values and bleak distribution outlook for AGNC and the sector, I would urge investors to tread very carefully in the mREIT space. This sector could further establish itself as a value trap once interest rates shoot up in the coming years.
Disclosure: I am short AGNC, NLY. I wrote this article myself, and it expresses my own opinions. I am not receiving compensation for it (other than from Seeking Alpha). I have no business relationship with any company whose stock is mentioned in this article.