Typically insider buying is considered a bullish indicator. It is often said that insiders sell shares for many reasons such as diversification, taxes, or divorce but insiders buy for only one reason: they believe the stock is going to go up. Furthermore, insider buying is often considered bullish because insiders "know more about the company." However, sometimes, insider purchases can also be used as a way to increase investor confidence or sentiment in a company. Of course, there is no way to know for sure what any insider's intension are.
Shares of Annaly Capital Management (NYSE:NLY) hit a new 52 week low this week following disappointing Q3 results. NLY insiders have used the recent decline in the stock price to purchase shares. While I believe it is a positive than NLY insiders are buying stock at current levels, I also believe investors need to curb their enthusiasm about recent insider buys.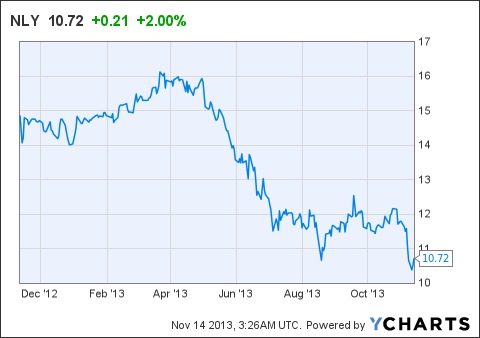 Recent Insider Buys
On November 8, NLY CEO Wellington Denahan-Norris purchased 93,000 shares at a price of $10.68 per share for a total of just under $1 million.
On November 11, NLY officer James Fortescue purchased 25,000 shares at a price of $10.36 for a total of $259,000.
On November 12, NLY officer Kevin Keyes purchased 100,000 shares at $10.43 per share for a total of just over $1 million.
Why I'm Skeptical
The primary reason why I am skeptical about NLY insider buys is the compensation that NLY executives have received in recent years. In 2010, Wellington Denahan-Norris, CIO & COO at the time, received compensation worth more than $23 million. In 2011, Denahan-Norris received more than $35 million in compensation. For 2012, Denahan Norris made more than $25 million. Of course, other executives at NLY have not made nearly as much as Ms. Denahan-Norris in recent years but compensation has still been quite high. Officers Kevin Keyes & James Fortescue each earned $7 million for 2012.
I am not saying that I believe the recent insider buys were unsubstantial in terms of size. However, when viewed in the context of how much these executives were paid for 2012 alone, the size of the insider buys is less of relevance and should be viewed, in my opinion, more skeptically.
In addition to being skeptical about the recent insider activity due to size relative to compensation, I also believe investors should curb their enthusiasm for recent insider buys because of NLY's insider trading history. A quick glance at insider activity in NLY reveals that insiders have not sold any stock over the past two years. Certainly, insiders have been wrong as NLY shares have fallen sharply over the past two years. The beavior of insiders suggest that they are always buyers and always view NLY as undervalued. While this is not necessarily a bad thing, NLY insiders have shown little acumen at timing their own stock.
Finally, I am skeptical about insider buying at a company like NLY because NLY is reliant on selling new shares to grow the business over time. Under any circumstance, this means that insider buying should be viewed more skeptically. Given that NLY is currently trading at a significant discount to book value, it is difficult for NLY to sell shares and raise capital to expand its business. NLY is heavily reliant on investor confidence to operate. Perhaps insiders do not really believe that shares are undervalued but rather are hoping to boost investor confidence.
Closing Thoughts
I am currently long NLY. I have been long and wrong about NLY for a while now and am currently taking a closer look at the company and I may soon publish a more comprehensive piece on NLY. To me, the bullish argument for NLY centers around two themes: Firstly, the likely reality that the Fed continues to keep short term rates lower for longer while, at the same time, decides to taper bond purchases leading to higher long-term rates. This is a thesis recently laid out by Goldman Sachs and one that should bode well for NLY. The second reason why I believe NLY is intersting at current levels is valuation. NLY is trading at the very lowest end of its historic valuation based on price/book value. If dynamics for NLY change, as they might if tapering begins while short terms rates remain low, NLY may have significant upside.
Let me be clear, I am not suggesting that recent insider buys are something to worry about. I do not believe NLY is a ponzi scheme. That being said, what I am suggesting is that investors should not get too excited about recent NLY insider buying. The amount of stock purchased is relatively small relative to compensation. Additionally, NLY insiders have not proved good market timers in the past so it is difficult to say this time is different.
There are reasons why NLY may be interesting at current levels but, to me, recent insider buys are not one of the reasons.
Disclosure: I am long NLY. I wrote this article myself, and it expresses my own opinions. I am not receiving compensation for it (other than from Seeking Alpha). I have no business relationship with any company whose stock is mentioned in this article.