SEC form 13F is a quarterly filing required of institutional investment managers ("whales") with over $100 million in qualifying assets. The filings are due 45 days from the end of the previous quarter and contain information regarding what the "whales" are buying and selling. Thursday, November 14th is the due date for all 13F filings for the quarter ending 9/30/2013 - but many have already filed.
Micron (NASDAQ:MU)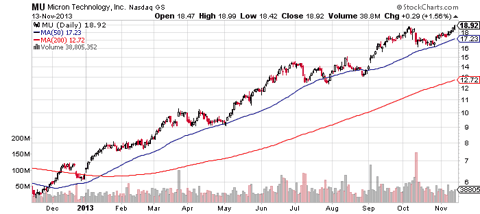 Click to enlarge
Micron shares have been on a tear in 2013 up 200% for the year. Micron completed an acquisition of chipmaker Elpida on very favorable terms, saw a fire at competitor SK Hynix (OTC:HXSCL), and has seen memory prices for DRAM and NAND increase significantly all of which are expected to crank up margins and earnings in 2014. According to Zack's in the last 90 days consensus EPS estimates for current year (2014) have risen from $1.64 to $2.15. The upward revised consensus EPS for 2014 could still be over $2 light according to a recent model put forward by Seeking Alpha Contributor Micron guru - Russ Fischer (who has called Micron from around $6).
Whale Action
Renown billionaire investor and author Seth Klarmen has taken his hedgefund's (Baupost Group, LLC) stake in Micron to nearly 32% of the entire portfolio for the quarter ending September 30th. Klarman initiated a 41M share position in Micron for the quarter ending 6/30/13 and as of the latest filing has raised his stake to 64M shares.
Keep an eye on Micron - they are presenting at six more investor conferences before the end of the year and interest in the stock is at an all time high. Even with the 200% increase in price in 2013 it is not too late to buy shares in Micron. It has plenty of room to run in 2014.
Disclosure: I am long MU. I wrote this article myself, and it expresses my own opinions. I am not receiving compensation for it (other than from Seeking Alpha). I have no business relationship with any company whose stock is mentioned in this article.
Additional disclosure: This article is informational and intended to spur thought and discussion. This article is NOT a substitute for your own extensive due diligence and does NOT qualify as investment advice. DO NOT BUY OR SELL STOCKS BASED ON THIS ARTICLE.