Big news hit yesterday with regards to Fannie Mae (OTCQB:FNMA) and Freddie Mac (OTCQB:FMCC). Bruce Berkowitz and other private investors now seek to purchase the insurance businesses from Fannie Mae and Freddie Mac where private investors would put up a whopping $52 billion to capitalize the companies ($34.6 billion in equity conversion plus $17.3 billion in rights issue). Berkowitz is spearheading a proposal that effectively would leave Fannie Mae's and Freddie Mac's legacy portfolio with taxpayers. This is not necessarily a bad thing given that the housing recovery has led to substantial consecutive quarterly profits for both GSE's.
I have to say, Berkowitz has done quite a job here. In addition to a summarized press release, he also issued a 33-page presentation outlining his rational, sent a letter to Mr. DeMarco (who is the acting director of the Federal Housing Finance Agency) and attached an 8-page term sheet discussing potential deal terms. You can see the entire document on the Fairholme Funds website (here).
News of Berkowitz's proposal rocketed the common shares of Fannie Mae yesterday, too. The shares are up 9% to $2.62. Freddie Mac shares increased 8% to $2.44.
We all know that Washington's dysfunction would probably prevent a clear-cut shutdown of Fannie Mae and Freddie Mac. Reasons for this are of political and of practical matter. Now, the proposal put forth by Bruce Berkowitz might offer an alternative to the existing institutional structure of the mortgage market by effectively liquidating Fannie and Freddie. The proposal in particular states the following motives in order to help resolve the Fannie and Freddie standoff (Source: Fairholme Funds proposal according to website document):
Brings approximately $52 billion of private capital to support credit risk on more than $1 trillion of new mortgages without market disruption;
Demonstrates reform is possible, even without a Federal guarantee, by having investors commit to bear risk now;
Allows for the liquidation of Fannie and Freddie, ending their Federal charters and special status, without losing the value of operating assets critical to the mortgage market;
Reduces systemic risk by separating new underwriting from the legacy investment books of Fannie and Freddie;
Preserves Government options for affordable housing initiatives and counter-cyclical liquidity - but using tools other than Fannie and Freddie; and
Ends the unsustainable Federal conservatorship.
Basic deal structure
The key passage of the proposal to recapitalize Fannie Mae and Freddie Mac can be seen below:
(Source: Fairholme Funds)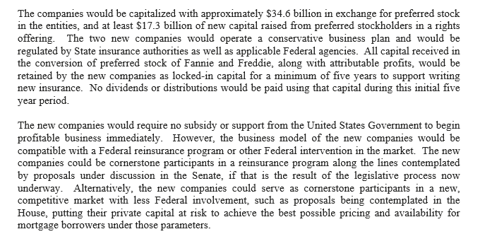 Click to enlarge
Political risk
Though I am a close follower of Berkowitz and hold quite a couple of his investments in my portfolio, I am doubtful whether Washington will be open minded to his suggestions with regard to reorganizing the mortgage guarantee business. The Treasury department already got used to receiving billions of dollars every quarter from the GSE's to help prop up government finances. It is likely that the Treasury department will take its chances in court and fight vigorously for the status quo.
Background
I have previously written about the asymmetric upside potential relating to an investment in Fannie Mae's common shares due to the judicial challenge of the Net Sweep Agreement that stipulates that all profits be swept over to the Treasury Department (the suit was prepared by preferred shareholders and relates to the preferred shares and not the common shares). However, a successful suit intending to overturn the Net Sweep would have likely had positive effects for the common shares as well.
A note of caution
I am a common shareholder in Fannie Mae and I intend to hold shares for the long term. I am convinced that there are no valid alternatives to Fannie Mae and Freddie Mac which have played crucial roles in supplying credit and liquidity to the mortgage market for decades. Berkowitz's proposal is likely to massively influence the price of the common and the preferred shares in the short-term. Fannie Mae, for instance, has closed at its intraday high of $2.62 indicating strong investor demand.
Conclusion
There are a couple of long-term catalysts for the common shares of Fannie Mae. Most notably the judicial challenge to the Net Sweep and the inaction of Washington in implementing comprehensive GSE- and housing reform. In the short term, Bruce Berkowitz's proposal may or may not gain traction.
In any case, traders are going to want to be a part of a quick return and I expect high short-term volatility in the next few days when public responses to the proposition make headlines or when the proposal gains traction in Washington. I expect shares to be highly volatile in today's session and volatility might even spill over to next week. As a long-term investor, I still believe the asymmetric pay-off potential for the common shares is outstanding; With or without Berkowitz's purchase- and recapitalization proposition.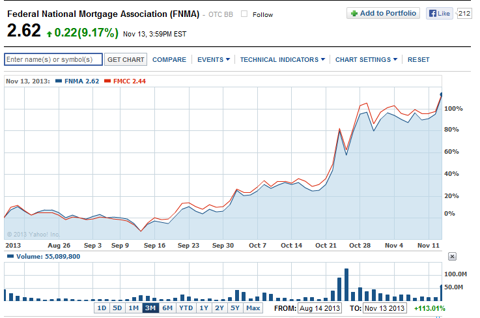 Click to enlarge
Disclosure: I am long OTCQB:FNMA. I wrote this article myself, and it expresses my own opinions. I am not receiving compensation for it (other than from Seeking Alpha). I have no business relationship with any company whose stock is mentioned in this article.