Cisco's Conference Call:
After hours, Cisco (NASDAQ:CSCO) reported guidance that was a little frightening. The company stated that their second quarter revenue could decline 8% to 10% Y/Y, also that EPS could be between $0.45 and $0.47 cents, well below the consensus call of $0.52. For the fiscal year 2014, Cisco is expecting EPS of $1.95 to $2.05 below the $2.10 consensus.
Putting this in perspective, at the low end of the 2014 forecast, the $21.54 PPS of Cisco would reflect a year end 2014 P/E of 11.04. That is very low for the company on a near and a long term basis, and the last time it got close was on June 20, 2009 when the company's P/E ratio hit 11.34.

Click to enlarge
Although this is only one indicator and should not be conclusive, it does mark Cisco's shares as either a value play needing more investigation, or a bad egg that investors are dumping on the news.
Quarterly EPS:

Click to enlargeCisco reported diluted EPS of $0.53 per share, and $12.1 billion in revenues after market hours on Wednesday. In the same period a year ago, Cisco reported earnings of $0.48 per share on $11.88 billion in revenue.
The above image is not fully updated, so I have annotated in the lines that would update the image with the newly available information. The convergence demonstrated by Cisco's revenue and earnings demonstrate an important concept; that revenue is decreasing and earnings per share is increasing. This is very early and it is unclear what the future holds simply from these metrics, although when we factor in Cisco's comments regarding the future quarter, we can extend the graph.
Prior Year's Quarter:
Cisco reported that they are projecting a 8%-10% decline Y/Y in revenue from $12.1 Billion in 1Q 2013 that would result in revenue of $10.89 billion in 2Q 2014.
7.1% decrease in EPS revision ($2.10 to $1.95)
A decrease of 23.729% from 2Q 2013's diluted EPS of $0.59 to $0.45 that is projected for 2Q 2014.
Cisco's plain revenue and earnings per share numbers are troubling to say the least. They represent a rather large decrease in net revenue, and diluted earnings per share - the top and the bottom line. Cisco did increase revenue from the previous quarter, but the concern is the downward revision for next quarter's revenue that would portray a decrease on both a Q/Q and Y/Y basis.
Orders:
Cisco reported some more troubling numbers with their orders that would correlate to the decrease in revenue and EPS moving forward. The company stated the following numbers with regard to orders.
Orders fell 4% in Q1, after growing 4% in FQ4
Within this number, service provider orders fell 13% and emerging markets fell 12%, with both China and India falling 18% each.
Although the statistics may signify a bumpy quarter, much of the after hours sell-off is likely attributed to the company's statement with regard to orders. Cisco states that they are not expecting any order improvement in FQ2. The company has blamed these events on carrier spending, declining set-top sales, core router product transitions and low edge router share loss.
The Above Losses:
One key here is that Cisco unveiled its NCS core router line that would not compete with EZchip's (EZCH) NPUs. Oppenheimer stated that Cisco's nPower X1 could cut EZchip's top line by 20%-25% if Cisco decided to use edge routers. EZchip rallied over 17% on news that Cisco's NCS core router line would not hurt EZchip's sales.
Moving from EZchip, Cisco's NCS core router line was meant to compete with Juniper's (NYSE:JNPR) PTX router line. Cisco's new NCS core routers tout some serious innovations, although as we can see from Cisco's sales either they are not selling well enough or have not kicked in to earnings yet. Although if the company is not expecting improvements for orders in 2Q 2014, that may signal the non-selling nature of the new NCS line - to the possible gain of Juniper.
BuyBack And Other Key Points
Cisco has authorized $15 billion more in stock buybacks, above the $82 billion already authorized for the plan. The total amount of repurchases that are allowable now stands at $16.1 billion. Cisco also sports a 2.9% dividend yield.
Cisco's repurchase plan and dividend are compelling, although there are other technology plays that can offer a better future than battling a downward trend. One such play is IBM as detailed in my article - IBM: Upside To The Tune Of $230 - UBS Analyst Has It Backwards. IBM has recently announced that it will add $15 billion to its buyback plan, in line with Cisco. Moreover, IBM has a 2.10% dividend while offering more growth prospects in the future. I am not short Cisco, although I would much rather buy IBM.
Cisco's SEC Filings: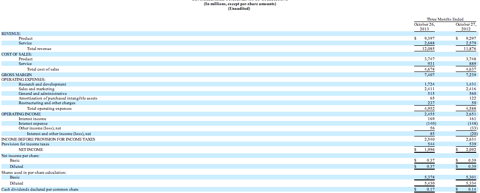 Click to enlarge
One of the key aspects of delving into a discussion of Cisco, is that the company's income statement is not burning up in flames, and neither is its balance sheet. On the above income statement, diluted and non-diluted EPS is cause for worry, likely responsible for part of the after hours sell off. Although the company did increase total revenue, as shown in the above income statement.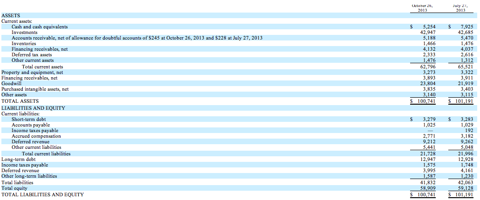 Click to enlarge
Cisco's balance sheet portrays some negatives, such as the decrease in cash and cash equivalents. On the other hand the company's total assets have remained constant. Moreover, Cisco's total liabilities and equity Q/Q has remained constant as well. Both of which are two positives on the company's balance sheet.

Click to enlarge
Cisco's cash flow statement is not a cause for major concern either. Net income has decreased as the company stated, although net cash provided by operating activities remained constant. On the other hand, net cash used in investing activities decreased and net cash used in financing activities increased.
Currently Cisco sports a P/E of 11.56 at the after hours price of $21.52 and a P/B around 1.9 at the after hours PPS. The company's P/E and P/B ratio are very low, and the company's financial statements do not project any significant cause of concerns.
T/A: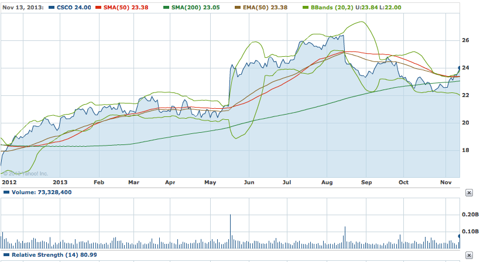 Click to enlarge
Cisco's RSI of 80.99 does not reflect the after hours slide of 10%, that likely put shares closer to a 50 RSI in retrospect. After counting in the AH sell off, Cisco is now below its 50 and 200 day moving averages of $23.38 and $23.05, respectively. These technicals may signal an oversold rating, and could profit from a bounce back. Although if you are bullish on Cisco, I would wait for a lower low tomorrow or in the near term driven by more sales based upon the company's quarterly results.
Conclusion:
These results may signify that the recent downturn may not be an opportunity to get shares cheaper, and is really the market pricing in these negative factors. On the other hand it can also provide an excellent buying opportunity for the long term investor. Cisco's value depends on your interpretation of the company's future - as technically and fundamentally the company is undervalued. Although on a forward looking basis with revenue, income and orders projections coupled with Y/Y decreases in earnings and revenues it could spell that Cisco's downturn is the start of a larger downtrend. Personally, I have no position in Cisco although I would rather put my tech money elsewhere, specifically IBM.
Disclosure: I have no positions in any stocks mentioned, and no plans to initiate any positions within the next 72 hours. I wrote this article myself, and it expresses my own opinions. I am not receiving compensation for it (other than from Seeking Alpha). I have no business relationship with any company whose stock is mentioned in this article.
Additional disclosure: Always do your own research and contact a financial professional before executing any trades. This article is meant to be informational in nature and is in my opinion.