Yesterday I spent a full day attending an Investor Conference in San Francisco and I was able to listen to key presentations by the management team at Digital Realty (NYSE:DLR). The purpose of this article is to provide a summary of the key "take-a-ways" and to provide insight into the valuation of the shares of the nation's largest data storage REIT.
First off, I want to recap the current size of Digital Realty as it relates to the overall data sector peer group. The market capitalization of the Data Sector REIT market has recently increased as QTS Realty (NYSE:QTS) listed (October 9th) on the NYSE. The IPO priced well below the expected range of $27 to $30 at just $21 per share. Jonathan Peterson, an analyst with MLC & Co. explained his thoughts on the lower pricing (source SNL Financial):
The data center REITs, over the past few months in particular, have been out of favor. I don't think that the institutional investors were particularly excited about getting another data center REIT, in general. And that's not specific to QTS. I just think, in general, it wasn't the best market for them to go into.
Petersen framed the expected range of $27 to $30 per share offered at the end of September as, perhaps, ambitious.
If they came out at the high end of that range, on an implied cap rate, I estimate that probably is inside, or at a premium, to where Digital Realty currently trades. So I'm not sure that was ever going to happen. And at the low end, it's inside where even trades.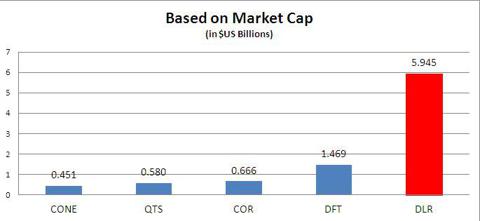 Petersen deemed CoreSite (NYSE:COR) a close peer, albeit one with some relative advantages, such as more exposure to infill markets and an established track record. The analyst pointed to another trend on the Street that likely contributed to the low pricing: the growing tendency for investors to value companies based on their current worth rather than their stated growth potential. The trend is notable in QTS Realty's case because the company has enough land and projects in place to more than double their revenue, according to Petersen.
All of the data center players will have to face supply growth going forward, a factor widely cited as a pressure point on fundamentals. It has been a tough year indeed for the data center set. The woes of the worst two performers year-to-date - Digital Realty and Equinix Inc. (NASDAQ:EQIX) - are, at least in part, company-specific.
Digital is still, however, the dominant player in the Data Sector REIT space controlling a 65% market capitalization; however, Equinix is pursuing a REIT listing and when that occurs there will be a larger playing field - almost doubling the value of shares in public Data Sector REITs.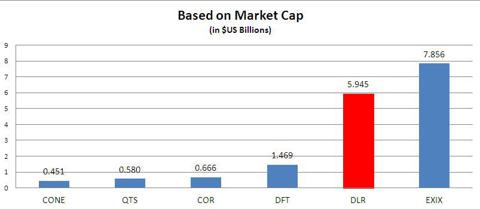 Supply & Demand
One of the key issues related to the Data Sector REITs today is supply and demand. Simply put, will there be growth (demand) in the Internet, cloud computing, and corporate outsourcing? The biggest pressure facing the data sector today is whether or not supply will outpace the demand growth. Before, investors were giving the Data REITs the benefit of the doubt and pricing in a lot of growth upfront; however, the more recent trend has been in less trust and more to verify.
At the conference yesterday, Mike Foust, CEO of Digital Realty addressed some of these concerns. As he illustrated in a chart (below), Data Center supply is generally in check across most major markets.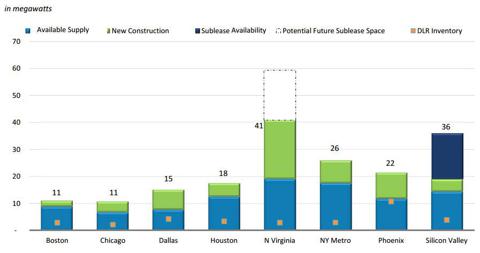 Foust also provided this chart (below) that illustrates the strong customer demand driving Digital Realty's development activity. Note: Northern Virginia, London, and Dallas led the growth in lease signings in 2013.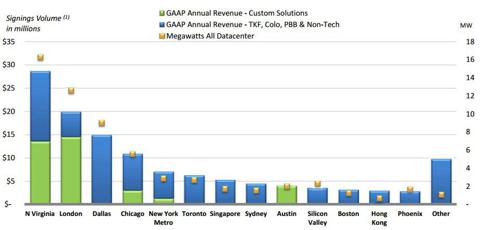 Also, as evidence of growth, Digital has already surpassed the lease activity that company generated in 2012 - up $15 million (since September 30, 2013).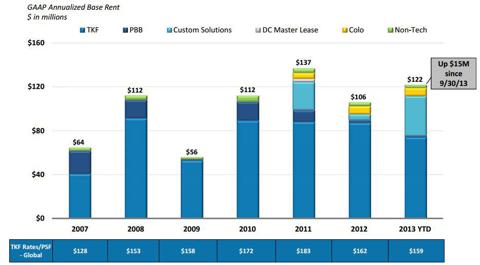 Another driver that Digital's CEO (Foust) discussed was the company's increased collocation strategy. As part of the growing business mode, Digital's earnings (or Funds from Operations) could see incremental growth of around $0.30 per share (in FFO) as a result of the recognized collocation revenue. Here is a snapshot that illustrates the potential of the increased demand (in collocation):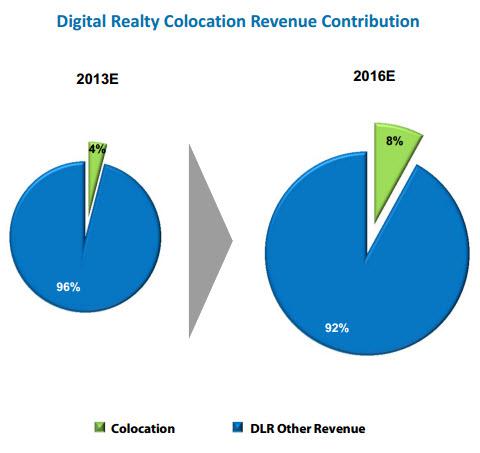 The projections are also self explanatory: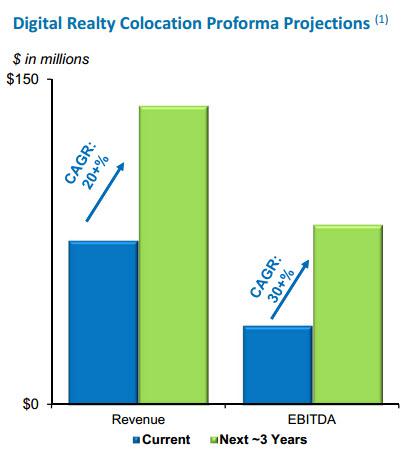 Seeking Alpha in Open-IX
One of the most interesting things that I heard yesterday was Digital Realty's "Ecosystem," or simply how the company connects its carrier network across all of its global markets. As the largest Data Sector REIT in the world, Digital's value proposition has been in its ability to scale connectivity and capture a substantial share of the collocation market.
The benefits to Digital are substantial, as the company connects a massive amount of information across all "hot" markets such as Boston, New York, New Jersey, Ashburn, Chicago, Dallas, Austin, San Francisco, and London. The result - and a competitive advantage of Digital - is the unmatched portfolio of interconnected Data Centers.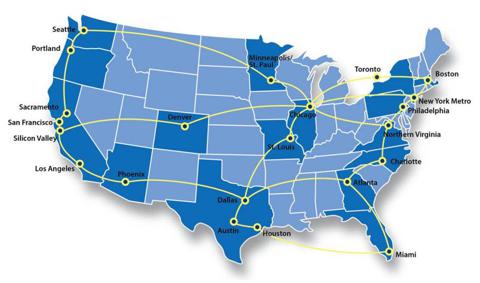 Digital has not only set up a relevant supply chain in the US but also a robust model in Europe (started in London) and the Asia Pacific. In 2014, Digital should have a seamless portfolio of "one stop shop" global connectivity.
One of the most fascinating things discussed yesterday was the Open-IX Exchange. As explained, this exchange concept is something like a self-regulatory body of owners and operators with Internet Exchanges. Interestingly speaking, there is no OPEN IX environment in the US, only owned and operated specific providers, so the peers cannot exchange data with one another.
So, now you know why there is better cell phone reception in the Paris than in the US. You see, the European's have figured it out. They have an OPEN exchange system so they have multiple exchanges in specific markets across multiple data centers - a more cost effective model and it drastically improves network reliability. Simply said, the European model eliminates traffic jams because "more highways means less constriction." Here's a snapshot that illustrates the multiple collocation sites (IXPs):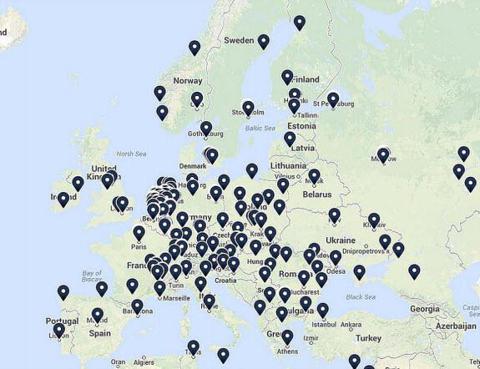 Recently, Digital Realty and existing North American open internet exchanges created an initiative to pave the way for OPEN IX. As the big players - Google (NASDAQ:GOOG), Amazon (NASDAQ:AMZN), Microsoft (NASDAQ:MSFT), and others demand the more efficient platform, Digital will become the new alternative and the company has already paved the way by entering new markets such as New York, Ashburn, San Francisco and The Silicon Valley. Other markets will follow.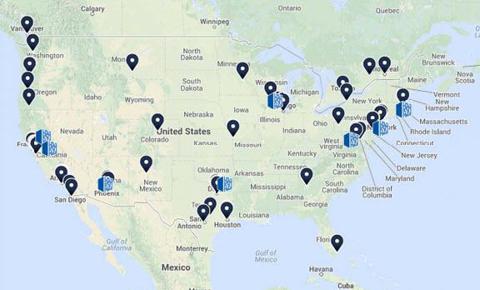 Having a more efficient network lease system is a key differentiator for Digital Realty and this new initiative should provide quantifiable "alpha" and more valuable portfolio.
A Deeper Dive in Accounting
As most know, one of the bigger issues with Digital's share price collapse has been two accounting issues that were disclosed just before earnings. The first issue had to do with an accounting adjustment that was made in Q2-13 whereby a capitalization policy modification resulted in over $3 million of additional capital expenditures (in the quarter). As Edward F. Sham, Senior VP and Controller explained yesterday:
The revision eliminated the risk of a potential deficiency in 2013 and better aligned our capitalization policy with GAAP accounting practices and peers. In December 2012, accounting firms were alerted that PCAOB expects more identified SOX-404 reportable deficiencies.
Sham pointed out that the adjustment was a "policy change" not a "correction to accounting." He went on to say that "this change was done to eliminate the risk of a deficiency in an audit." He went on to say that "we fumbled badly with communications and we take these issues seriously."
Sham also went on to explain the Q3-13 Straight-Line Rent Expense Adjustment - a $10 million non-cash straight line rent adjustment recorded and related to Digital Realty's leasehold interest at 111 8th Avenue in New York. In September 2010, an early extension and modification of this leasehold was executed, extending the maturity date from June 2014 to June 2024. Sham said that "the early extension had no cash impact; the cash rent remained unchanged for the duration of the original lease term. This adjustment represents a catch-up of non-cash straight-line rent that should have been recorded from 4Q10 at a run-rate of $830,000 per quarter."
Sham said that Digital "found this mistake during 2014 budgeting processes." He said that "to prevent these issues we have already put into plus supplemental procedures." He went on to say that "we are committed to deliver best in class accounting practices and transparency."
A Financial Overview
One of the most important speakers who I listened to yesterday was the financial overview presented by Digital's CFO, William "Bill" Stein. As I referenced in a previous article and as Stein emphasized at the conference, Digital is "committed to transparent reporting." Stein went on to say that the company brought on John Stewart (as VP of Investor Relations) and the company "will be more sensitive to accounting issues." Stein added:
The third quarter was a systems issue. We have had our external issues and what is not acceptable is our self-inflicted wounds.
Stein went on to explain the "pillars of organic growth" and as part of the pitch he said that over 85% of the company's leases contain 2.5% to 3% contractual annual rent bumps and he cited the strong support for the data giant's strong and predictable organic growth.

One another important chart that Digital has recently introduced is the "Backlog Waterfall" spreadsheet. As the chart below illustrates, roughly 45% of leases signed commenced within 180 days. This new chart provides more transparency as it relates to lease signings and when rents are recognized. As you can see, in Q1-13, Digital had a longer backlog of revenue and in the third quarter, the company has tightened up the commencements considerably.

Also, Stein provided details on Digital's guidance to approach $1 billion of Net Operating Income (or NOI) in 2015.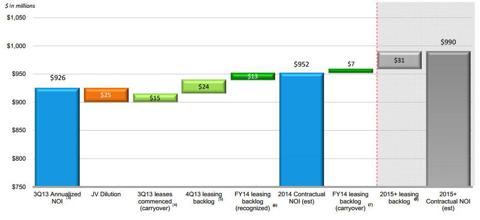 Historically Digital has been a large developer of build-to-suit projects. In fact, having the ability to source ground up customized deals has been a big differentiator for Digital's growth model. However, in Q4-11 and Q1-13 several larger projects contributed to the lag between signings and commencements. Due to the customization of the larger projects, these delays appeared to be isolated and the other projects produced more predictable commencements.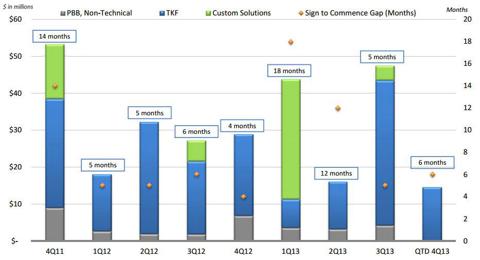 In order to better educate the investor market on Digital's development deals, the company has recently introduced a construction in progress exhibit (see below). This provides greater transparency of deal flow in an effort to educate investors on deal flow and the risk and reward elements associated with development projects. Here are the top 12 largest development projects:

The sources and uses chart (below) is also useful. As you can see, Digital expects it will have between $1.3 billion and $830 million in liquidity and the company stated that it "would need no common equity (raised) and it doesn't intend to (in 2014)."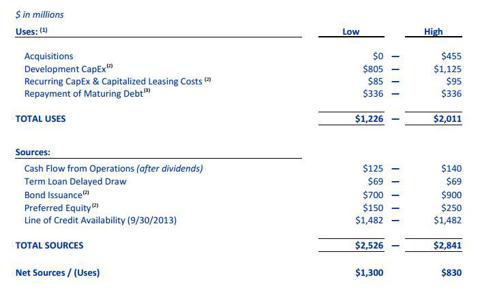 As Stein pointed out, Digital maintains a fortress balance sheet and he provided this chart illustrating Digital's Net Debt to Adjusted EBITDA as compared with other REITs with a BBB+ or higher credit rating: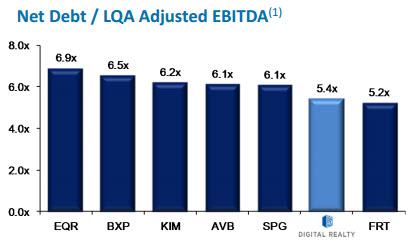 Digital also enjoys a very high interest coverage ratio of 4.6x.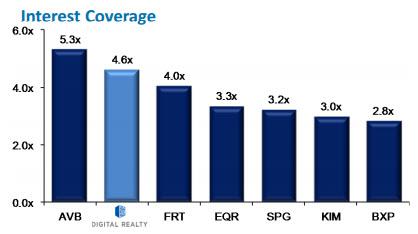 Fixed coverage is also stable at 3.5x.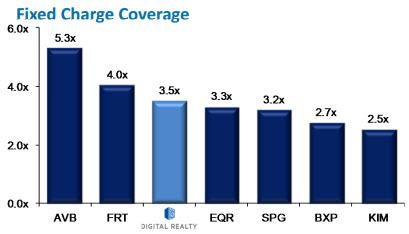 I'm Attracted to the Dividend Yield
One of the key attractions to Digital Realty today is the above average dividend yield. The company has a very attractive yield of 6.74%.

As an investor in Digital, it's comforting to hear the CFO say that Digital is "committed to providing shareholders with a secured and growing dividend." Stein also said that Digital "is committed to paying out 100% of taxable income and the track record for dividend growth has been especially rewarding. Digital has increased the 2013 dividend by 6.8% (over 2012) to $3.12 per share. The company expects to increase the dividend 5% to 6% in 2014 and the company's payout ratio (for Q3-13) was 84.7%" - so in Stein's words there is "plenty of margin on the dividend."

Digital's share price is $46.29 and Stein also provided a reasonable Net Asset Value (or NAV) model demonstrating the discount of the company's shares. To be honest, I could not find any material argument with the valuation metrics (cap rates) and the NAV model confirmed my argument that the shares are trading at a quantifiable discount.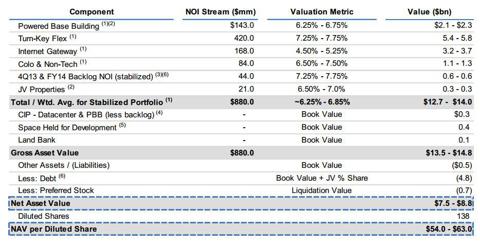 Withstanding any new acquisitions for Digital, it's clear to see the various opportunities embedded in the existing portfolio that represents potential incremental value. The snapshot below makes a very compelling argument that Digital has significant potential to increase NAV and Open IX (referenced above) could have an exponential impact (that has yet to be determined).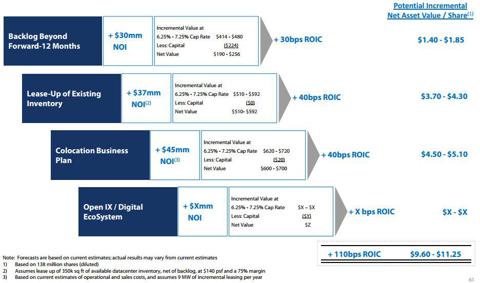 Digital is no longer the only Data Sector REIT and it's plain to see that growth is slowing; however, the company IS STILL GROWING. This snapshot below puts that growth into perspective: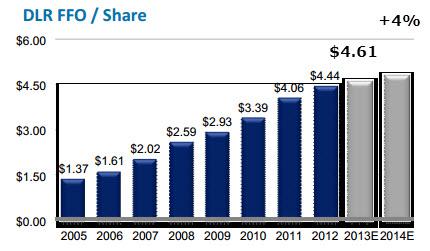 When compared with the previous eight years, it's clear to see that Digital has had an extraordinary growth stock: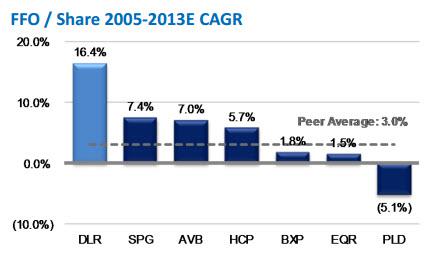 Earnings growth leads to dividend growth. Here's a snapshot of historic dividends paid: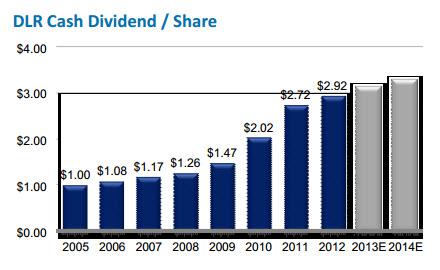 Over the last eight years, Digital has been a very attractive REIT, especially for dividend investors. Although Mr. Market has ignored the durability of the dividend, investors have been rewarded for the steady and reliable dividend growth.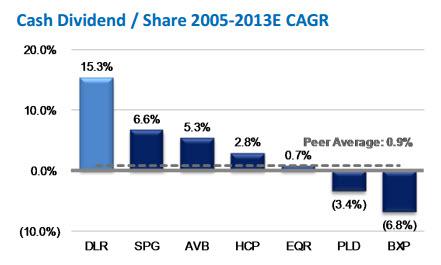 Let's Get Down to the Most Important Thing
OK. We all know that I'm a Ben Graham investor and some have suggested that I have been "pounding the table" in support of Digital Realty - a "blue chip bargain." Indeed, I like Digital Realty and I have had a BUY rating on the company for over a year. As far as I'm concerned, there has been no substantial hiccup that has made me change my mind. The company has not changed its business model and the same management team is in place. In fact, ignoring the price, Digital looks almost like the same company today than it did a year ago.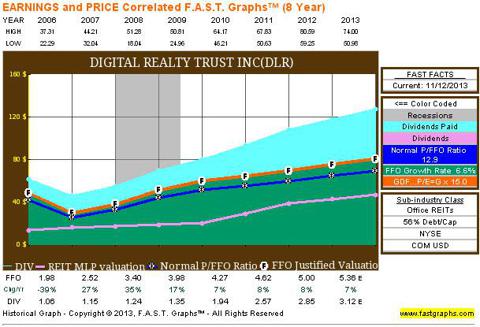 However, I can't ignore the price because it has fallen like a rock. After a short (by Highfields), a market sell-off (Bernanke), and two botched earnings calls, investors have been running for the fences. As most of you know, I stayed in the game and more recently, I have continued to dollar cost average shares. This concept of making equal purchases spread out over a longer period should prevent me from overpaying and help bring my investment to actual market levels.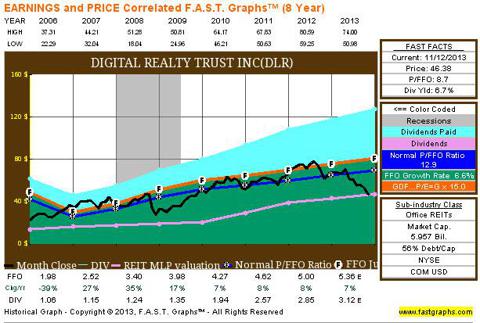 In hindsight, I wish that I had waited until June or July to suggest a BUY on Digital shares; however, my view then was centered on the growth potential more so than the dividend potential. Like most REITs (prior to May 22nd), the bull market was driving the train and I was becoming too fixated on Mr. Market. Admittedly, I was not focused on being a value investor.
But today is a new day. The valuation of Digital shares is now a compelling opportunity. Take a look at Digital's P/FFO multiple compared with the peer group: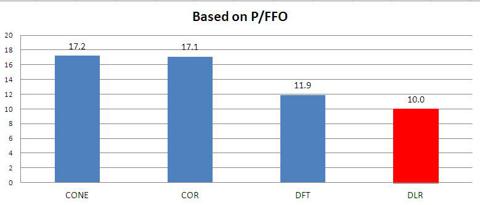 Now take a look at Digital's P/FFO compared with other REITs: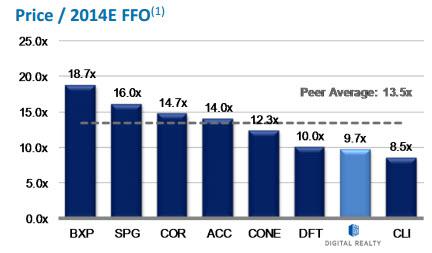 Now take a look at Digital's Price to Adjusted Funds from Operations (or AFFO) compared with other REITs: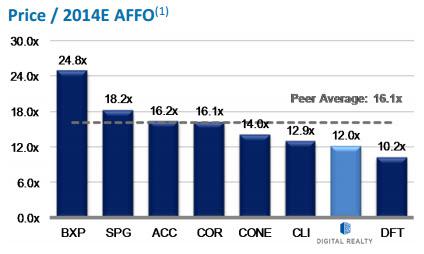 Am I Comfortable with Management?
Before I give you my final recommendation, I want to tell you about my experience with Digital's management team. As mentioned above, I spent an entire day at an Investor conference yesterday and the time was well worth the effort. It's clear, Digital is trading at a discount. The question most important to me is "do I trust management?"
One analyst posed this question:
Why doesn't Digital buy back its stock?
The Answer (Stein, CFO):
All existing capital is earmarked for development projects.
Another Question -- Directed to Foust (the CEO):
Why don't you buy more stock?
The Answer:
That's fair…We think we're undervalued. A large part of my net worth is in Digital. The Foust family is committed.
Several development projects were put on hold due to some outside circumstances. Being under the microscope (of late), Digital was scrutinized about these projects. In a reply to that question (regarding delays), Digital's CEO (Foust) explained:
That falls under (the category) of Stuff Happens.
Mr. Foust, well said. Stuff does happen and in the case of your company's untimely circumstances (and 30% decrease in valuation) you have had a lot of stuff hit the fan. Not to say, it's all under your watch, but there has been a series of unfortunate events. In the series of children's novels (A Series of Unfortunate Events) there are three siblings that are followed by misfortune wherever they go, but occasionally something good happens. Also at the end of each book, there is a letter to the editor explaining how to get a manuscript of the next book. As I end this article, I will become the Editor and my words are directed to Mr. Foust:
Dear Mr. Foust:

Digital Realty has encountered a series of unfortunate events. I regret that the forces in and out of your control have led to a substantial decline in your share price. The evil forces (Highfields) have made it difficult and I'm certain that the drama has magnified the human errors made on your company's behalf.

Regardless of the forces of evil, the good guys have prevailed. Your company has continued to pay and increase dividends while providing an attractive and well-balanced capital structure. Your company continues to evolve from a monopoly into a globally recognized brand of highly innovative best in class data storage.

So you understand, my goal is to accumulate dividends (6%+) and provide modest growth (4%). The asset class is maturing, yet there is a world of opportunity (literally) and I'm willing to maintain exposure in this blue chip brand.

In closing, the intrinsic value of your underlying business is worth far more than the stock chart. I have determined the true value of your company's shares through a methodical analysis of the security (a central task of the Graham-inspired value investor). Furthermore, I have concluded that there is an absolute defensible intrinsic value deduced from a reasonable and dispassionate assessment of the facts; that has enabled me to determine the presence and size of a margin of safety in Digital Realty. So yes, "stuff does happen" and that often leads to opportunity.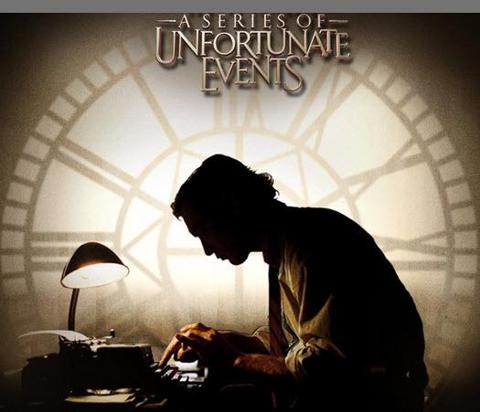 REITWorld - The author will be attending REITWorld in San Francisco the week of November 11-14. (The author cannot respond to comments for 24 hours).
REITs mentioned: (NYSE:BXP), (NYSE:SPG), (NYSE:ACC), (NYSE:CLI), (NYSE:EQR), (NYSE:AVB), (NYSE:FRT).
Check out my monthly newsletter, The Intelligent REIT Investor and my NEW 3D portfolio (coming in December).
Source: SNL Financial, FAST Graphs, Digital Realty November Presentation.
Disclaimer: This article is intended to provide information to interested parties. As I have no knowledge of individual investor circumstances, goals, and/or portfolio concentration or diversification, readers are expected to complete their own due diligence before purchasing any stocks mentioned or recommended.
Disclosure: I am long O, ARCP, GPT, STAG, ROIC, HTA, VTR, UMH, CBL, DLR, CSG. I wrote this article myself, and it expresses my own opinions. I am not receiving compensation for it (other than from Seeking Alpha). I have no business relationship with any company whose stock is mentioned in this article.