Intel (NASDAQ:INTC) recently announced that server processor sales grew during the past quarter. The growth was driven by demand for the latest generation of server processors which have higher average selling prices.
Demand for high-end, power-efficient Intel processors is attributable in part to the ongoing growth of cloud computing. Cloud computing data centers purchase high-end servers and server processors in order to provide the best service performance to business customers looking to save IT costs by outsourcing part of their data centers to third-parties.
This trend has two implications for Intel's server processor business:
1. Higher Server Processor Pricing
We've updated our forecast for Intel's average server processor pricing to be higher than before. Rather than the pricing decline shown earlier, we now estimate that prices will remain stable as Intel continues to make more powerful servers that can be utilized more efficiently in large data centers that provide outsourced services to businesses.

click to enlarge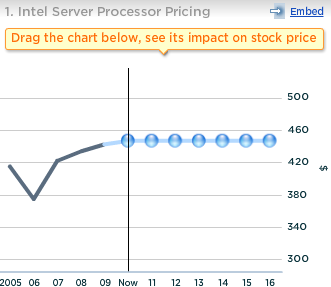 We estimate that the server processor business constitutes about a quarter of Intel's stock value. You can modify our server pricing forecast to see how changes in pricing would impact Intel.

2. Higher Server Processor Market Share
We've also improved our outlook for Intel's server processor market share which we expect to decline slower than before. Intel lost a significant amount of market share to AMD between 2004 and 2007 when the challenges associated with Intel's Itanium processor led customers to AMD.
Server processor buyers are very conscious of performance and value when making purchases which means competition between Intel and AMD to deliver the best performance with the lowest power consumption and at low price is fierce.
Over the next three months Intel is planning to refresh its entire product line with the new 32nm Xeon processor which is expected to generate high demand in the industry. Our forecast for 2010 server processor market share is 73% share implying 12.4 million units being sold.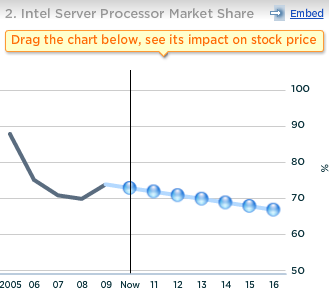 You can modify our server processor market share forecast to see how Intel's stock would be impacted in different scenarios.
Disclosure: No positions