Sarepta Therapeutics (NASDAQ:SRPT) demonstrated the binary nature of biotechnology investing Wednesday. The shorts were vindicated as the FDA told the company that it should not apply for approval based in Phase II data for eteplirsen, the company's drug for the treatment of Duchene's Muscular Dystrophy. However, unlike most companies that fail binary events where there is little value left, Sarepta shares still have the opportunity to recover.
An orphan disease, DMD affects roughly 30,000 boys worldwide. Sarepta's eteplirsen drug works on a specific genetic exon (exon 51) which is the cause of approximately 12.5% of total cases. Therefore, the treatable market is roughly 3,700 patients worldwide, including 1,800 in the U.S. The drug is currently in the latter stages of a Phase 2 trial, and has shown life changing efficacy for patients currently in the trial. DMD is a chronic and deadly genetic disease that affects males with the genetic defect from birth and kills most patients by age 25. Sarepta is likely to charge $300,000-$500,000 per patient annually, resulting in a total U.S. market size of between $540 and $900 million. Adding the European market could double that, leading to peak sales of well over $1 billion.
Eteplirsen vs. Drisapersen
Competing against Sarepta in this ultra-orphan market is Prosensa (NASDAQ:RNA) and its partner GlaxoSmithKline (NYSE:GSK). Prosensa is developing a competing exon 51 skipping drug called drisapersen. In September, the two companies announced that drisapersen did not meet the primary endpoint of improvement on the 6 minute walk test. The company has not decided what the ultimate fate of the Prosensa program will be, but for now drisapersen is not being given to any patients.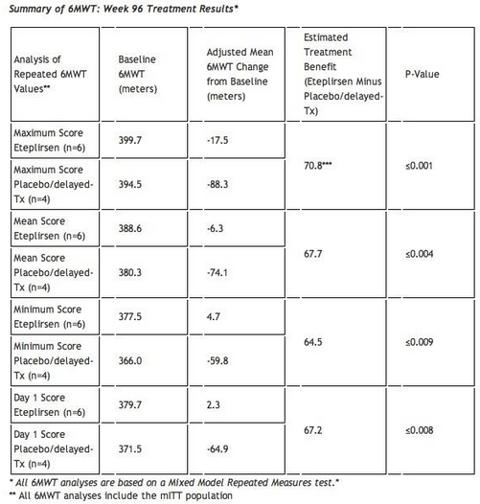 This failure likely pushed the FDA to request Phase III data from Sarepta. Because the drugs work on similar mechanisms and Sarepta's data is on just 12 patients, it is easy for the FDA to ask for more. However, the Prosensa failure also provides Sarepta with an opportunity. Prosensa controls IP in Europe that would likely prevent Sarepta from operating there without a license agreement. With the drug's failure such an agreement may be in the cards, allowing the company to double its potential market.
Some have argued that drisapersen's failure demonstrates that Sarepta's drug is unlikely to work. While I disagree with that conclusion, I have no desire to rehash the arguments. For the bear case, look at EnhindrisPECorp's article "Short Sarepta: DMD Drug Prognosis Is Dismal" and Adam Feuerstein's "A Rousing Rebuttal of the Sarepta Serial Short." Additionally, look at Sarepta's original published study and subsequent data releases.
Increased Uncertainty
The FDA's skepticism raises significant additional clinical trial and regulatory risk. First, Sarepta must design a study with endpoints that the FDA finds acceptable. Based on what Sarepta stated in its conference call Wednesday, the FDA raised questions about both dystrophin production and the 6 minute walk test as appropriate endpoints. The regulatory agency will likely be heavily involved in the Phase III trial design and it remains to be seen what the trial will look like. If Sarepta is required to develop novel end points, the ultimate likelihood of trial success may be lower.
Additionally, the FDA may require a full placebo control arm for the Phase III trial. This is a significant concern, and could make trial enrollment a major challenge. Because of the invasive nature of dystrophin level testing, many parents may not be willing to enroll their boys without a guarantee that they will be on the drug. Additionally, it would double the number of patients required for a study. This potential requirement does raise some significant ethical issues and, if the FDA caves on this point, it would be a significant positive.
Long Term Value
Making the assumption that the drug works and the company will ultimately get approval, Sarepta's current price provides an opportunity for significant returns over the next few years. Assuming that the company continues to operate at a cash burn rate of $80-$120 million per year, which is in line with the company's 2013 guidance of a loss of $80- $90 million per quarter, and the drug is launched in 2016 with peak revenue of $720 million, my model shows that the company is worth about $43 per share.

This is in line with a note released Wednesday by Deutsche Bank analyst Robyn Karnauskas showing that in her model the company is worth between $47 and $55 per share using a peak sales number between $700M and $800M and a 2016 launch.
The shift in timing does mean that the company will need significantly more cash to get to profitability. Extrapolating from the company's historical cash burn, the company will probably need over $200 million to get through 2016. In many biotechs this additional cash burn would lead to heavy dilution at low prices. However, over the last quarter Sarepta took advantage of its high prices to raise $125 million in an ATM offering, leaving the company with $281 million in cash and equivalents. This large cash position should give the company enough cushion to get through 2016 without any additional equity offerings.
Catalysts
While the timing for Sarepta approval has likely shifted until sometime in 2016, there are several potential catalysts that could move the stock. Over the next 9 months, Sarepta will be having numerous discussions with the FDA. Depending on how transparent the company is with the outcomes of those negotiations, each press release will be heavily examined for subtle clues about the FDA's thinking. At the end of those discussions, likely mid-2014, Sarepta should have a clinical trial protocol for their Phase III trial. If the FDA agrees to allow Sarepta to use known endpoints and/or a non-placebo controlled study, it will reduce some uncertainty. Once the trial begins, enrollment pace will be closely watched. The faster the company can enroll the trial, the faster they can get to results.
In addition to the exon 51 drug, Sarepta is looking to start clinical trials for its DMD drugs targeting other exons. This is likely on hold until the company and the FDA agree on appropriate endpoints, but the company still expects to file two additional INDs by the end of 2014.
One other potential catalyst from the DMD program would be an agreement with Prosensa that opens up the European market for Sarepta. This would likely be seen as a major boost to the drug's ultimate prospects because it would essentially double the number of potential patients.
Sarepta significantly re-priced Wednesday to take into account a dramatic increase in uncertainties. However, investors who are willing to accept those uncertainties and are willing to hold the stock over the next two years as the uncertainties are clarified, have a great entry point.
Disclosure: I am long SRPT. I wrote this article myself, and it expresses my own opinions. I am not receiving compensation for it (other than from Seeking Alpha). I have no business relationship with any company whose stock is mentioned in this article.