The global enterprise security software market, which consists of business and governement spending on software from security companies like Symantec (NASDAQ:SYMC), has grown from $4.3 billion in 2005 to $5.5 billion in 2009.
click to enlarge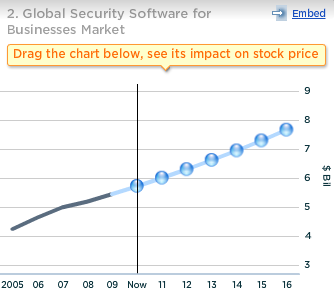 Although businesses have cut back on IT spending recently, declines in the enterprise security market are being offset by government and public sector spending which has gone up to 34% over the last few years. Rising attacks on US government websites is fueling demand for the type of enterprise security software sold by companies like Symantec. Cyber attacks on federal government are up by 300% since 2005.
We expect Symantec, McAfee (MFE) and Check Point (NASDAQ:CHKP) to directly benefit from the increased demand of security software. Symantec has about 32% market share in enterprise security which we believe it will be able to maintain. We estimate that Symantec's enterprise security software business accounts for about 21% of the company's value.