Apple (NASDAQ:AAPL) is Samsung's (OTC:SSNLF) worst nightmare. To be quite frank, I don't believe that Samsung's brand has enough appeal among the younger demographic as the company has developed a track record of being an imitator rather than an innovator.
Of course, what Samsung lacks in imagination is made up for with execution. The company can source components and moves products at both the low-and high-end. Plus it doesn't hurt that Samsung is exceptionally effective at supply chain management. Also, Samsung is extremely proficient at manufacturing hardware.
The talent pool at Samsung Falls Short
According to Reuters:
The twice-a-year recruitment rounds by the "chaebol", conglomerates such as Samsung and Hyundai, have spawned a cottage industry worth millions of dollars as young Koreans do what they have done from the age of 5 - cram to get ahead. "I came here at 10 this morning and will be preparing for the interview until 8 p.m.," said 25-year-old Shin Seong-hwan, whose father is a Samsung employee near Busan. Shin has already passed the company's aptitude test and now faces grueling interviews that end late in November. In its current recruitment round, Samsung will hire 5,500 young people from more than 100,000 applicants, adding to the pressure cooker environment. "Jobs at conglomerates can save face for you and your parents," said Hur Jai-joon, a senior researcher at the Korea Labor Institute, a government-funded research body. It is an impossible dream for most to achieve as the top 30 conglomerates employ just 6.8 percent of the total workforce, the Federation of Korean Industries says.
Part of my concern with Samsung is that the interview process for applicants seems a little outdated if not old-fashioned. Having huge block interviews and creating a perceived sense of scarcity in order to find the most book smart people on earth?
Nowadays Silicon Valley hires employees on the basis of work experience rather than their ability to pass a test. Sure, not everyone in Korea has work experience. So creating an intensive interview process is the best option they have. However, over in Silicon Valley, things are quite different. People can get work experience by being a part of smaller organizations that are funded by start-up capital. So in a sense, the playing field puts Samsung at a huge disadvantage.
Top executives are often poached from tech start-ups and integrated into leadership positions at larger companies. Just look at Microsoft's acquisition of Don Mattrick, a senior executive at Electronic Arts for its Microsoft games division. Zynga then hired Don Mattrick to run its operation, pushing Mark Pincus out of the CEO position. Granted, Mark Pincus could easily find a job in any C-Suite in Silicon Valley if he wanted to. A Twitter co-founder, Jack Dorsey, may have worked at Facebook if he wanted to. So in a sense, experience is the main currency on Silicon Valley. Plus, because talent is so hard to come by, tech companies reward talent with generous pay bonuses that would make Samsung's compensation scheme look like a pithy.
Would a group of Korean applicants lining up, and spending countless hours studying for a test have the incentive to take risks in an organization they spent a ridiculous amount of effort to get inside of? I mean let's think about this for a second. You're given social stature, the golden handcuffs, awesome cash benefits, and you're in the "big company" crowd. Now I'm South Korean, and I know how tough Korean culture can be. It's built on hierarchy and is risk averse. Therefore, hard work with the potential of not reaping reward is considered to be unacceptable. Failure may also lead to losing a job.
The biggest concern is that no one in Samsung is willing to fail. Start-up mentality does not exist at Samsung. Because start-up mentality is an iterative process of constantly adjusting operations to better utilize economic resources. The creativity of an organization is really put to the test when the business environment becomes difficult. So, what sets apart Apple is that it's willing to fail, and fail big. But all too often Apple succeeds frequently because it brought a group of people who have earned their stars and stripes in the real world. The process of constantly adjusting to the business environment leads to gains in intellectual capital that can be almost impossible to replicate. This is something a group of Samsung applicants will never bring to the table.
Recently Apple poached Angela Ahrendts, the CEO of Burberry to run its retail division. In 2006, Angel was hired for the role of Burberry CEO. In 2006, Burberry generated £392 million in revenue. In 2013, the company generated £2 billion in revenue. Between 2006 and 2013, sales grew at a compound annual rate of 26.21%. The added £1.5 billion in annual revenue is equivalent to the compensation of 15,000 engineers paid at an annual rate of £100,000 ($160,000). Angela will bring more value to the table than 5,000 Samsung applicants that were hired due to their ability to impress the interview committee at Samsung. Sure this sounds subjective, and could be completely wrong. But given what I know about her track-record, it's likely that Apple's retail strategy will continue to be light years ahead of Samsung.
Marketing data does not bode well for Samsung
Currently 62% of the United States population owns a smartphone. The market hasn't been completely penetrated. In an attempt to fully saturate the market, OEMs have attempted to sell mid-end smartphones. Both the Apple iPhone 5C and Motorola X wasn't much of a product hit. Even though Apple received a muted response from its iPhone 5C, it was still able to gain market share against the Android ecosystem in the United States.
Share (%) of Smartphone Subscribers

 

13-Jun

13-Sep

Point Change

Total Mobile Subscribers

100.00%

100.00%

N/A

Apple

39.90%

40.60%

0.7

Samsung

23.70%

24.90%

1.2

HTC

8.50%

7.10%

-1.4

Motorola

7.20%

6.80%

-0.4

LG

6.60%

6.60%

0
Source: ComScore
Apple has been able to gain 0.7% market share, in the United States, without a significant increase in marketing costs. In comparison, Samsung was able to make a 1.2% gain in market share but at great cost.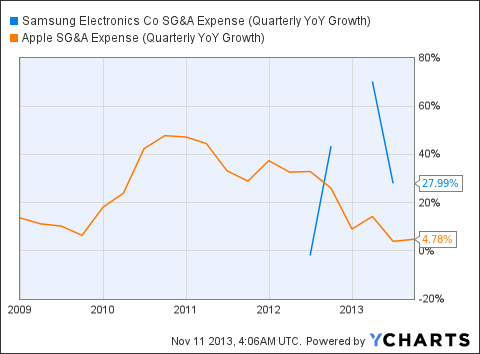 Source: Ycharts
In order to generate revenue growth, Samsung increased its sales, general, and administrative expenses by 27.99%. In comparison, Apple increased SG&A expenses by 4.78%, and was able to steal market share away from the Android ecosystem. So in other words, Apple has been able to cost effectively retain and gain customers without pulling out too much of a bank roll. In comparison Samsung gained market share by throwing money at the problem. The result is more revenue growth, but lower maximization of cost.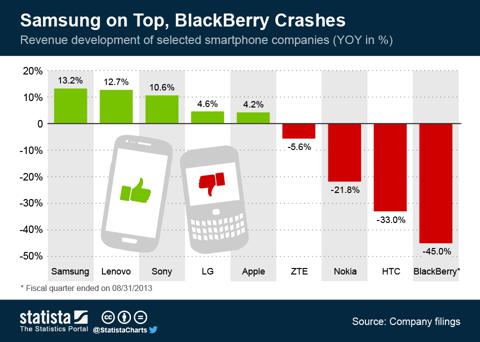 Source: Statista
Currently, ZTE and HTC are being squashed. The Android ecosystem is starting to become a four horse race. Sony is coming to the foray with a snazzy Sony Xperia Z smartphone. Samsung continues to grow share by quintupling advertising spending in the United States. Lenovo continues to prosper in China, because of strong macroeconomic fundamentals. Then you have LG winning in certain pockets of the global market.
Apple, Samsung, Lenovo, Sony, and LG are the only companies growing revenue in the space. However, given enough time, I believe that Lenovo should still retain its durable advantage in China as a high-end device manufacturer due to the company's ability to understand its own market, and the fact that it has opportunities to grow in other Asian markets. We could argue that LG, Samsung, and Sony all have that same inherent advantage. But Lenovo is slightly different because it is a Chinese company, and we know how much favoritism the Chinese Party has towards its own domestic enterprises (look at what happened to Google and Facebook).
LG has reported declining revenue growth, but then again who hasn't in the mobile space? The company is releasing the LG G3, which has a very simple naming mechanism that most of us can easily follow. Plus it's nice to know that the LG G3 will be differentiating itself from competitors in the space, by offering a handset that will come with an edge touch screen. Reducing the size of the border wil make it a more unique touch experience. Sure, it's not revolutionary, but it's certainly different. That's something we need more of in the smartphone space.
Even with all this advantageous information, Android is still losing to Apple in the United States.
Share (%) of Smartphone Subscribers

 

13-Jun

13-Sep

Point Change

Total Smartphone Subscribers

100.00%

100.00%

N/A

Android

52.00%

51.80%

-0.2

Apple

39.90%

40.60%

0.7

BlackBerry

4.40%

3.80%

-0.6

Microsoft

3.10%

3.30%

0.2

Symbian

0.30%

0.30%

0
Source: ComScore
Android lost 0.2% market share in the past month. Apple did a better job of managing costs and even managed to grow total unit sales. Sure added volume wasn't able to offset declining margins due to the iPhone 5C and iPad Mini. But at least Apple is making significant gains in market share and is retaining its durable advantage.
In the past year Samsung has gained market share in the United States. On the other hand, it has had handsets at every major telecom carrier for the past four years. Apple, on the other hand, gradually saturated the market with iPhones across the four major carriers..
In other words, prior to Apple being marketed across all the major telecom networks, Android was growing share and had a respectable percentage of the market. Now, that Apple is being distributed aggressively by all the major third parties, Apple has been able to out maneuver the whole Android ecosystem. This isn't a good sign for Samsung or Google. Because it means that, over time, Apple may become the most dominant smartphone platform in the United States. There's no effective counter to this problem. Plus, with Apple expanding distribution internationally, the impact will be felt globally.
Resale value comparison of Galaxy S4 versus iPhone 5S
I checked eBay to find the comparative resale value of smartphones. In short summary, Apple wins by a landslide.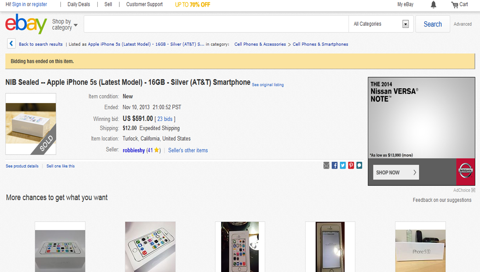 Source: eBay
The iPhone 5S 16 GB silver edition ended its auction at $591. The actual retail price for a non-contract iPhone 5S 16GB model is $649. Looking at used listings of the iPhone 5S 16GB edition, which there aren't that many of, people are pricing it in a range of $500 to $580. This implies that a person can sell their used iPhone 5S and expect to recoup 75% to 85% of the full retail price. If the person decides to sell an unused model of the iPhone 5S they can expect to recoup 91% of the full retail cost.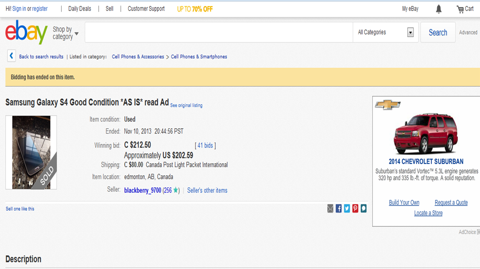 Source: eBay
In comparison, a recently ended Samsung Galaxy S4 auction had a winning bid of $212.50. A person who buys a Samsung Galaxy S4 at its full retail price of $627.99 (T-Mobile) will only recoup 33.8% of their cost. The Galaxy S4 doesn't have the latest processor technology, and the AMOLED screen is lower in quality in comparison to the Retina display. So it's not a fair comparison.
But, it also doesn't change the fact that resale values are significantly lower when compared side by side between the two brands. After all, the average Apple customer can purchase an Apple iPhone 5S, and can recoup 75% to 85% of the actual retail cost.
Apple's operating system overhaul improved the perception around the iPhone 5S. In comparison, Samsung gets minor Android updates that generate minor improvements in the user experience. So over time, each Samsung upgrade looks about the same. But at least Apple has the option of switching around the OS to offer the illusion of a significant upgrade.
Because of this huge difference in consumer perception of value, it is unlikely that Samsung will be able to retain a durable advantage in the smartphone space. In all actuality, it's more probable that Apple will continue to steal market share away from the Android ecosystem. Weaker players will exit the market in droves. And while Samsung will remain a competitive alternative, Samsung will not close a 40% to 50% gap in resale value. This is because building and retaining the goodwill of a brand requires creativity, which is something Samsung lacks.
Conclusion
Apple is Samsung's worst nightmare. Sure, Samsung can come up with better hardware; shovel more money into ad campaigns. Plus win the endorsement of celebrities. But it doesn't change the fact that the talent pool of Samsung isn't as great as what we make it out to be. The goodwill of the brand is weak in comparison. The only reason Samsung grew revenues is because it's willing to increase its SG&A expenses at a much higher rate than Apple.
So in other words there's no way Samsung will be able to retain a long-term durable advantage. The lack of efficiency with its capital is why it's trading at a forward P/E multiple of 7.13. In comparison Apple trades at forward P/E multiple of 12. So in a sense, the premium paid on Apple's stock is driven by the company's ability to win customers without the textbook approach of throwing money out the window. This is the meaning of efficiency. It's time we think different.
Disclosure: I have no positions in any stocks mentioned, and no plans to initiate any positions within the next 72 hours. I wrote this article myself, and it expresses my own opinions. I am not receiving compensation for it (other than from Seeking Alpha). I have no business relationship with any company whose stock is mentioned in this article.