The purpose of this article is to highlight the balanced relationship between Eaton Vance Tax-Managed Buy-Write Opportunity Fund "ETV" and Western Asset Global High Income Fund "EHI". Trying to keep this article shorter than usual and keep excess commentary minimal. If you would like a better idea of my analysis style, please read some of my other closed end fund articles.
EHI 3 Year Total Returns data by YCharts
First, I have not covered ETV in any detail in any historical articles, so I wanted to highlight a few things before explaining the potential relationship of the two funds in the same income portfolio. For your reference, my article on EHI can be found here (would be good to read this for perspective in comparison). Highlighted on Morningstar's website, ETV seeks current income with capital appreciation through investment in common stocks that seek to exceed the total return performance of either the S&P 500 or the NASDAQ-1100 Index and through utilizing a covered call and options strategy.
Quote Snapshot
Market Cap: $855.7mil
Distribution Rate: 9.89%
Total Leverage Ratio: 0.00%
52 Week Range: $11.55 - 13.48
Premium/Discount: -7.76%
Current Market Price: $13.44
NAV: $14.57
Expense Ratio: 1.09%
Asset Allocation: Equities - US Stock
Here is why an investor would add ETV to their highly yielding portfolio:
Zero Leverage Ratio - ETV has no leverage, which is not common for a fund distributing 9.89% to investors.
Discount to NAV - From an investment entry point perspective, ETV is in a good market position. The fund trades on a discount to NAV by 7.76% and the price range between the 52 week high and low is relatively thin (compared to other CEFs). However, the current market price is definitely very close to the 52 week high; current market price: $13.44, 52 week high: $13.48.
Low Expense Ratio - Like EHI, ETV also has a relatively low expense ratio, coming in at 1.09%, while comparable equity trading CEFs, like GPM, charge an expense ratio of 1.73%, which is much higher in comparison.
ROC Benefits (view distribution chart below) - Read the Eaton Vance release below this article on non-dividend distributions leading to ROC (released on July '09 by Eaton Vance) to understand it better. Basically, the ROC that ETV distributes is actually a good thing for this specific fund.
Distribution Frequency - ETV pays out its distributions monthly, which is always a favorable trait for a high yield income investor holding long-term or trying to reinvest distributions.
CEF Diversification (away from bond heavy portfolios) - This CEF will offer very good diversification from bonds, especially since the fund maintains an active equities management style by utilizing a covered call and options strategy. Bond funds also maintain active strategies, however, with two different management teams (Eaton Vance and Western Asset Management) trading on the market to make distributions, an investor would gain a good variation of activity in a relatively diversified portfolio from a manager and trading strategy perspective.
Morningstar Bronze Rating (this is a secondary consideration in my honest opinion, not a primary one when conducting research on ETV) - "This fund has a good track record against its large-growth closed-end fund peers on an absolute and risk-adjusted basis. Against open-end mutual funds, Morningstar Risk-Adjusted Returns are especially strong. Fees are generally lower than average, and the total expense ratio has been fairly steady over the years. We appreciate the efforts Eaton Vance and its board have taken to narrow this fund's persistent discount (the fund's discount has narrowed a bit to 9% from over 11% since the actions were announced). Overall, this fund has earned a Morningstar Analyst Rating of Bronze." - Morningstar.com
Here is how ETV and EHI would be perfect in an investor's portfolio, together:
Both Funds are Trading on a Discount - Conveniently, both funds are trading at a discount to NAV, which is actually perfect. EHI is trading at a 7.11% discount, while ETV is trading at 7.76% discount. Both discounted, consider that box checked for investors who make the discount a deciding factor when considering which closed end funds to buy.
Both Have High Distribution Rates - EHI yields 9.42% (monthly distributions) and ETV yields 9.89%, bringing an investor to an average yield of 9.66%, which is pretty good, flowing in on a monthly basis. With the discounted market prices, an investor could also benefit from a 2 to 5% market price appreciation, which would get the investor over 10% of total returns for a year of investing.
Diversification Across Bonds and Equities - EHI is predominantly made up of bonds while ETV is made up of equities, but with both of their focuses on different asset allocations, an investor would be in a very good position during evolving market environments that could impact the fixed income and equities markets in different ways (for instance, when Fed Tapering begins). As an investor, you will be diversified across bonds and equities, which is usually what a long-term investor needs and wants.
One Leveraged, One Not Leveraged - Providentially, EHI is a leveraged bond fund while ETV is an unleveraged equities fund, which is advantageous from an investor's perspective since most high yielding funds use at least 20% total leverage to spruce up their distribution rates. In this case, only one of the funds is taking on the extra layer of risk and fund management that may keep long-term investors awake at night. However, leverage is not always a bad thing (more variables should be considered before dropping leveraged funds from a portfolio).
Diverse Strategies - EHI maintains a leveraged bond strategy seeking high current income through investment in high yield emerging market debt and investment grade fixed income securities, while ETV maintains an active equities trading strategy (description of strategy above), which will give the high yield investor diverse activity exposures across asset allocations. This combination is vital in today's market environment, where both the fixed income and equities markets are rapidly changing, not giving an investor enough time to react/rebalance to big market currents.
Both Have Low Expense Ratios - Both funds have relatively low expense ratios for the distributions they are generating, which from an efficiency perspective, looks very appealing for an investor who prefers to avoid expensive (2%+ cost ratios) fund management charges.
Different Distribution Compositions - EHI is all about the Fund Income (holding a very consistent track record in the last five years and paying fund income as distributions to investors), while ETV is all about the ROC, but in this case, the investor is benefiting from the ROC from ETV while booking that yield on EHI's fund income. Read more about ETV's ROC below, and the key takeaway here is the investor is also getting different types of distributions (also a form of diversification), which is also preferred in the long-run for a high yield income investor.
If an investor doesn't like ETV, the following funds are alternatives (read more about both alternatives here):
Guggenheim Enhanced Equity Income Fund - GPM - If you are very bullish on the Equity markets, pick up GPM, giving you significant exposure to Equities and several large ETFs that track multiple sectors (while enjoying a very generous distribution rate of 10.57%). However, one ETV benefit over GPM is that it pays out its distributions Monthly, while GPM pays out Quarterly distributions.
AllianzGI Convertible & Income Fund II - NCZ - NCZ will offer some extra high yield (NCZ yields 11%+ per year) with the equity exposure to balance out EHI. NCZ, managed by PIMCO's parent company, AllianzGI, has done a solid job managing several highly rated funds, including the PIMCO suite of funds.
Betalyst View: Overall, I believe that EHI and ETV are a very solid CEF couple in a high yielding income portfolio. However, as an income hungry investor, I would probably take on both EHI and ETV, then allocate at least 30 to 50% of my portfolio to higher yielding closed end funds to crank up the average yield on the overall portfolio (this also comes with more risk of course). Additionally, I really like ETV from a diversification perspective, and I plan on adding it to my portfolio when the current market price drops to at least 5% below its 52 week high (locking in both a higher yield and a bigger discount for my portfolio).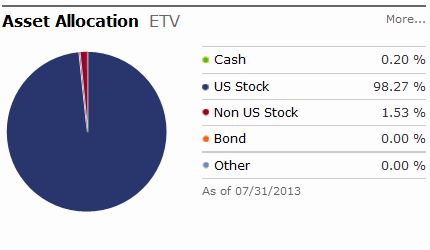 (Morningstar.com was the only source for all data points to produce this article.)
Release: Eaton Vance Option Income Closed-End Funds - Non-dividend Distributions - Return of Capital (ROC)

Unlike a fixed-income fund, equity income fund earnings in a particular payment period will generally not match a fund's distribution for that period due to the nature of equity securities. Fund managers may determine an appropriate level of distribution based on what they believe is the long-term projected performance of a fund.

The tax character of these distributions can be affected by many factors such as: Dividends received on the funds' stock portfolios; the net option cash flows the funds receive; the stock market price behavior during the year; portfolio turnover; and differences between the market's actual returns that year and its expected performance over time.

The funds' strategies involve selling index call options and/or call options on individual stocks. If an index rises, the fund's net return on its index options positions may decline (and can be negative in sharply rising markets). The "hedge" that these funds provide is that a decline in option value may be offset by price gains (capital appreciation) on the fund's underlying stock holdings. The opposite applies in a declining market where some of the stock price decline may be offset by gains from the writing of call options.

These examples are based on a fund writing a 30-day index option that is 1% out of the money; that is, the exercise price of the option is below the current level of the applicable index at the time the option is written.

1. Strongly Rising Market

In a strongly rising market, the fund will likely be "losing" on its options strategy because the market could move higher than 1% in a month. The fund would be required either to settle its option obligation in cash at expiration or to buy back that option with cash prior to that date. However, in that environment, the stocks in the underlying portfolio of the fund are likely gaining value and, because these are index options settled for cash, no stocks are called away to settle the options. Pursuant to the funds' investment strategy, under these circumstances, the fund may pay its distribution from the unrealized gains in the underlying stock portfolio; however, this is deemed to be a return of capital for tax purposes.

2. Sharply Falling Market

In a sharply declining market a fund writing 30-day index options that are generally 1% out of the money will likely be "winning" on its options strategy; the options are never exercised and the fund retains the option premium from writing the options. However, the underlying stocks in the fund are likely declining in value; there may be realized and unrealized losses generated on these stocks. The fund may be earning significant realized gains in its options strategy in this environment, which can be used toward paying its distribution; however, as part of the tax-management strategy, the fund is also likely intentionally realizing losses on certain stocks in the underlying portfolio, which when offset against the gains in options, may cause the distribution to be classified as partially a return of capital.

The funds' option strategies may result in a Return of Capital even when the return of the funds' portfolios is equal to or greater than the funds' distributions

A return of capital designation applies to distributions made in excess of the funds' earnings on invested assets. These earnings consist of dividends, interest received and net realized gains to the funds. Unrealized gains in the portfolio contribute to the funds' return on assets but not to earnings. Distributions that are made in excess of earnings are considered to be return of capital regardless of the fact that this excess amount is met or exceeded by unrealized gains in the funds.

Eaton Vance believes that in tax-managed portfolios such as these, the ability of the funds to pay a portion of the distribution in the form of a return of capital can be beneficial to the shareholders of the fund in terms of the overall taxability of the funds' distributions. The amounts are non-taxable in the current period though shareholders are required to adjust their cost basis in the funds' shares to reflect this distribution. Where the return of capital reflects unrealized portfolio gains, as described above, this enables the individual to defer payment of taxes on the gains until fund shares are sold.

The final composition and tax treatment of the funds' distributions cannot be determined with certainty until after-year end results are finalized and reported to shareholders in the 1099-DIV at that time.

There is no certainty that the methods described herein will be realized in the fund now or in the future.

To read more about this, refer to Dough Albo's article. He does a great job explaining the benefits of ROC.
Disclosure: I am long EHI, GPM, NCZ. I wrote this article myself, and it expresses my own opinions. I am not receiving compensation for it (other than from Seeking Alpha). I have no business relationship with any company whose stock is mentioned in this article. I plan on buying ETV when the price is right, which is what I expect to be 5% lower than the current market price of the closed end fund.