For the Bank of Ireland (NYSE:IRE), the financial crisis was a disaster. The bank was forced to sell off a huge percentage of its assets and it earned a lower return on its remaining balance sheet. The recovery from the financial crisis and recession in Europe has been notoriously slow, and consequentially the bank's performance has been very poor since 2008. It was, however, one of only two major Irish banks to survive the crisis. Ireland reorganized the banking sector around two "pillar" banks, with one being the Bank of Ireland and the Allied Irish Banks. What had been a four-player industry has basically turned into a duopoly. Right now the Bank of Ireland is in better shape and has less government control than AIB.
It is no surprise that the bank's NYSE share price has fallen from a peak of $979 in 2007 to its current price of $14.12. But the bank looks like it will soon be ready to return to its pre-recession performance level. And, if that happens, investors will be glad they stuck around for the ride.
Company Description
The Bank of Ireland is an Irish commercial bank that also conducts business in the United Kingdom and Northern Ireland. As a result of the financial crisis, the Irish government invested 4.8 billion Euros to keep the bank afloat. It now owns 15% of the bank's common shares as well as 1.5 billion Euros worth of preferred stock. The bank was, however, the only Irish bank to avoid state control during the crisis.
The bank operates in five major segments:
Retail Ireland (26% of 2012 net interest and insurance premium income) consists of all private, business, and consumer banking and mortgage origination in Ireland.
Bank of Ireland Life (47% of 2012 net interest and insurance income) is the New Ireland Assurance Company, which provides insurance, investment products, and pension products to the Irish market.
Retail UK (15% of 2012 net interest and insurance income) includes the bank's branch network in Northern Ireland, the mortgage business in the United Kingdom, the joint venture with the UK post office, and business banking in Great Britain and Northern Ireland.
Corporate and Treasury (25% of 2012 net interest and insurance income) includes corporate banking, global markets, and IBI corporate finance advisory.
Group Centre (-13% of 2012 net interest and insurance income) incorporates all non-division-specific income and costs such as capital management activities and government guarantee fees.
Recent Business Segment Performance

Click to enlarge
The table above shows combined annual net interest and insurance premium income for each segment as well as year over year growth rates. The 2009 report only included the final nine months of the year, for which we adjusted by multiplying the reported results by 4/3. 2013 interim results were similarly adjusted by multiplying by two.

Click to enlarge
The table above shows the percentage of interest and insurance income from each segment since 2009.
Not surprisingly, every core segment except insurance has had negative income growth since 2009. Insurance is less dependent on interest rates and macroeconomic conditions, and therefore fared much better. As a result, Bank of Ireland Life managed to grow while the other segments shrank, increasing its share of total income dramatically.
The Messy Past
Over the last five years, the bank has undergone substantial deleveraging. As a result, total assets have fallen by 26% since 2009. As bank revenue is a function of assets, its net interest income has fallen considerably over that time.
The bank's key operating metrics and value drivers have fared poorly since the crisis. Return on assets (defined as operating income excluding interest expense divided by ending total assets) has declined from over 5% in 2009 to under 4% in 2013. In the years before the financial crisis, this figure was typically between 5% and 6%. As a result, the bank's income-cost spread has declined from 3% of assets to 2% of assets; the cost of assets has not declined at the same rate as return on assets. Bank management has attributed this to high costs for customer deposits, which may be a reflection of a lack of confidence in the bank's health.
At the same time, toxic assets have led to impairments (i.e. provisions for default) jumping from 2% of operating income in 2006 to over 50% of operating income in 2012. In addition, thanks to the lower revenue and crisis-caused expenses, other expenses surged to over 80% of operating income, when it was typically around 55% before the crisis. With the confluence of all these factors, it is little surprise that the bank has solely reported pre-tax losses since 2009.
Leaves Four Ways to Win
While the recent past has been pretty ugly, it appears as though the bank's performance is ready to improve, for four major reasons:
New loans -- First, and most importantly, the Bank of Ireland will soon be in position to begin growing its assets. The bank has made large strides in cleaning up its balance sheet, and impairments have fallen 60% from the crisis high in 2009 (as a percentage of total assets). The bank lists €11.6 billion of assets as "for sale" on its balance sheet, compared to €20.9 billion at the end of 2009. As a result, the bank is now in a position to capture market share relative to its European competition. With its balance sheet cleaned up, management will be able to start adding profitable assets while competitors are still dealing with underperforming loans.
Rising Return on Assets -- The European Central Bank (ECB) marginal lending facility is 0.75% and the deposit facility is 0.00%. Right now, the Bank of Ireland is earning nothing from its nearly $5 billion of cash and central bank deposits. At some point the EBC will raise rates, meaning this cash will produce some type of return.
Falling Deposit Costs -- Meanwhile, the bank's high deposit costs are already falling. Improving confidence means the bank will have to pay less for deposits. This means the spread on its assets can improve even without interest rates rising.
Declining Loan Losses - The Government has expressed an interest in selling its remaining ownership. They would not do this if they did not feel the balance sheet was in strong shape. By implication, this means impairments are likely to decline dramatically.
Click to enlarge
In January, the Government sold the entirety of its one billion Euros of convertible notes due in 2016. Its preferred shares mature in March 2014, and the bank is exploring private sector ways of refinancing that investment.
Valuation Analysis
Because the insurance segment is such a large part of current operations we value the entity two different ways.
The Whole Company
Our DCF model suggests a NYSE price per share of $30 for the Bank of Ireland, which we justify in the following way.
The Bank of Ireland is not a complex investment bank with extensive trading operations. Its sources of income are commercial banking and insurance, which makes it similar to a United States regional bank such as U.S. Bancorp (NYSE:USB). U.S. Bancorp's 12.93 price-to-earnings multiple would imply a return on equity for the bank of 16% (see the table). This is roughly in line with USB's ROE of 14% and well below IRE's pre-crisis ROE of 20% to 25%.

Click to enlarge
The Bank and Insurance Separately
Alternatively, Bank of Ireland Life's underlying profit last year was 110 million euros, or $150 million US. Insurance companies tend to have much more stable businesses than banks and therefore command higher multiples. A reasonable P/E of 10 and ROE of 5% (which come from an average of a group of U.S. insurance companies including Metlife, Prudential, and Lincoln National) for the insurance segment means the rest of the bank is almost exactly trading at book value. A ROE of 15% for the rest of the bank then implies normalized EPS of $1.78. At its current price, the bank is trading a normalized P/E multiple of only 8.26 (see the table), which is again a 50% discount to USB. Using the USB bank multiple of 12.93 and an insurance multiple of 10, implies a total value of $22 per share.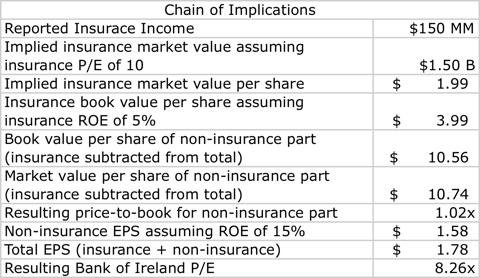 Click to enlarge
Return of Cash to Shareholders -- Another Potential Catalyst
The Bank of Ireland last paid a dividend in 2008, when it paid 63.6 Euro cents to shareholders. Of course, it stopped paying dividends during the crisis, and it cannot issue any dividends until the government has completely sold its stake. Management has stated it does not expect to resume paying a dividend until more favorable financial and economic conditions return, but with the Government's exit this becomes increasingly likely.
Reinstating a dividend should be a boon for the bank's stock, as it was for many U.S. banks after the financial crisis. Wells Fargo (NYSE:WF), which like the Bank of Ireland is primarily a commercial bank, has been able to increase its dividend from $0.05 per share per quarter to $0.30 since 2011. The market has rewarded the increased cash returns to shareholders by pushing the stock from a low of $23 in 2011 to its current price of $43. The market should also be pleased when the Bank of Ireland similarly commits itself to returning cash to shareholders.
Conclusion
There are many reasons to think that the Bank of Ireland is headed for a bright future. Its key value drivers are likely to improve and it may soon be free of government ownership. At that point, as it begins to generate cash flow again, the bank will be able to reinstate a dividend. Investors who buy in now will reap the benefits of cash returned to shareholders and, more significantly, improved market expectations for the bank. With a number of positive catalysts going forward, the stock should perform nicely.
Disclosure: I am long IRE.
Business relationship disclosure: Blue Jay Research is a team of financial industry professionals and students. This article was written by Ryan Guttridge, CFA and Bennett Rosenbach. Ryan is a Fellow at the Johns Hopkins Institute for Applied Economics, Global Health and Study of Business Enterprise and Bennett is a student at Johns Hopkins. We did not receive compensation for this article (other than from Seeking Alpha), and we have no business relationship with any company whose stock is mentioned in this article.