These past few days have seen some strong negative stock moves, particularly in the emerging markets. How have the S&P 500 stock prices been holding up?
The internals still look good. This chart illustrates the high percentage of the individual constituents with Point & Figure charts with bullish patterns, the high percentage of constituents over the 200-day moving average, and the high ratio of new highs to new lows within the index. (Click charts to enlarge)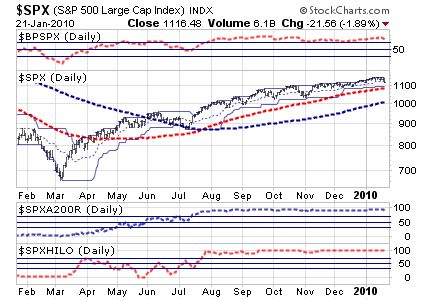 This chart of SPY (the proxy for the S&P 500 index), shows that the daily price remains above the lower 21-day price channel, above its 100-day average (in red), but now below its trend line connecting the recent higher tops and higher bottoms. The trend broken trend line should be watched follow-through, but the price channel and moving average are probably more important support indicators. The 100-day average is above the 200-day average (in blue) — not showing signs of converging back toward the 200-day average, which is still a good sign.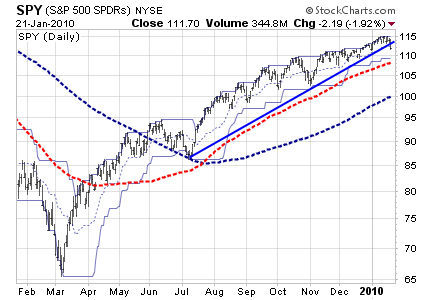 Breadth is still expanding, as shown by the ratio of the equal weight S&P 500 index (proxy RSP) to the market weight S&P 500 index. The rising ratio indicates that the medium and smaller stocks are rising somewhat faster than the larger capitalization stocks, or that the large-cap stock are falling faster than the medium and small capitalization stocks.
The subsequent image confirms the widening breadth of rising stocks at all market-cap levels inside and outside of the rising S&P 500 (S&P 500 - SPY; S&P 100 - OEF; S&P Equal Weight - RSP, S&P 400 mid-cap - MDY, Russell 2000 small-cap - IWM).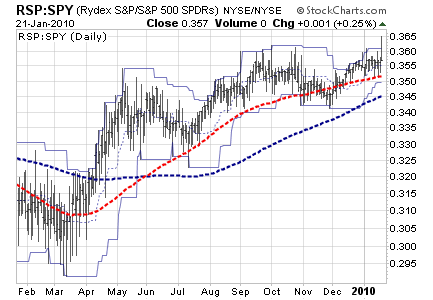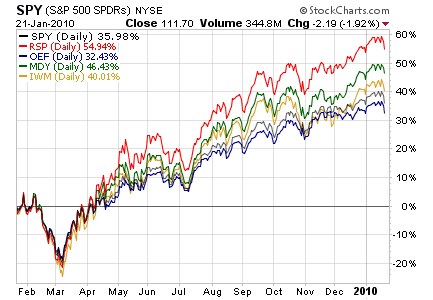 The S&P 500 Dividend Aristocrats (25 back-to-back years of dividends and dividend increases) are still in an uptrend, but at a decelerating pace, as shown by 14 days below the trend line formed by the July and October/November bottoms.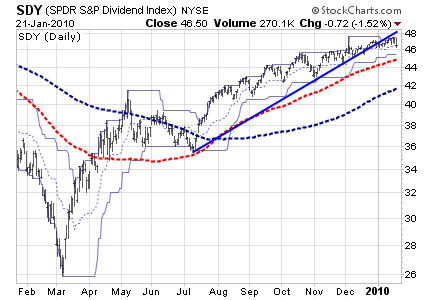 Let's see how the S&P 500 sectors are doing. First, the new equal weight sectors ETF is still rising. However, it is right at a support line formed by short-term bottoms, but still only just below the mid-point of its 21-day price channel.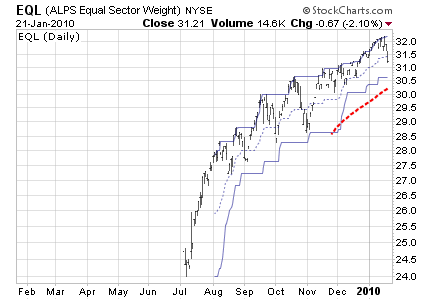 Basic materials took a drubbing today and are approaching both the bottom 21-day price channel and the 100-day moving average. The 100-day average has provided support on two prior occasions in the past year (July and October/November). The price today broke a trend line connecting bottoms in July, October/November, and December. Watch this one closely.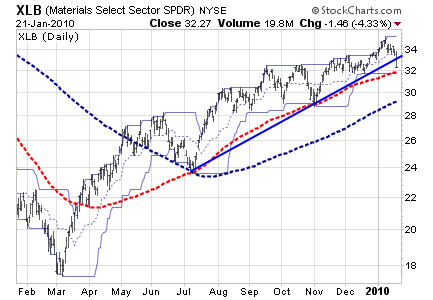 Energy recovered from weakness in October and November to reach a new high, and is still in its mid-price channel and above its 100-day average Both of these indicators converge about 3% below the current market price.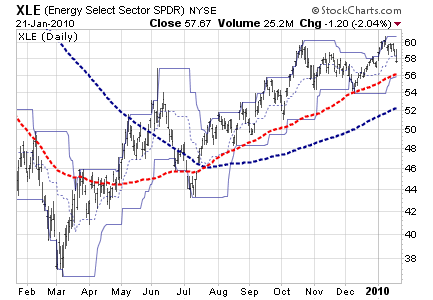 The financials have been flat to slightly down for a few months. An attempt to rally in January this year was dealt a blow this week by negative earnings reports, and by Obama's announced intention to limit proprietary activities by banks, including quote: "If the banks want a fight, it's a fight I'm willing to have." It's hard to be in the cross-hairs of government anger and prosper in the stock market at the same time.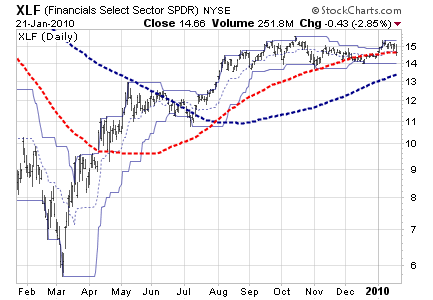 Industrials are still in OK territory in a rising pattern.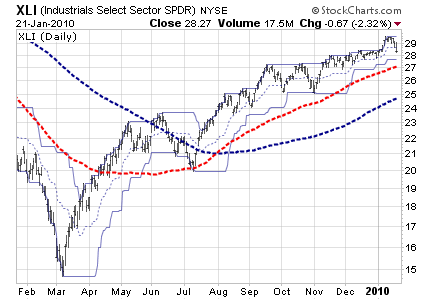 Staples have been flat since November in what looks like a consolidation pattern (no new highs, no new lows and not much price range). Breakouts from consolidation are often strong, but direction could be either way.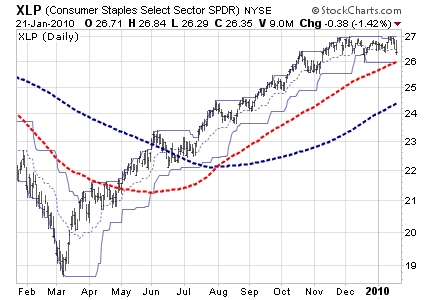 Utilities got a Bill Gross boost in a recent monthly letter, but gave back momentum at the turn of the year. They are now above their 100-day average, but at the bottom of their 21-day price channel, which is narrow. They have the strongest yield in the index in the mid-4% area.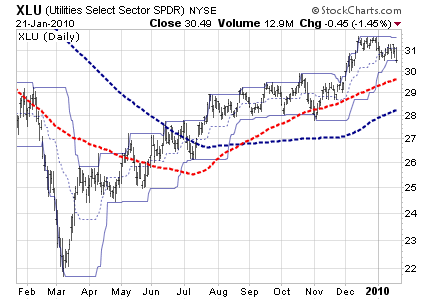 Healthcare has been rising inversely with the declining fortunes of the healthcare bill in Congress. They had a large Scott Brown rally that was given back today, as investors probably realized that the death of the current bill does not mean that significant profit impacting legislation is off the table. Nonetheless, they are in good price pattern condition.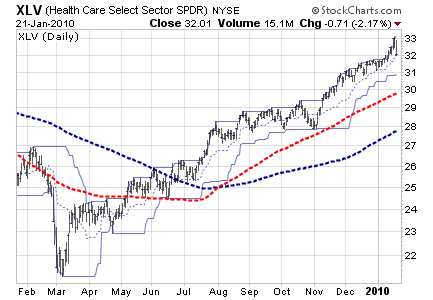 Cyclicals are flattening, but investors obviously don't perceive that the economy is going to tank anytime soon. They are in reasonable position within their price channel and relative to their moving averages, but have broken a trend line based on the July and October/November lows. No emergency, but something to watch.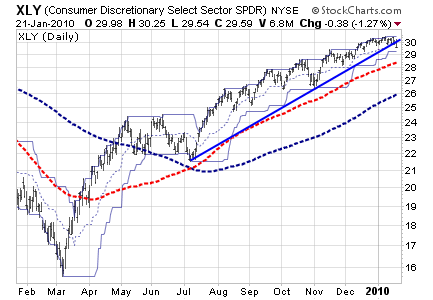 Overall, it looks like the large-cap US market is in pretty good shape — better shape than the MSCI EAFE and emerging markets. Emerging markets individual countries are the subject of our next article. These two charts show the weaker price pattern for EAFE and emerging markets overall: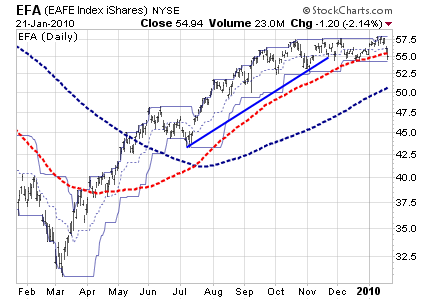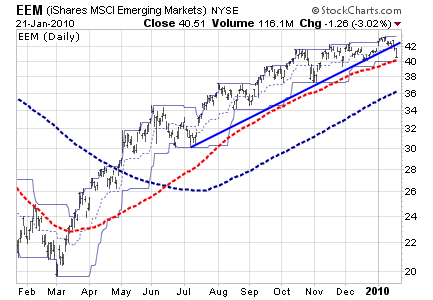 Securities mentioned in this report are: SPY, RSP, EQL, MDY, IWM, OEF, XLB, XLE, XLF, XLI, XLK, XLP, XLU, XLV, XLY, EFA and EEM.
Compliance Disclosure: We own SPY, MDY, IWM, XLU, EFA and EEM in some but not all managed accounts, and do not currently own any other funds discussed in this article. We are a fee-only investment advisor, and are compensated only by our clients. We do not sell securities, and do not receive any form of revenue or incentive from any source other than directly from clients. We are not affiliated with any securities dealer, any fund, any fund sponsor or any company issuer of any security. This report is for informational purposes only, and is not personal investment advice to any specific person for any particular purpose. We utilize information sources that we believe to be reliable, but do not warrant the accuracy of those sources or our analysis. Past performance is no guarantee of future performance. Do not rely solely on this research report when making an investment decision. Other factors may be important too. Consider seeking professional advice before implementing your portfolio ideas.