DR Horton (NYSE:DHI), the largest homebuilder in the country, released its fourth quarter results Tuesday. Net income was in-line with expectations but revenues slightly missed. Regardless of the miss, because of the percentage jump in earnings and revenues on a year over year basis, the stock opened up 36 cents and was up as much as $1.21 (7%) from the previous day's close ($18.06). Yet, despite the bullish media reports, I went ahead and dug into the actual numbers and found numerous red flags. In fact, although the homebuilder stocks have experienced a pretty steep decline since the end of October and are due for a small "oversold" technical bounce, what I discovered reinforces my view that every bounce in the homebuilder stocks should be sold if you're long or sold short if you are an aggressive investor.
The headline reports emphasize year over year comparisons, which are not helpful if you want to decipher what may be in the future (stocks are theoretically priced on future expectations). I will focus on Q3 to Q4 comparisons for the most part, as both quarters cover the "fat" part of the homes sales seasonal cycle and can yield valuable insight into market trends. It is important to keep in mind that my overarching theme here is that the big housing bubble popped in mid-2005 based on total home sales (new and existing) and that what we've seen over the last 18-24 months is mini-bubble dead-cat bounce that is now over.
I am using the DHI Third Quarter and Fourth Quarter 8-Ks if you want to reference my numbers. For starters, the sales backlog declined over 17% from Q3 to Q4. Q3 incorporates April -June and Q4 is July - September. From a seasonal perspective, if the market was in "growth mode," we should have seen flat to higher sales orders, as July and August (part of DHI's FY Q4) are typically the 2nd and 3rd strongest seasonal months for sales. Note that the year over year Q4 comparison for this metric was not helpful in seeing the market decline as reflected in the quarter to quarter backlog drop. In addition, despite higher home sales volume and pricing in Q4 vs. Q3, DHI's pre-tax income margin declined by 120 basis points. Theoretically, with higher volume and prices, margins should be increasing. With margins falling this much despite higher volume and prices, management needs to explain why and it's a red flag in the absence of such explanation.
The biggest red flag from an operating statistics standpoint was the huge jump in DHI's cancellation rate. The Q4 cancellation rate of orders was a somewhat shocking 31% (see the 3rd paragraph of the press release section of the Q4 8-K), with the market expecting a 25% reading. This compares with a 24% (see the 3rd paragraph of the press release section of the Q3 8-K) cancellation rate in Q3 and a 27% cancellation rate in Q4 last year (see 3rd paragraph of the press release section of the Q4 2012 8-K). For me, homebuilder cancellation rates are the "tell tale" sign of underlying strength or weakness the housing market. I started tracking homebuilder cancellation rates around 2003. For comparative purposes, right before the big bubble popped, cancellation rates jumped from single-digits and low teens in the early 2000's to north of 30%, in general, and to the high 40's for many homebuilders. DHI's cancellation rate jumped from the high 20's in early 2006 to the high 40's by 2008. It was under 20% earlier this year. For me, this is biggest of the obvious red flags and it tells me that the underlying demand, and/or the ability to get financing, is in sharp decline.
As troubling as are the operating red flags, I also found some large warning indicators in DHI's financials. For this, I like to dig into the cash flow statement and balance sheet - primarily the former. The cash flow statement often exposes some issues that can be hidden using lenient GAAP accounting rules on the income statement and most market players and media outlets only look at select income statement items. In other words, if done properly, you can gain a competitive edge with some tools not commonly used by market participants.
DHI's cash flow statement covers the full fiscal year for 2013, so we'll look at the overall number and then the change during the quarter which I get by subtracting the cash flow statement for the first nine months from last quarter's 8-K. The first thing I like to check is "cash provided/used by operations." Now, given that DHI is in its peak selling season, we would expect that the operations should be generating a lot of cash given that the revenues for the year were over $6 billion. As it turns out, DHI's operations used $1.2 billion in cash during its FY2013. I find this quite troubling, considering the that volume and prices for new homes moved up significantly this year. If anything, FY2013 should have been a pretty big cash flow generating year for DHI given the big bounce in the housing market.
While most of that use of cash was a result of investing in land for development, as I pointed out in my report on DHI at the end of January, DHI funded the land purchases with a big issuance of debt. If you reference the 2012 and 2013 8-k's linked above, you'll note that on the balance sheet under liabilities, the amount of "notes payable increased from Q4 2012 to Q4 2013 by $965 million, a 42% increase in debt year over year. I discuss further the big increase in debt and why I find it troubling below. Moreover, despite an increase in the volume and the average price of homes sold in Q4 vs. Q3, DHI's operations still burned close a $100 million in cash (netting out the full year number reported in Q4 from the 9 month number released in Q3). DHI continued to buy land using money from issuing even more debt during the quarter, despite the fact that management, as they stated in their conference call, knew the market was slowing down. As I've pointed with KB Homes (NYSE:KBH) and Pulte Homes (NYSE:PHM), I question the business judgment of a management team who continues to burn cash despite market uncertainty and rising interest rates.
I next look in the "cash used/provided from investing" section to see if the company was reinvesting cash in its business or maybe funding the cash used by operations from selling assets and other investments. FY2013, DHI generated $181mm in cash from investments, but this was primarily from selling marketable securities which, as we'll see in a minute, were cash management investments from issuing more debt.
Last, we know that DHI has been burning cash at a rate of 20 cents for every dollar of revenue ($6 billion revenue divided by $1.2 billion in cash used by operations for the full year). If you look in the "cash provided by financing" section you can see how they're paying for the cash burn. You'll note a line item, "proceeds from notes payable," which increased by $415 million from Q3 to Q4. DHI issued over $400 million in debt to fund, not only the cash burned by operations, but to pay $60.2 million in dividends so far this year. That's an increase from $35 million paid in dividends out last year. I find it very troubling when a company is issuing debt to invest in operations at what appears to be the top of a market cycle. But even worse is when they take some of that cash and pay it out as dividends. Dividends are something that should paid from free cash flow and not from the issuance of debt.
Speaking of debt, while management made a point of stating (conference call webcast) that it had $913mm of cash to end the year (a decline from the $1 billion at the end of 2012 and I did not see anyone discussing the fact that the cash balance was from issuing more debt than the company had at the end of 2012). In fact, the increase in the debt load is quite troubling for me. At the end of FY2012, DHI's debt to book value was 64% - a high debt to capital ratio as is. By the end of this year, DHI's debt to book value jumped to 80%. That's the kind of debt load that takes companies under in tough economic cycles (I remember trading DHI junk bonds at big discount to par in the 1990's). As a shareholder, I would be concerned about this big increase in debt and as a bondholder I would be even more concerned that DHI is paying stock dividends from some of the proceeds from issuing that debt.
Finally, one last huge red flag is insider stock activity. Here's a snapshot of DHI's insider stock buys/sells over the last twelve months from www.nasdaq.com:
(click on chart to enlarge)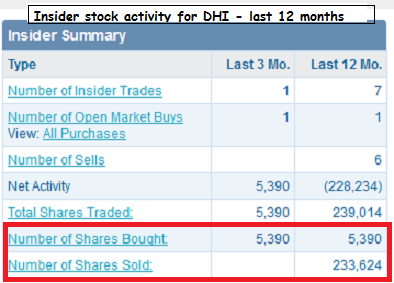 While management has been using shareholder and bondholder cash to buy land and pay dividends, the upper management team has been dumping shares. As you can see, over the last 12 months insider stock sales have out-paced buys by a 6:1 ratio. Even worse, the actual number of shares sold was 43 times more than shares purchased. In my view, if upper management had confidence in both the outlook for the housing market and in the amount of shareholder/bondholder money that is being poured into land purchases, you would think that insiders would be net buyers of the shares, given that the stock was over $40 in 2005 and is trading at less than half that value today.
As I have laid out above, the real story with DHI's earnings report Tuesday lies buried in the financial statements, beneath the veneer of bullish headlines and management comments. While DHI has had a healthy increase in the number of homes sold and the amount of net income reported this year vs. last, the company spent 20 cents of every dollar of revenue buying a lot of land at what I believe is the top of a mini housing bubble. Even worse, they've funded this cash burn by issuing a rather large amount of debt. As such, I recommend that anyone long DHI stock should sell it. At the very least I see it as the fiduciary duty of money managers to hedge their holdings with long-dated, out-of-the-money puts. Aggressive players can short the stock, although I would wait a few days to see how the homebuilders respond to a technically "oversold" condition. Also, shorting shares requires patience and I would recommend, if you are starting a new short position, to make sure you leave capital to add to it if the homebuilders have a sharp bounce here. The short interest in DHI is over 14% of the float, which can add to the upside volatility during market bounces. I will probably wait another day or two and sell some out-of-the-money calls to add to the short positions I established at the end of January and to which I have added on big bounces in the homebuilders.
Disclosure: I am short DHI, KBH. I wrote this article myself, and it expresses my own opinions. I am not receiving compensation for it (other than from Seeking Alpha). I have no business relationship with any company whose stock is mentioned in this article.