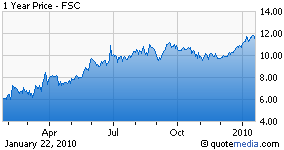 In a pattern we've noticed before, Fifth Street Finance (NYSE:FSC) provided a preview of fourth-quarter earnings (its fiscal first quarter), NAV and bad debt. The news looked pretty good. Simultaneously, the Company announced a major stock offering, just 3 months after the previous offering.
Fifth Street suggested net investment income per share would come in at between $0.21-$0.24 per share, down from $0.26 last quarter but expected due to the dilutive stock offering in September. That's still below the recently-upped dividend of $0.30, suggesting that FSC is adopting the strategy of growing assets and earnings to catch up with its payout over time.
The NAV is projected to remain essentially unchanged, which means the stock (which closed Thursday at $11.74) is being sold at a premium to NAV. The market is clearly supportive, especially as FSC is proposing to sell 8 million shares to go with 50 million already outstanding.
Fifth Street suggests bad debt is limited to non-accruing loans at 2 companies, unchanged from the last reporting period. Or in other words, we don't have credit surprises likely to jump out when the official results are announced.
Finally, FSC announced (very preliminarily) that another lender has been arranged, with a $100 million revolving line that will (presumably) be added to its 3-year facility with Wachovia.
Our initial conclusions are as follows:
1. FSC's balance sheet looks rock solid at the moment. With the new equity offering, the Company has more than a half-billion in equity and a maximum borrowing capacity of $250 million. All the debt is either SBIC or 3-year money, so there is reduced liquidity risk from mismatching loan assets and debt borrowings. This is no small matter. If we do face a double-dip recession, under-leveraged BDCs with available capital will be the best port in the storm.
2. Earnings per share will drop in the fiscal first quarter (calendar fourth quarter) and in the following quarter, thanks to these dilutions. Presumably, however, management will hold to the $0.30-per-quarter dividend until assets are deployed and earnings increase. The current yield is about 10.2%, which is OK.
3. We're a little puzzled why FSC is accumulating so much cash and firepower at a time when good loan opportunities are still muted. Could an acquisition be in the crosshairs? Or is it just a matter of grabbing the money while it's available?
4. A few days ago, we calculated that FSC could ramp up its assets to more than $600 million. After this last round of capital raising and new revolver, FSC could top out well past $750 million in assets and even aim at $1 billion. That would take it into the higher echelons of the BDC industry just a couple of years after its initial IPO. Does management have the proper set of skills and systems to maintain adequate credit quality with so much money to spend? With such a short history, it's impossible to tell.

Disclosure: Long FSC