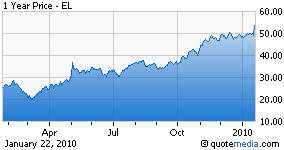 Sometimes a stock comes up on my Barchart screening for stocks that hits new highs out of the blue. Estee Lauder (NYSE:EL) is one of those stocks. Is it a thing of beauty or sheer illusion?
All of us know the Estee Lauder name, and you will probably find its products if you look in your wife's cabinet. Before you think I'm sexist, the company also makes Aramis, and I've been using those products since I was in college.
Estee Lauder manufactures and markets skin care, makeup, fragrance and hair care products. Brand names include Estee Lauder, Clinique, Aramis, Prescriptives, Origins, M.A.C, Bobbi Brown, La Mer, Jane, Aveda, Stila, Jo Malone and Bumble and Bumble. The company is also the global licensee for fragrances and cosmetics sold under the Tommy Hilfiger, Donna Karan and Kate Spade brands. You can't walk through Nordstroms without being sprayed with one of their products.
I first noticed the stock because all of Barchart's 13 technical indicators signaled a 100% buy rating. The stock hasn't closed below its 50-day moving average since October 2009 and has appreciated 30.8% in the past 65 days.
On a fundamental basis, analysts expect the stock to post a 5.3% increase in revenue next year and a 15.7% earnings increase. The best part is the company expects EPS increases to continue at the same rate for the next 5 years. There are 6 major buy recommendations, and 9 analysts have increased their earnings projections in the past week alone.
On other websites, Wall Street Survivor readers give the stock a 5/5 Survivor Sentiment followed by a 4/5 fundamental rating and a 5/5 technical rating. At Motley Fool, CAPS members and All Stars believe by overwhelming votes that the stock will outperform the market.
Warren Buffett always says he doesn't buy stocks, he buys companies he understands and would want to hold for a lifetime. Estee Lauder has seen a lot of competitors come and go, but the company is still around to make us all appear a little bit above average.
My recommendation: Buy Estee Lauder below 55 with a stop loss no lower than 48.


Disclosure: No positions in EL at the time of publication