"The Dow tumbled more than 200 points today, but every cloud has a silver lining and today you can find it in Panera Bread (NASDAQ:PNRA). This stock was up $5 today. I bet we would be up $10 if we didn't have the slashing…" –CNBC's Mad Money 1/21/2010
On Thursday night, Jim Cramer invited three CEOs on his show to discuss their respective companies, and the one that really impressed me was Ron Shaich of Panera Bread Company.
His company had planned to release earnings results in mid February but elected to preannounce some of their extremely successful quarterly numbers a few weeks ahead of time. Specifically, the company released data on same-store sales for the fiscal fourth quarter which equated to a rise of 7.4% in the quarter, and this fabulous growth was aided by a blowout month in December with comparable sales rising 9.6% in that month. The company also said that that hot performance has been maintained in the first 21 days of January, as same store sales are up 9.4% up to this point. Those very impressive same store sales results prompted the company to lift its earnings guidance for Q4 to $.94-$.95, which is well above the consensus analysts' estimates of $.88 and previous guidance of $.85 to $.87. (Click chart to enlarge)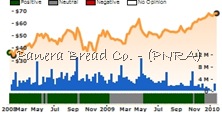 Panera's stock rose more than 7% on the news and, as Cramer mentioned, it would have been probably been an even more explosive day had it not been for the terrible market. Aside from the awesome numbers from the last quarter, what was really impressive was the CEO's vision for the direction of the company. In previous interviews with Cramer, Mr. Shaich has been conservative about growth and bided his time against Cramer's wishes for the growth. Instead of using company resources to build out a great number of new locations, PNRA has focused on improving its operations and its product. His outlook on growth has changed substantially as he believes now is the time to get aggressive and will open 80 to 90 new stores in 2010 and will boost spending on advertising. The reason for the shift in philosophy is a convergence of great sales performance, lower real estate costs, as well as lower construction costs.
In December, we actually downgraded Panera to Fairly Valued from our previous stance of Undervalued due to the stock's impressive run. At that time, the stock seemed to be getting ahead of itself with a forward looking P/E over 20x. However, we may upgrade the stock in the coming weeks as the fundamentals certainly seem to justify the price appreciation. The restaurant business has been greatly impacted during this recession, but Panera has impressively managed to thrive during this tough time. That is a strong endorsement for its leadership team. In November, Panera Bread announced that Mr. Shaich will be stepping down from his role as CEO and Bill Moreton will take the helm. Mr. Shaich will stay on the board as Executive Chairman but he will undoubtedly take a step back from many day-to-day decisions. The transition will take place in May, but it is clear that Shaich will be leaving the company in very good shape.