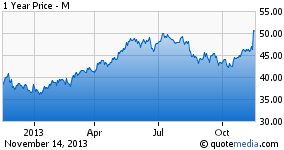 Shares of Macy's (NYSE:M) saw a big jump upwards on Wednesday after the company owning Macy's and Bloomingdale's reported a very solid set of third quarter results.
Investors are very excited with the strong trends into the so important holiday season, sending shares to fresh all time highs. At current levels, shares are fairly valued in my opinion, and while I am cautiously optimistic, I remain on the sidelines.
Third Quarter Results
Macy's generated third quarter revenues of $6.28 billion, up 3.3% on the year before. Analysts were looking for revenues of $6.19 billion for the quarter.
Net earnings rose by 22.1% to $177 million. Note that earnings per share rose by over 30% to $0.47 per share after the company retired some 7% of its shares outstanding over the past year. Consensus estimates for earnings stood at $0.39 per share.
CEO and Chairman Terry Lundgren commented on the performance, "We were able to achieve a very successful third quarter of 2013, despite the tepid economic climate. This was our 15th consecutive quarter of improved earnings per share. Our improved sales performance resulted from continued success in the execution of our key strategies - My Macy's localization, Omnichannel integration and Magic Selling customer engagement."
Looking Into The Results
Macy's reported revenue growth was driven by a 3.5% increase in comparable sales. Including sales from sales licensed to third parties, sales were up by 4.6% on a comparable basis. Analysts were looking for a mere 1.9% increase in comparable sales.
Gross margins were under pressure a bit over the past quarter, falling by 40 basis points to 39.2% of total sales. Macy's did a great job at containing selling, general and administrative expenses which fell by 70 basis points to 33.5% of sales. On the back of lower interest expenses, earnings saw a decent boost.
Outlook
Macy's reiterates its outlook for comparable sales growth of 2.5% to 4% in the second half of the year. Full year comparable store sales growth is seen between 2% and 2.9%.
Earnings for the fiscal year are seen between $3.80 and $3.90 per share. Consensus estimates stood at $3.78 per share, after the many retailers previously warned for tough conditions into the holiday season.
Valuation
Macy's ended its third quarter with $1.17 billion in cash and equivalents. Total debt stands at $7.20 billion, for a net debt position of $6.0 billion.
Revenues for the first nine months of the year came in at $18.73 billion, up 2.1% on the year before. Net earnings rose by some 11.5% to $675 million in the meantime. As such, annual revenues should easily top $28 billion as earnings could come in around $1.5 billion.
Factoring in gains of 8% on Thursday, with shares exchanging hands at $50 per share, the market values Macy's at $18.8 billion. This values equity in the firm at 0.7 times annual revenues and 12-13 times annual earnings.
Macy's currently pays a quarterly dividend of $0.25 per share, for an annual dividend yield of 2.0%.
Some Historical Perspective
Shares of Macy's peaked around $45 in 2007 before the recession send share below the $10 mark in 2009. Ever since, shares have seen a very steady but solid recovery to fresh high around $50. This has been on the back of the third quarter earnings report.
Between the fiscal year of 2009 and 2012, Macy's has increased its annual revenues by a cumulative 18% to $27.7 billion. Net earnings quadrupled to little over $1.3 billion in the meantime.
Macy's has retired nearly a tenth of its share base over the past four years.
Investment Thesis
A very encouraging sign is that Macy's saw its business improve throughout the quarter, with noticeable strength in October. This gives the company a lot of confidence for the fourth quarter. Macy's stresses that it is well positioned in terms of merchandise for the holiday season.
These encouraging developments are crucial for Macy's. In the last year, the fourth quarter accounted for 34% of annual revenues and little over half of annual earnings.
It has been December of 2012, when I last took a look at Macy's prospects. With shares approaching the $40 mark at the moment, I concluded that the sizable share repurchase program created strong support for shares.
The high pace of share repurchases of Macy's at the time, amidst a fair valuation, gave some appeal to Macy's shares. The solid pace of growth into 2013, combined with this recent acceleration in the third quarter has send shares another 25% higher ever since.
At this point, shares are fairly valued, as it is understandable why investors are enthusiastic with encouraging trends into the so important holiday season. As these improvements have already been translated into higher prices, I remain on the sidelines.
Disclosure: I have no positions in any stocks mentioned, and no plans to initiate any positions within the next 72 hours. I wrote this article myself, and it expresses my own opinions. I am not receiving compensation for it (other than from Seeking Alpha). I have no business relationship with any company whose stock is mentioned in this article.