With record sales of Apple's latest iPhones in the first few months of its launch, iPhone 5s and 5c are among the top three selling smartphones for the four major U.S mobile carriers, AT&T (T), Sprint (S), Verizon (NYSE:VZ), and T-Mobile (TMUS) in September 2013. Apple sold 9 million new iPhones in just three days of the start of shipment. Sprint's prepaid brand, Boost Mobile, decided to offer iPhone 5s and 5c beginning on November 8, 2013. Last month, Sprint launched iPhone 5s and 5c, and its upgrade plan "One Up" gives users unlimited 4G speed and the option to upgrade their phones every 12 months. The launch of prepaid iPhones from Boost Mobile may increase Sprint's prepaid subscriber-base, which has seen a decline of 741,000 subscribers for both the Sprint and Nextel platform in the second quarter of 2013.
Net addition (losses) of Sprint subscribers
| | | | |
| --- | --- | --- | --- |
| (in thousands) | Q1 2013 | Q2 2013 | Q3 2013 |
| Sprint: Postpaid | 12 | 194 | -360 |
| Prepaid | 568 | -486 | 84 |
| Nextel: Postpaid | -572 | -1060 | - |
| Prepaid | -199 | -255 | - |
Source: Sprint
Sprint offers prepaid services through its brands including Virgin Mobile, Boost Mobile, and Assurance Wireless. It experienced a substantial loss of 486,000 prepaid subscribers in the second quarter, due to deactivations in the Lifeline program. With the launch of some of the latest smartphones, including iPhone, and service on the 4G network, we think these plans could appeal to customers and they could shift to the Sprint network. The prepaid subscribers increased by 84,000 subscribers in the third quarter of 2013, and we expect Sprint will be able to rebound from the second quarter subscriber losses by leveraging on its sales of prepaid phones.
There is a shift in preference among mobile subscribers, and more people are now opting for prepaid services. The prepaid subscribers represent only a quarter of all wireless service plans, but in the last five years half of the new additions were prepaid accounts. The share of prepaid has increased from 18% in 2008 to 23% last year.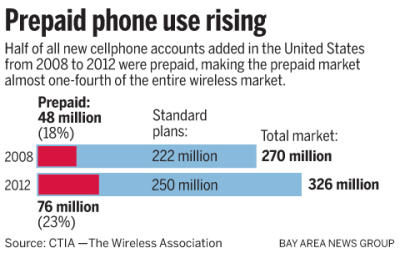 We also want to emphasize that the prepaid industry is becoming more competitive with stronger presence among U.S. mobile carriers. AT&T has performed well in the third quarter with a total addition of 192,000 subscribers, with the help of long term evolution, or LTE, capable phones. In May this year, AT&T launched a new prepaid brand called Aio, and it entered an agreement to acquire Leap Wireless (LEAP) and combine it with its Aio services. Leap offers cheap and low cost mobile phones and has 4G LTE coverage as well. There are currently 230 Aio stores in the U.S., and acquisition of Leap will further expand AT&T's presence in the prepaid market and increase its spectrum holdings.
On the other hand, T-Mobile is getting stronger and added one million new customers, including 24,000 prepaid customers in the third quarter of 2013. On October 7, Target Corp. (NYSE:TGT) launched a prepaid wireless service 'Brightspot' that would run on T-Mobile's network. There are two kinds of plans, one with free unlimited voice & text but no data, and the second has 1 GB of HSPA+ or LTE data. In addition, customers will be rewarded $25 after every six months of service. This service gives the option of a prepaid plan along with 4G LTE service. T-Mobile is expanding its prepaid services in the U.S., and it has prepaid brands such as GoSmart mobile and MetroPCS. Although T-Mobile is still the fourth largest carrier in the U.S., it is a big threat for Sprint. Sprint had a net addition of 28,000 prepaid subscribers, including the losses in the Nextel platform in the third quarter of 2013. The total prepaid subscribers of T-Mobile are 14.96 million, which is very close to Sprint's 16.03 million at the end of third quarter of 2013. T-Mobile has seen a turnaround with a growth in the subscriber base in the last two quarters, but Sprint has been losing its customers. Sprint's loss of customers is mainly due to the shutdown of its Nextel network, and we believe that it could reverse its subscriber loss through its value offering and 4G LTE network.
LTE roll out holds the key
Sprint's postpaid revenue contributed around 72% of the wireless operating revenue in the second quarter of 2013, and it has seen average revenue per user, or ARPU, rise in the last two quarters. However, Sprint has seen net loss of 1.5 million postpaid subscribers as a result of the shutdown of Nextel's iDen network. We believe that net losses of postpaid subscribers will decline going into the third quarter due to improvement in Sprint's network performance.
The key to Sprint's turnaround depends on the success of its 4G LTE network roll out in the U.S. Sprint has expanded its 4G LTE services to 230 markets in the U.S. wireless service market, and it hopes to provide LTE services to 200 million people by the end of 2013. Sprint's slower than expected LTE roll-out relative to its peers has negatively affected its subscriber growth in recent quarters. Achieving the 200 million mark will boost its 4G capabilities in the U.S. and will help it keep up with the growing demand for high-speed data. We believe Sprint has the opportunity to improve its network performance by further utilizing the frequency band acquired from Clearwire (CLWR) and leveraging Softbank's (OTCPK:SFTBF) expertise in deploying the LTE network.
One of the emerging players in the 4G LTE network is T-Mobile; the combination of greater LTE coverage, new pricing plans, and sales of new iPhones are attracting new customers. On October 9, T-Mobile announced its much awaited Uncarrier 3.0 strategy. The Uncarrier strategy is an initiative taken by T-Mobile in March this year to win back customers. The major highlights were:
No international 2G data roaming fees - Simple Choice customers will be able to use their data bundles in more than 100 countries without any additional cost beginning October 31. They can also make calls at $0.20/min flat rate in the same countries.
New International Talk & Text plans - At a cost of $10/month, customers on the new call plans can call and text at discounted rate.
LTE network - T-Mobile announced that it now covers a population of more than 200 million with its LTE network in the U.S. TMUS also refers to a third-party network test, putting it ahead of Verizon and Sprint on speed and median speed, faster than AT&T in 10 out of the top 20 metropolitan statistical areas in the U.S.
T-Mobile has presence in 11 European countries, and we believe that it will leverage its position in Europe to its advantage, especially after the European Union, or EU, decided to abolish roaming charges in Europe beginning in July 2014. No 2G international data roaming fees might help T-Mobile add roaming subscribers, and it will affect the competitive landscape in the U.S. In terms of financial impact, we don't expect a significant change, as roaming contributes a fairly small share of mobile revenue.
Bottom-line
There are many critics of Sprint's turnaround story, but we should acknowledge that the company is now in a much better position with the help of Clearwire's spectrum and the financial muscle of Softbank.
| | | | | |
| --- | --- | --- | --- | --- |
| | Sprint | AT&T | Verizon | T-Mobile |
| EV/EBITDA ttm | 8.12 | 9.16 | 5.48 | 8.3 |
(Source: Yahoo! Finance)
Sprint's trailing twelve months EV/EBITDA is a bit cheaper than its peers AT&T and T-Mobile, which emphasizes the fact that Sprint has potential to grow its earnings. Due to the shutdown of the Nextel network and other Network Vision benefits, the company is expected to show better EBITDA growth in the coming quarters.
Sprint will be able to use its substantial spectrum position to improve network speed, but we believe that it will take time to deliver a superior performance compared to Verizon and AT&T, given the quality and speed of their networks. Given Sprint's current scenario, investors should be patient and give Sprint's turnaround some time to achieve long-term success.
Disclosure: I have no positions in any stocks mentioned, and no plans to initiate any positions within the next 72 hours.
Business relationship disclosure: Fusion Research is a team of equity analysts. This article was written by Rohit Gupta, one of our research analysts. We did not receive compensation for this article (other than from Seeking Alpha), and we have no business relationship with any company whose stock is mentioned in this article.