The most obvious thing to me in the market today is the huge weakness in anything related to the emerging market growth thesis, starting with
EEM
and
XLB
.
As I see it, a key issue for the market right now is what will prevail: the loss of relative strength of the emerging markets, which has driven global markets since Nov 2008, or the attempt so far of U.S. stocks, especially tech, small caps and more recently regional banks, to resist a sharp correction.
Here are some key charts that illustrate that point that I am focused on, these update what I've been showing in numerous post on my
Instablog
in recent days,
(click on the charts to enlarge)
.
If you look at nothing else here I strongly urge you to look at the charts of debt as percent of GDP, the first going all the way back to 1870, at the very end of this article, most especially the second chart showing the huge increase in financial sector debt over the last few decades, which has been at the source of the global financial crisis, and which barely has begun to be unwound, see the third chart. This simple fact is not being addressed head-on in the "too big too fail" political/policy debate.
First below is
ACWI
, a lightly-traded ETF which mirrors MSCI All Country World Index, which I find useful as a real-time proxy for global equities. I often use ACWI as the base for my relative strength charts, shown below, rather than
SPY
, since this is now a global market.
On Thursday, ACWI closed at 42.06, below its 50-day EMA today for the first time since late Oct 2009. There is support from Nov-Dec at around 41.50, with an intraday low in late Nov just above 41. It has not closed below its 100-day EMA, which is currently at 41.23, since mid-Apr 2009, doing so would be stronger evidence that its uptrend is broken, which obviously wouid be a
huge
market negative.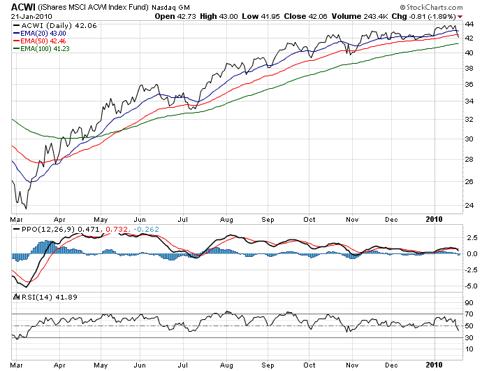 Next below is EEM
relative to
ACWI, in other words emerging markets relative to global markets. The most noticeable thing to me in the market today, and for the past week, see my
Instablog
, has been the accelerating relative weakness in emerging markets.
This is critical, because as you can clearly see on this chart, emerging markets led global markets up starting in Oct 2008, long before the U.S. market bottomed in Mar 2009. This is because China's economy turned first and fastest, benefiting from a massive and highly effective government stimulus package.
EEM's global relative strength closed just a tiny fraction (.001 on this scale) above its 100-day EMA. If EEM continues to lose relative strength, that will be a
major negative shift for global equity markets
.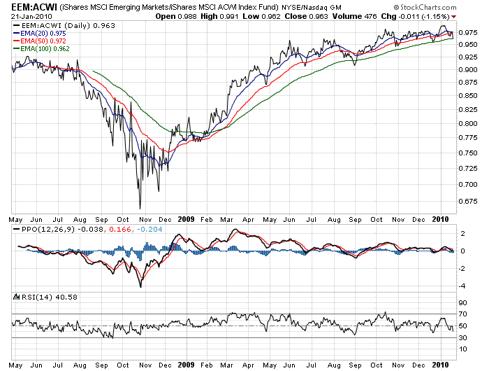 Next up is Shanghai Composite relative to ACWI. I downgraded China's market from my highest rating back on
July 31, 2009
a few days before that market topped on Aug 4, in one of my first articles on Seeking Alpha, when I started writing about the huge slowdown in China bank loan growth that the market has only now become pre-occupied with. The ongoing inability of China's equity market to regain positive relative strength has been a
clear negative
for global markets.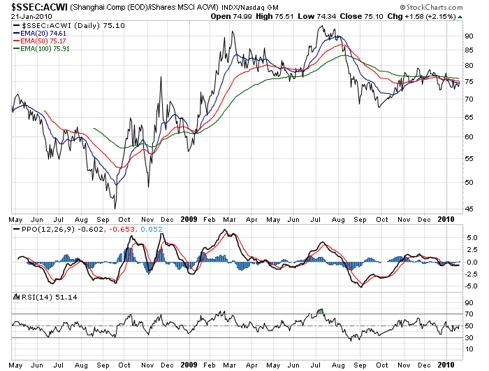 Not surprisingly, given the weakness in emerging markets, XLB the materials sector etf, has also been losing relative strength the past few days, declining sharply into the close today, with
no attempt to rally
, as hot money fled the usual stock names they loved just shortly before, just as you would expect.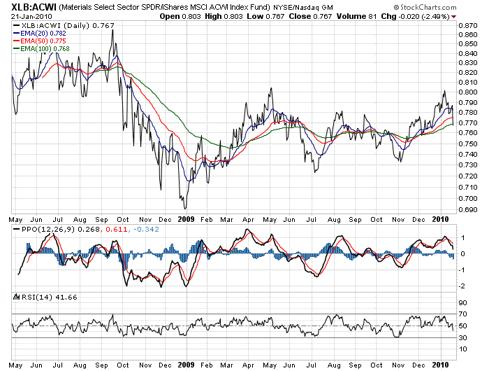 The above charts are the "
bad news
" for the stock market The "
good news,
" if any, is the pick-up in relative strength of QQQQ, tech,
IWM
, small caps, and
KRE
, regional banks.
In contrast to EEM and XLB, QQQQ at least tried to make a good fight today, declining 0.94%, briefly trying a feeble rally mid-day before going lower at the end of the trading and after the close on Google's (NASDAQ:
GOOG
) report.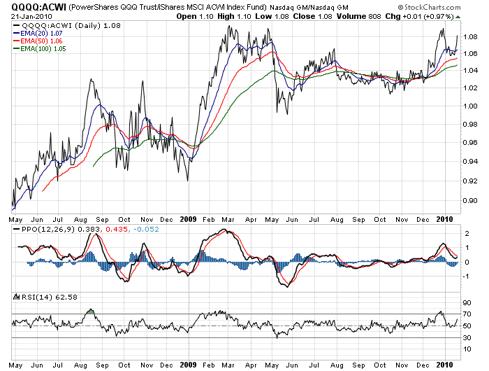 KRE, the regional bank ETF, has shown noticeable relative strength since mid-Dec, including the past two days. While the market focuses on the Goldman's of the world, and Obama's attack on them, this significant improvement in relative strength of the banks that actually help finance the real economy, rather than exist for the speculative benefit of their partners, is a positive for both the market and the economy.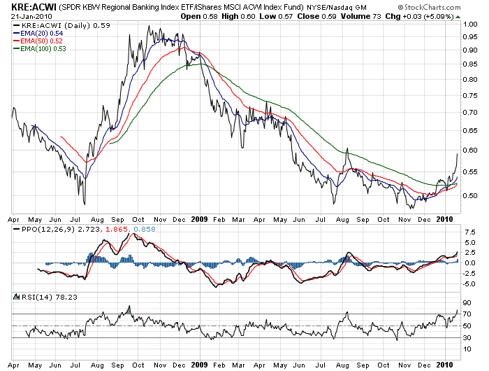 Perhaps somewhat surprisingly, given its volatility, IWM, Russell 2000 small cap etf, is also still trying to put up a good fight, and in doing so has gained some relative strength.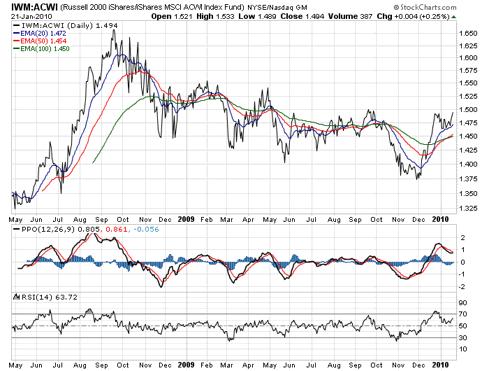 Finally, VLE, the Value Line Arithmetic Index, relative to SPX, shows that since Nov 2008, the "average" U.S. stock has been greatly outperforming the "blue chips." I.e. in the language of Wall Street, "low quality" outperformed "high quality" in the mad dash for beta to play the snap-back recovery and rally in 2009. VLE's relative strength is back to where it topped in Sep-Oct, 2009. I noted the end of that phase of low-quality, high-beta risk chasing in my
Sept 28 article, "'Easy Money' Is Over."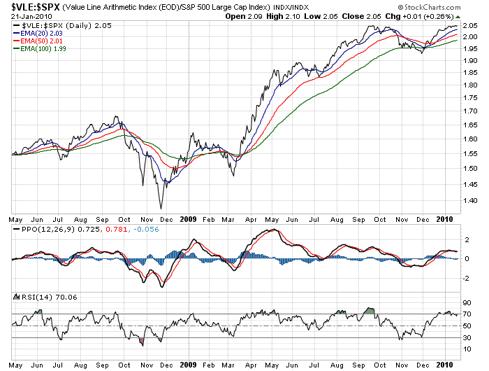 I submitted for publication Jan. 20 12:25 am EST the Instablog below, with the title, "
2010 a Year of Trading, First Key Decision Point Imminent
," which led off, "I often use Jan 21 as one of my first market checkpoints." Since it wasn't published, I am including it below, to give readers a better sense of where "I'm coming from."
Since I started writing articles for Seeking Alpha in July 2009, I have tried to stay in sync with the market uptrend. I had 23 article published, mostly long weekly ones. The last one I submitted for publication was back on Nov 16, 2009. So when I finally submitted a new one for publication on Jan 20, 2010, titled a "Key Decision Point Imminent," I meant it.
"2010 a Year of Trading, First Key Decision Point Imminent"
I often use Jan. 21 as one of my first market checkpoints. "Normally," all things being equal (they never are), I expect the market to rally on "better than expected" 4Q earnings into or around that date.
Then, when the market's reaction often becomes more clear around that date, if the market is particularly strong that year, the rally usually seems to continue; if not, it takes a respite. I try to watch the market reaction to key earnings and news (such as the Mass. election) for clues as to which way it will go.
I currently feel that 2010 is likely to be more of a trading year than 2009, so posting frequently in real-time on my Instablog may hopefully provide more value-added for readers than the 23 mainly lengthy weekly articles that I had published in the second half of 2009.
In my last weekly article on Seeking Alpha, all the way back on Nov. 16, I wrote: "The big issue for traders simply remains whether SPX finally clears last week's high around 1105, kicking off the usual year-end seasonal strength." That market resistance level was cleared, the usual seasonal strength kicked in right on schedule, on low volume that annoyed many, so here we are, up near 1150.
In 2009, there was only one investment decision to be made: to go long near the March low and to stay long. So my weekly Seeking Alpha articles often tried to show that there was in fact a recovery, however subpar by historical standards, often heavily relying upon ECRI's WLI, and other leading indicators, to try to make that point (e.g. I won't go into the very large positive GDP swing from smaller inventory reductions in 4Q here, since that has long been well known).
Many investors seemed to fight, even deny, the nascent recovery and very strong market rally all the way up. But this site is called "Seeking Alpha," which to me means trying to stay in sync with major market trends, regardless of one's strong personal opinions and feelings about those trends and their sustainability (I have mine too, we all do).
It has seemed to me that Seeking Alpha articles with the words "Crash" and "Depression" often generate a lot of new followers and readers' comments. Writers and readers do not use those two terms lightly, they are very sincere about the very deep problems facing this country.
I hope that, in discussing investing trend following, I don't come across as being unaware of the problems that bother many investors and Americans. Very high on the list is the huge increase in debt, which simply was barely addressed during the crisis and recession, and so still remains the key long-term issue.
In the past year, exploding government debt has become the focus point of much investor and populist anger. That's understandable. But it was the vast increase the past few decades in financial debt and leverage, to essentially finance gambling for Wall Street's benefit, that landed the global economy in deep trouble.
Just to try to indicate that, despite my attempts to ride market trends, I am well aware of that overriding debt issue, below are three recent charts that clearly show the key long historical debt trends that the market still needs to deal with, at some point.
I have no idea when that point will be, nor how we will get there; I doubt that anyone really does, since these charts make absolutely clear that the economy remains in historically unprecedented waters. So all I can do is try to stay in line with market trends, especially when they significantly change (the latter easier said than done).
Since these are long historical charts, going all the way back to 1870, 1929, and 1990, and the vertical scale is huge, in hundreds of percent of GDP (i.e. currently tens of trillions of dollars), I suggest that readers take long enough to really let the trends in the chart sink in, once again most especially the huge increase in financial sector debt as percent of GDP.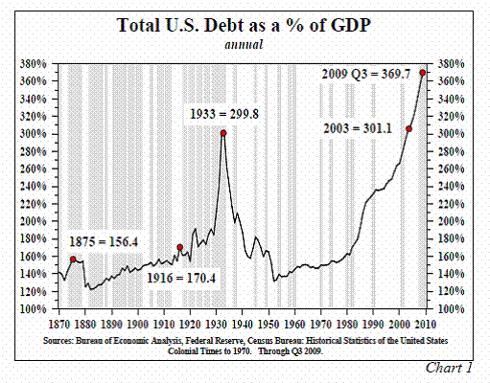 Source: Hoisington "Quarterly Review and Outlook Fourth Quarter 2009"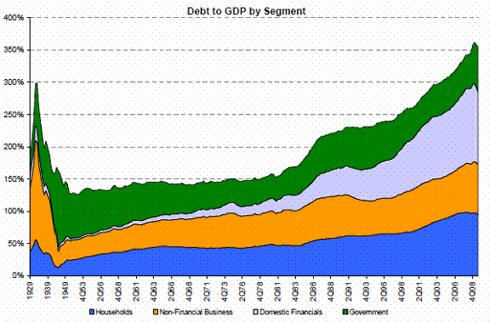 Source: Morgan Stanley.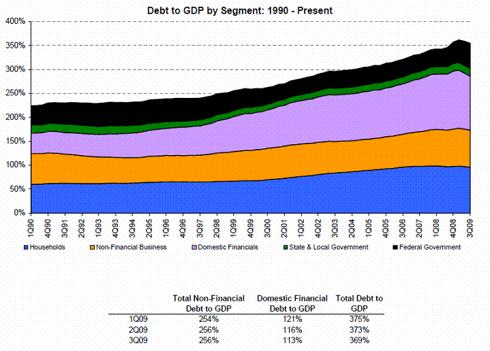 Source: Morgan Stanley.
Disclosure: No positions in stocks, ETFs mentioned