The mining industry has been plagued with overcapacity as a result of a macroeconomic slowdown, leading to weak commodity prices for quite some time. This has had quite an impact on the performance of mining equipment and machinery manufacturers like Caterpillar (NYSE:CAT) and Joy Global (NYSE:JOY), both of whom reported weak quarterly results and also provided a weak forecast in their latest quarters. Both do not see any light at the end of the tunnel, even in 2014.
Caterpillar's woes
Caterpillar has been making things difficult for itself. Brian Langenberg, the principal of the Langenberg research firm, said it in the most straightforward manner when he summarized Caterpillar's earnings. "The third quarter was hideous, the fourth quarter will stink and the guidance for 2014 is very, very subdued," he said in a Reuters report.
Caterpillar recently posted third-quarter results with lower-than-expected profits. I believe Langenberg is right in the sense that the report was downright scary with sales down by $11 billion versus the previous year and earnings crashing 44% versus the same period last year.
In view of the weak performance and expected weakness in the end markets, Caterpillar also cut its full-year forecast. For 2014, its sales forecast clearly suggests that weakness from mining customers would continue to impact the performance of the company.
In recent discussions with mining executives, Caterpillar Chairman and Chief Executive Doug Oberhelman said they had all made one thing clear: "Any expansion in the near term is dead, it's over, it's not going to happen."
Joy Global's troubles
Joy Global, like Caterpillar, faces the problem of oversupply in its end markets. Last year, global consumption of coal grew 2% to 7.84 billion tons while production grew 3% to 7.88 billion tons. In addition, coal consumption growth in China is estimated to have slowed down to 4% year on year in 2012, down from 10% in 2011. This resulted in a surplus of coal supplies, leading to a decline in price. As a result of lower prices, mines started putting off capital expenditures and this hurt both Joy Global and Caterpillar.
Even though Joy Global's third-quarter results beat consensus estimates on earnings, investors continue to remain negative about its prospects given the decline in earnings and revenue versus the year-ago period. The decline in the order backlog that Joy has witnessed is another concern. Joy Global reported adjusted earnings of $1.70 per share in the previous quarter versus $1.87 in the year-ago period. It clocked revenue of $1.32 billion in the reported quarter, down 4.9% from $1.39 billion a year ago, with weaker sales in the underground mining segment being responsible for the decline.
Looking forward to the industry's recovery
The global mining equipment market is expected to reach $117 billion by 2018 at a CAGR of 8.5%. Surface mining equipment holds the largest share of this market at nearly 37%, followed by underground mining equipment. The Asia-Pacific region is projected to be the fastest-growing area in the coming years, fueled by increasing mining production and related machinery sales in India, China, and Indonesia.
According to a report from the International Energy Agency, coal's share of the global energy mix continues to rise, and by 2017, coal will come close to surpassing oil. The world is expected to burn around 1.2 billion more tonnes of coal by then, which is the current combined coal consumption of the U.S. and Russia. According to the agency, China and India are expected to lead growth in coal consumption over the next five years.
In the open-cast mining sector involving iron ore, there are conflicting opinions regarding growth projections. Australia, the largest iron ore exporter, forecasts exports to rise 14% in the ongoing fiscal year. Here again, oversupply remains the main concern and this will fuel weakness in pricing due to loss of growth momentum in China and India.
The economic recovery in major commodity markets is going to be a long drawn process and hence, the growth in commodity demand will be slow. The cut in capital expenditure by the mining industry in general is also an indicator that recovery will be slow.
Both Joy Global and Caterpillar are trying to keep investors happy through share repurchase and dividends. Caterpillar, for example, has repurchased $2 billion worth of stock this year and raised the quarterly dividend by 15%. Joy Global has also announced a share repurchase to the tune of $1 billion over the next three years.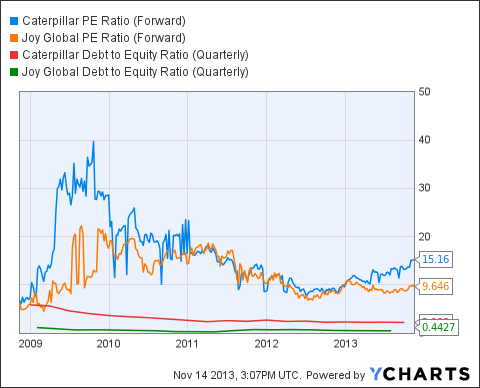 CAT PE Ratio (Forward) data by YCharts
From an investment point of view, Joy Global has a debt to equity ratio of 0.44 versus 2.18 of Caterpillar. And with forward P/E under 10, the stock is dirt-cheap when compared to others such as Caterpillar (15 times earnings), and that's why, value investors should definitely take a look at Joy Global.
What next?
As I said earlier, both Joy Global and Caterpillar are facing tough times and a recovery is not expected to happen in the immediate future. Hence, investors looking to buy these companies at their present beaten-down levels would need to be patient. Moreover, management is looking to keep investors in good spirits through dividends and buybacks. But for those looking for a really cheap option, Joy Global could be the ideal pick. It has a yield of 1.20% and a trailing P/E of just 8.35. The stock has declined almost 38% this year and is worth a look for the long run.
Caterpillar, on the other hand, could be a safer pick, even though it has been witnessing steep drops in revenue and earnings. But Caterpillar's huge size, presence in China, brand equity, and diversification across the globe are advantages. Moreover, the company has a juicy yield of 2.80% and has held up well this year with the stock declining just about 5%, but its trailing P/E of almost 16 is around twice of Joy Global. Hence, investors can consider either Caterpillar or Joy Global for their portfolio, but they would surely need to wait for quite some time to see their investment bear fruit.
Disclosure: I have no positions in any stocks mentioned, and no plans to initiate any positions within the next 72 hours. I wrote this article myself, and it expresses my own opinions. I am not receiving compensation for it (other than from Seeking Alpha). I have no business relationship with any company whose stock is mentioned in this article.