For many investors, the end of 2008 may have seemed like the end of the world. Their most prized holdings – high-yield junk bonds, high-yield currencies (e.g., Australian dollar, etc.) and emerging market stocks had been massacred.
Yet the losers from 2008 became some of the best performing assets in 2009. Recovering a large percentage of lost portfolio dollars became a simple matter of investing in the most volatile price mover in each asset class.
In 2010, many folks say that China-fueled commodity demand coupled with worldwide monetary stimulus will translate into the same victors (e.g., tech, materials, emerging markets, etc.). Of course, few folks have considered the possibility that poor performers from 2009 (e.g., the U.S. dollar as a currency, developed nation stocks from Japan, regional banks in the U.S., etc.) will wind up the champs for 2010.
Let 's take a closer look at a few of the above-mentioned examples:
1. SPDR KBW Regional Banking (NYSEARCA:KRE). We all recognize that many of the regional banks still have messy problems on the books, particularly in commercial real estate. And while regional banks and national banks may believe that bad loans in residential real estate are working their way through the "system," commercial loan woes have yet to be addressed.
Still, markets are forward-thinking. That is why broad market benchmarks like the S&P 500 began an amazing uptrend 6 months before 2 consecutive quarters of GDP growth could be recorded; the index finished with 20%+ gains in 2009. Meanwhile, problems for regional banks continued to plague SPDR KBW Regional Banking (KRE) in 2009, as the ETF lost -20%+.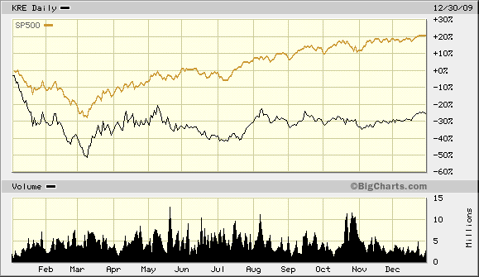 Click to enlarge
Nevertheless, the idea that it is "darkest before the dawn" may favor the previously unloved regional banking segment. While the S&P 500 has turned in a "flat" performance over the initial 3 weeks of 2010, SPDR KBW Regional Banking (KRE) has rocketed to a quick start.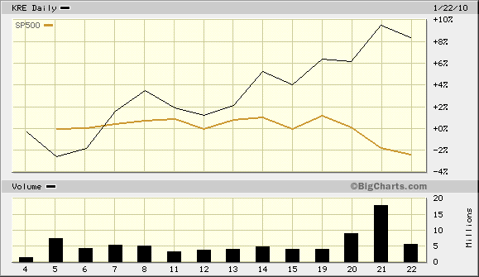 Click to enlarge
2. iShares MSCI Japan (NYSEARCA:EWJ). The consensus on nearly every country around the world is for a modest amount of inflation, albeit tame. The singular exception is the export-dependent Japan, which is contending with deflation.
Japan is expected to grow its economy at a rate no better than Europe and far below the U.S., Canada and Australia. Japan also has exorbitant debt levels, poor consumer spending and an exceptionally high currency that makes exporting difficult.
The current facts have a lot to do with the performance differences in 09 between iShares MSCI Japan (EWJ) and developed market ETF alternatives like the iShares Global 100 (NYSEARCA:IOO). Japan was a significant 2009 underachiever.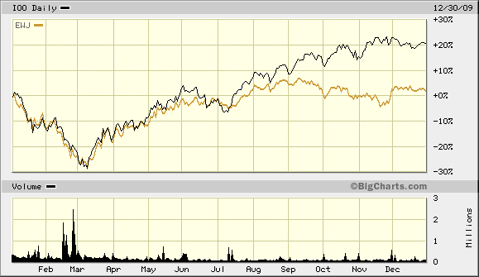 Click to enlarge
So why in the universe would you invest in a country that is still mired in uncertainty? Again, when it is darkest before the dawn, perhaps a forward-thinking perspective serves the investor well.
In fact, in "5 Things You Didn't Know About the Japan ETF," I discussed a host of positives. What's more, 2010 has already been kinder to the "Land of the Rising Sun."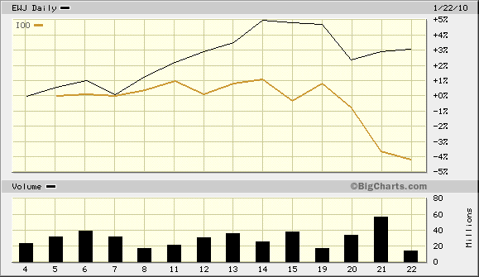 Click to enlarge
So if the Japan ETF and the Regional Banking ETF can surprise their critics, what about the U.S. dollar? How might PowerShares DB U.S. Dollar Bullish (NYSEARCA:UUP) fare in 2010 after the thrashing it received in 2009? Well, it is certainly making a push to climb above a long-term, 200-Day trendline.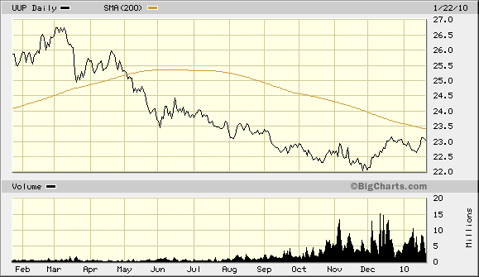 Click to enlarge
Disclosure Statement: Gary Gordon, MS, CFP is the president of Pacific Park Financial, Inc., a Registered Investment Adviser with the SEC. The company and/or its clients may hold positions in the ETFs, mutual funds and/or index funds mentioned above. The company does not receive compensation from any of the fund providers covered in this feature. Moreover, the commentary does not constitute individualized investment advice. The opinions offered herein are not personalized recommendations to buy, sell or hold securities.