"It's getting harder and harder to find deals right now." Those were the words of a very famous investor recently. There's no doubt valuations have been drifting higher. For example, the S&P 500 now trades at over 19 times trailing earnings. Dividend investors won't find much encouragement, either. The S&P currently yields only 1.94%. But while the yield on blue chips may be meager, real estate investment trusts, or REITs, are trading at close to reasonable valuations.

YCharts
Although the S&P has been cruising to record highs, REITs have gotten hammered. One reason is that REITS are seen as "bond equivalents," a classification which I seriously question. As bond prices came down through the first part of this year, so too did REITs. Bonds have since regained some lost ground in the latter part of this year, but REITs, as we can see, have not followed.
Realty Income Corporation (NYSE:O) is among those beaten up the most. Realty is one of the best retail-oriented REITs for a few reasons. First, its occupancy ratio of 98% is considerably above the average in its class. Second, the trust is very diversified, with over 3,600 properties in 49 states, diversified across many different business types. And most importantly for dividend investors, Realty has increased its dividend each quarter since 1994.
Right now, Realty Income trades at a reasonable valuation and a generous yield of 5.45%. At over nearly 17 times FFO, Realty is not yet "cheap." If, however, you're looking for a place to "hide out" and collect a reliable dividend, Realty is the place to be.
A Well-Deserved Premium
Like many other REITs, Realty Income has seen its shares decline substantially and is now trading at what I would call a reasonable valuation. Currently, Realty trades at 16.8 times funds from operations. While that may seem expensive to some, Realty is one of the best retail, triple-net REITs, and I believe it therefore deserves to trade at a premium.
Consider a few data points. Realty's occupancy rate sits at 98.1% based on number of buildings, and 98.9% based on square footage, both of these numbers are at or near the top in its respective class. Credit worthiness of tenants continues to increase. Right now, 72% of Realty's tenants are investment grade.
Realty is among the most well-diversified of all retail REITs. The top 15 of Realty's tenants now account for only 44.4% of revenue, down from 54.3% in 2008. Tenants span across a dozen different industries, and Realty has specifically phased out those whom are less credit worthy, susceptible to "e-commerce," or are in a declining middle class market. The end result of all this is a REIT which has prepared itself for a time when credit is less readily available.
Finally, Realty is the only REIT which carries a BBB+ rating from S&P. Right now, debt sits at 5.8 times EBITDA earnings, and all debt outstanding is fixed. With a relatively low leverage ratio of 31%, Realty is perhaps the soundest of all retail equity REITs.
Growth Case
The magic number here is 5-8%. Management expects funds from operations, which is the measure of earnings for REITs, to grow between 5% and 8% per share next year. Some of this will come from expected same store rent growth of 1.3%. However, most of the growth will come from accretive deals which have good economics.
For example, this year Realty is well on its way to acquiring $1.5 billion in properties. Next year management tenuously expects to acquire another $1 billion worth of properties. So far this year, the economics of these deals have really made sense, with cap rates on these transactions 1.1 percentage points, or 110 basis points, above the trust's cost of capital. Similar results next year should yield us 5-8% per share FFO growth on top of an already generous dividend yield.
As with many REITs, the ease in which Realty can acquire is affected by interest rates. Increased borrowing costs will eat away at the economics of any debt-backed deal. Realty's growth story could quite possibly be jeopardized by rising interest rates. However, if higher rates are accompanied by a stronger economy we should get better same-store rental growth too. Either way, I believe Realty's next few years will show solid growth. And, as I mentioned, Realty is about as well prepared for rising rates as a REIT can be.
Valuation

Nobody likes buying at the peak. And right now there is no danger of doing so with Realty Income, which is some 27% off its high. While many S&P dividend names are reaching new highs, Realty is quite close to its low for the whole year.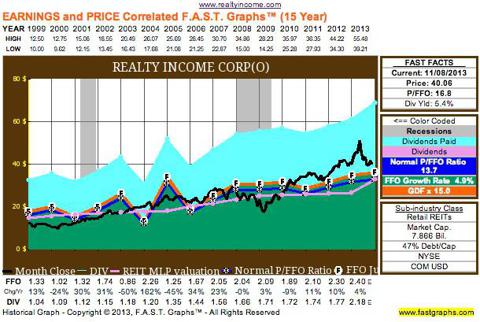 FAST Graphs
Getting a more "big picture" look from FAST Graphs, we see the stock price in relation to historical valuations. Yes, Realty is still a bit above its "Fair Value" number and historical price to FFO. However, Realty is also just about in the best shape of its financial life. Its S&P rating is unparalleled amongst REITs and it is also more diversified and economically secure than it has been since at least 2008. Despite being slightly above its historical valuations, I believe Realty deserves to have that premium.
Conclusion
At a 5.4% yield and mid single-digit growth estimates, now is a fine time for dividend investors to dip into Realty Income. While many other dividend-paying stocks are costly and don't often yield over 3%, Realty provides a great place to "hide out." Those who have big gains on other stocks and want to do some rebalancing may also find Realty Income a worthy target.
Disclosure: I am long O. I wrote this article myself, and it expresses my own opinions. I am not receiving compensation for it (other than from Seeking Alpha). I have no business relationship with any company whose stock is mentioned in this article.