Apple Inc. (NASDAQ:AAPL) has experienced decent success in the last couple of months, bringing the stock from around $400 back up to $525. But the bears refuse to let it go any higher. In an article that was published back in August, I addressed a few pieces of the bear thesis and why it wasn't going to work out. One issue that needs a little bit more attention is the nature of Apple's business. Many people are bearish because they feel that the public will eventually conclude that Apple is no longer a growing and innovating company, and the stock will adjust itself accordingly in the very near future. I strongly disagree with this statement, and I don't believe that Apple shows any signs of slowing down to the productivity of a "normal" business. A few bad quarters doesn't make a bad company.
The chart below shows that Apple's growth, undoubtedly, has slowed a bit in recent months. Revenue growth of Apple is shown against that of two other big names in tech, Microsoft (NASDAQ:MSFT) and IBM (NYSE:IBM). Microsoft and IBM are names that I would consider very established in the technology sector, but they still have a moderate rate of growth.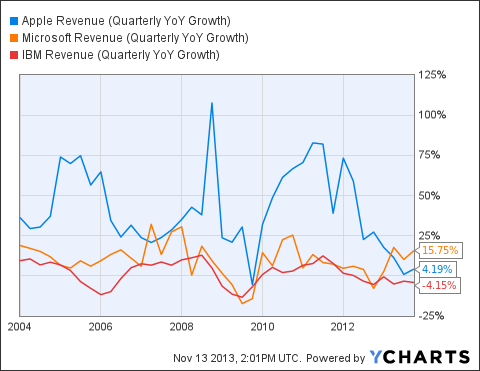 AAPL Revenue (Quarterly YoY Growth) data by YCharts
Products
Apple has recently fallen to an area between the growth of Microsoft and IBM. Whereas the revenue of Microsoft has recently jumped up a bit to around 10%-15%, IBM's has been stagnant and even decreasing a bit. Apple, you can see, has had a rate of about 5% for just a few quarters. The reality of the situation is that growth rates really haven't been this low in some time. But it is unrealistic to expect a company to be able to maintain a greater than 20% growth rate for an extended period of time. Apple, as with every other company, is largely dependent upon its competitive life cycle/product refresh cycle.
What this means is that Apple will experience periods of rises and falls, plateaus and steady improvements. The Mac, for example, seems to be entering a mature phase. MacBooks aren't necessarily a new and exciting technology before. But what great companies like Apple manage to do is continue to earn revenue from their mature products through an established reputation. There are many MacBook fanatics out there that would never get a different laptop. The iPhone, although it still has more room for growth as the smartphone market expands internationally and to lower income individuals, has also developed an elite reputation. The iPad also has plenty of room for growth and improvement, as tablets are relatively new in the realm of the general population.
Many people argue that the passing away of Steve Jobs was the downfall of Apple. But it's not that simple. Jobs built a culture of innovation and high quality at the company. He built an empire that won't quit once they experience a misfortune. This misconception is a result of being caught in the wrong part of product cycles. But as the innovation at Apple is carried on, the bears will be proven wrong. The company has a few highly anticipated products at the moment, including the iWatch and an Apple TV. These products, although there are no guarantees, are largely expected to be released in 2014. They will be catalysts for growth in the coming years, and Apple will restart its product cycle, thus increasing revenue growth once again.
Another article that I found interesting was recently written about Apple. I suppose I agree with the main idea, but the interpretations are different. I feel that the other author emphasized the refresh cycle as adding the finishing touches on products such as the iPhone. I, instead, believe that whole new products provide opportunity for Apple. In a way, there aren't actually any new products being put out, they are only refreshing older ones. For this reason, the market is somewhat down on Apple. It's been a few years since they have really shocked and impressed the public. For some reason, investors have expected more from the company, causing the drop from $700. I believe that with products such as the iWatch and Apple TV, as well as other innovative moves, investors will soon get what they've been waiting for.
A Quick Note On Valuation
I thought it might be interesting to compare Apple with the two aforementioned companies:
| | | | |
| --- | --- | --- | --- |
| | AAPL | IBM | MSFT |
| P/E | 13.08 | 12.68 | 13.99 |
| P/B | 3.78 | 10.00 | 3.82 |
| P/S | 2.74 | 1.96 | 3.88 |
As you can see, Apple is already priced as though the periods of rapid growth are gone. If the public tries to "correct" the price even more it will only present an even better buying opportunity. These valuation metrics indicate that the general investing public doesn't think Apple will rise from these fallen rates of growth. As the company's product cycle starts a new round, it is likely that we will find this to be a mistake. Innovation at Apple is not dead, and the current price provides an opportunity to capitalize on this fact.
Disclosure: I am long AAPL. I wrote this article myself, and it expresses my own opinions. I am not receiving compensation for it (other than from Seeking Alpha). I have no business relationship with any company whose stock is mentioned in this article.