Yesterday Highpower International (NASDAQ:HPJ) announced Q3 profits of a nickel a share, beating estimates and causing a 13%+ jump in the stock on over 5 times average volume of 1.4 million shares. Sales were up 22% year-over-year. With a new automated manufacturing facility coming online, sales of lithium-ion batteries for smartphones and tablets are set to soar in 2014. As a result, HPJ will easily double over the next 12 months and could become a multi-bagger if the company is able to quickly ramp up new capacity.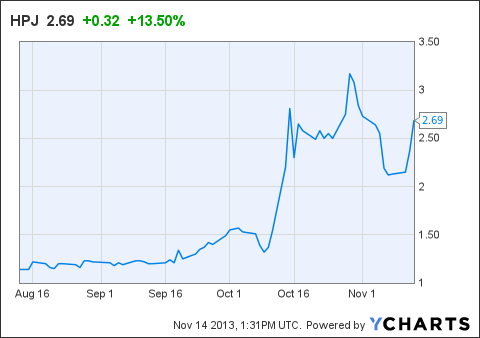 This article is a Q3 update to my first article on HPJ published last month. Please read that article for a more complete description of the company.
Q3 Results: Record Revenue Levels in Both Business Lines
Highpower achieved record revenue levels for both major battery business lines (Nickel Metal-Hydride and Lithium-ion). George Pan, Chairman and Chief Executive Officer of Highpower International, had this to say:
...we were able to gain market share in Europe for Ni-MH batteries during the quarter. While our Ni-MH battery business is in a maturing industry, we believe we are very well positioned to continue to be in an advantageous position to capitalize on trends of consolidation in this space.
As a result, the company reaffirmed full-year 2013 revenue guidance to be 15-20% higher than 2012 revenue levels. And while the Ni-MH battery market is maturing, the rechargeable lithium-ion battery market is booming.
Lithium-ion Battery Sales Are Driving Growth
Strategically, Highpower is focused on lithium-ion rechargeable batteries for growth. No wonder: sales of lithium-ion batteries for devices like smart phones and tablets were up 31.8% in Q3 over the third quarter of 2012. Total lithium battery pieces sold increased 23% with a 39% increase in volume per amp/hour. For the quarter, net sales of rechargeable lithium-ion batteries increased by $3.6 million. CEO Pan says:
Highpower's lithium battery business continues to deliver dramatic growth and we are very excited about the new automated facility in Huizhou. This new factory will be focused on producing lithium batteries for smartphones, tablets, energy storage and electrical vehicles, which we believe are areas with high growth potential in the coming years.
Indeed, as I pointed out in my first article, IHS Suppli predicts global sales of lithium-ion batteries will more than double by 2020: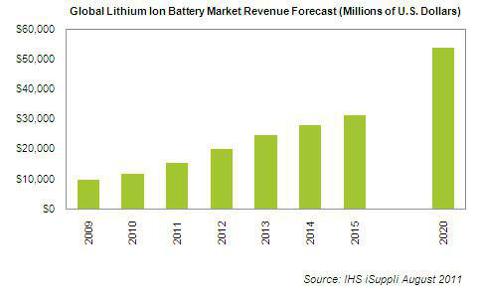 Click to enlarge
HPJ is in an excellent position to profit from this sales boom.
From the Seeking Alpha Q3 transcript, Henry Sun, CFO, said gross margins for the Lithium business remain at the high end of their historical range as the company has benefited from operating at near full capacity and has seen a modest shift toward higher margin products.
We also learned from the transcript that HPJ is currently turning away business due to capacity constraints. Bryan Bai, Vice President of Worldwide Sales, said the company is being very selective and accepting only the best business as HPJ is turning away approximately 40% of incoming requests.
The new automated facility will enable HPJ to triple existing lithium production capacity. The company has started small batch production and expects to see material volumes from the new facility in Q1 of 2014.
The Competition
Key players dominating the lithium-ion battery market are Sanyo Electric, BYD, LG Chem (OTC:OTC:LGCLF), China BAK Battery, Saft Groupe (OTC:OTC:SGPEY) and big conglomerates like Sony (NYSE:SNE) and Samsung Electronics (OTC:SSNLF). Yet the fact that Highpower was able to carve out a 10% share of the Ni-MH market bodes well for their success in the fast growing lithium-ion battery market. In Q2 Highpower reported it is growing its lithium-ion battery business faster than the overall market and gaining market share. This impressive growth came despite HPJ's manufacturing facilities were running at full capacity. As the new automated facility comes online, the company will likely be able to increase sales and margins and compete very effectively in the market. The fact that Highpower is focused only on making batteries is a strategic advantage against the bigger conglomerates. Also, the market is growing so rapidly (see below) there is apparently a big enough pie for multiple companies to participate and have a very profitable slice.
Outlook And Estimates Going Forward
In the Q3 earnings release, HPJ reaffirmed expectations that it will be profitable for full year 2013. Indeed, after the bullish Q3 results, the company has already made $0.02 net for the first 9 months of the year. In my first article, I predicted a $0.02/share profit in Q3 and $0.04 in Q4 for $0.01/share in net income for full year 2013. At this point, I am upping my guidance for another nickel in profits for Q4 and $0.07 of net income for the full year.
Going forward, revenue and earnings will depend on how quickly the company can bring production online from the new facility. In the Q2 transcript, the company said it is aiming for an 80% run-rate by year-end 2014. In the company's 2012 10K, Ni-MH batteries composed 63.8% of full year 2012 sales while lithium-ion batteries accounted for 33.7% (up from the prior year's 20.5%). Since lithium sales have grown between 30%-50% this year, conservative estimates are for full year lithium-ion sales to be about half of all sales, and that full year 2013 sales will be in the neighborhood of $140 million (based on first 9 months sales of $94.4 million and Q3 sales of $38.9 million).
Knowing that the new facility will triple lithium-ion capacity, and using an 80% year-end 2014 capacity utilization estimate, I can then make an estimate of 2014 revenue and earnings growth. For this exercise we will assume Ni-MH sales will be flat at 50% of total 2013 year-end estimated totals ($70 million). Lithium-ion battery sales will start 2014 with the same level of sales ($70 million) and will grow based on manufacturing ramp-up capacity toward a full (3x) increase ($210 million). Therefore, on a quarterly basis, new facility is estimated to have a $52.5 million total capacity ($210/4). For this model, margins are assumed to be stable and net income is simply scaled from Q3 revenue and earnings results.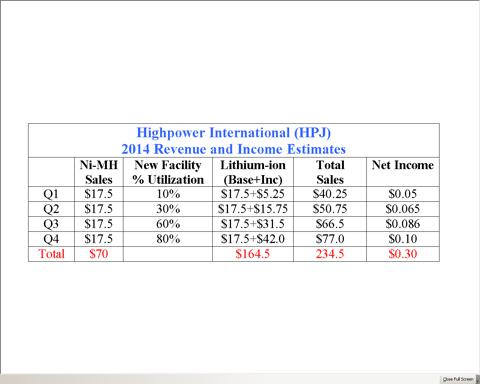 Click to enlarge
Note the $0.30/share net for 2014 is a conservative estimate. It is based on flat growth in the Ni-MH market even though HPJ grew market share in the latest quarter. The estimate is also based on stable margins even though the new facility is believed to improve margins through automation and scale. Also, the 2014 estimate above has earnings scaled off of Q3 earnings even though Q3 had expenditures related to the new facility without the benefit of any production coming out of it.
Risks
Risks include global economic growth, potential new manufacturing facility start-up problems, increased labor costs, and an uncompetitive product line. Considering HPJ's year-to-date performance in growing faster than the overall lithium-ion battery market, the biggest risk to HPJ's growth rates appears to be how fast the company can ramp up production at the new facility.
Summary And Conclusion
A very conservative estimate for HPJ's 2014 earnings is for $0.30/share. With a P/E of 20, the estimate implies a year-end 2014 stock price of $6/share - 123% above yesterday's close. Considering the global lithium-ion battery market is expected to double from ~$25 billion to $50+ billion by 2020, the future is very bright for HPJ. Odds are the company will beat my $0.30 earnings projection for 2014, and could easily earn $0.50/share in 2015.
HPJ is a volatile small-cap stock with only 13.7 million shares outstanding. As such, the stock is not for the faint of heart. However, based on conservative 2014 revenue and earnings estimates, the company's excellent position in the lithium-ion battery market, a new manufacturing facility that can grow lithium-ion battery capacity by 300%, and the rather low-risk of ramping up production at the new automated manufacturing facility, I rate HPJ a strong buy.
Disclosure: I am long HPJ. I wrote this article myself, and it expresses my own opinions. I am not receiving compensation for it (other than from Seeking Alpha). I have no business relationship with any company whose stock is mentioned in this article.
Additional disclosure: I am an engineer, not a CFA. The information and data presented in this article was obtained from company documents and/or sources believed to be reliable, but has not been independently verified. Therefore, the author cannot guarantee its accuracy. Please do your own research and contact a qualified investment advisor. I am not responsible for investment decisions you make. Thanks for reading and good luck!