Prior to the ECB meeting last Friday fellow author, Hebba Investments, has published an article on the situation in Europe and how it could influence the price of gold. The thesis was, that any indication of softening in the European monetary policies would kindle fears of inflation setting off a flight to safety, to be found first and foremost in ownership of gold (NYSEARCA:GLD), (NYSEARCA:PHYS) and silver (NYSEARCA:SLV).
The ECB surprised many with the decisive measures proclaimed after this meeting. Interest rates were lowered to historic lows and concerns about deflation were voiced.
According to the quoted article this should have fired up the gold price. However, the exact opposite turned out to be the case.
The obvious fundamental explanation is of course, that these measures weakened the Euro currency against the US Dollar (NYSEARCA:UUP). And a relatively stronger US Dollar tends to put pressure on GLD more often not. The leveraged inverse correlation between the dollar index, or UUP, and GLD is quite obvious for the past month (as shown in the chart below) and well beyond.
To be fair, the European announcement was exacerbated by the jobs report in the US one day later which signaled a better than expected employment situation in the USA. In fact, your humble scribe silently suspects that the ECB announcement was the side event here priming American investor sentiment for the real show that was of course centered on events closer to home.
One can never underestimate the importance of events outside the US, we have learned to caution ourselves.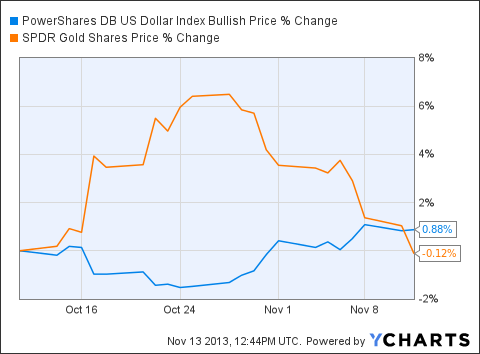 But what about inflation fears? Well, there ain't any. It's deflation that is putting the fear of beejesus into financial experts at the moment. Inflation might come later; or quite likely, much later. But for now, deflation is the topic of choice in Europe and elsewhere, thus the rate cut.
After a week or two of strained sideways trading prior in the lead-up GLD sentiment swung to the bearish side when these two announcements came out. GLD broke through $1,300/oz support and was settling in at under $1,280/oz at the time of writing.
So far, so good concerning the post mortem. But where are proceedings developing from here?
Our favourite gold sentiment oracle has not spoken this past weekend, and so we are left to our own devices. Thankfully we own a crystal ball that is hardwired into investor sentiment and we are happy enough to share our interpretation of its latest mumblings with our readers. A word of caution may not go astray here since this crystal ball does have its share of blind spots which have led it to make some rather incorrect calls at times in the past.
The way we read precious metals investor sentiment at the moment is as follows. A test of $1.251/oz of gold might well be in the cards (that would be $121.85 in GLD terms). If this does not hold, and we do sense that bears might be strong enough to break through this level, then a re-test of June lows will quickly become a strong possibility. Last week's action seems to confirm that we are indeed in the midst of a bearish wave-5 move (speaking in Elliot wave terms of course) which should take us South in coming days. A re-gain of the $1,300/oz level would force us to re-consider our thesis.
In this context it is interesting to note that gold miners (NYSEARCA:GDX) have not joined the move downwards in GLD, just yet. Sentiment among the mining investors seems to be more positive than among traders of the actual metals (or its paper counterparts).
The chart below shows that GDX has been trading largely flat(ish) since the start of November steadily opening a gap on the upside of the price of GLD. This could mean one of at least two things:
We are wrong and GLD will return to a bullish posture soon and GDX is merely in a waiting pattern until GLD re-composes. So let us be mindful of the mentioned $1,300/oz resistance. A break of this level to the upside would indicate this scenario in our opinion.
We are correct in our bearish near-term outlook for GLD and the gold miners are a coiling spring ready to propel share prices of god miners south-wards as GLD tests $1,251/oz support.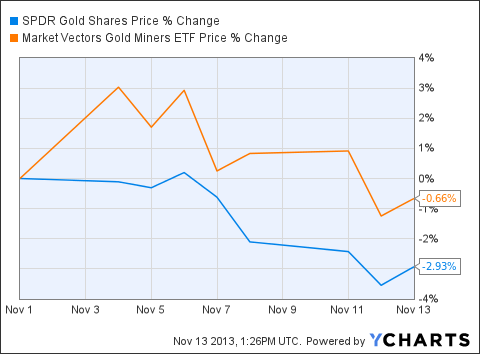 And here is how we intend to trade this situation:
As explained, we expect a test of the stated support for gold at $1,251/oz in the near future. We have therefore lightened up on GLD keeping only our physical position and we have also lightened up on the precious metals miners and GDX.
In the (unexpected) event that GLD breaks to the upside of $1,300/oz we plan to buy a staple of mining stocks (see below for suggestions) or simply GDX.
Any indication of a crumbling of the mentioned GLD support will lead us to believe that gold miners are about to be dragged South by the metal price and we will quite likely take a short-term position in the Direxion Daily Gold Miners Bear 3x Shares ETF (NYSEARCA:DUST).
Not so well known DUST amplifies moves of the gold mining sector, but in the inverse direction. In other words, if gold miners decline, DUST thrives - and vice versa. Caution is advised with this particular instrument since it is very volatile. It's often a good idea to exit early and watch DUST settle from the sideline.
Once our DUST position is unwound and signs of a bottom are showing we intend to re-deploy some funds into value mining stocks. Among these mining stocks we count for example First Majestic Silver (NYSE:AG), Endeavour Silver (NYSE:EXK), Silver Wheaton (NYSE:SLW), Silvercrest (NYSEMKT:SVLC) or Agnico Eagle (NYSE:AEM).
The mentioned mining stocks have clean balance sheets, functioning cash flow even at depressed price levels; and these companies have structured costs to survive in the present environment. We expect these stocks to perform even if a bottom takes longer to establish than we anticipate.
And if GLD and SLV finally conclude the present wave down and start another meaningful leg upwards again then these stock picks should provide some healthy returns. Now, wouldn't that be welcome for a change?
Disclosure: I am long AG, SLW, SVLC, AEM, EXK. I wrote this article myself, and it expresses my own opinions. I am not receiving compensation for it (other than from Seeking Alpha). I have no business relationship with any company whose stock is mentioned in this article.