David Nierenberg is founder of the D3 Family Funds, long term, actively engaged investors in a concentrated portfolio of public, growth at the right price (GARP) micro-cap companies. D3 reports that in the ten years ended December 31, 2009, its investors gained an average of 8.16% per year.
We had the opportunity to ask David about his highest conviction holding, and he selected online realtor services company Move Inc. (MOVE), which competes with privately held Zillow, and publicly traded Market Leader (NASDAQ:LEDR) and ZipRealty (NASDAQ:ZIPR).
• • •
Seeking Alpha (SA): What is your highest conviction stock position in your fund, long or short?
David Nierenberg (DN): Our long position in Move, Inc. (Nasdaq: MOVE) is our highest conviction position. We are the largest shareholder and own over 28 million shares, or 18.1% of the company.
Move operates www.realtor.com, the leading online destination in the US for residential real estate search. All real estate listings are included on the site for free. The company generates revenue by selling enhanced and featured listings to real estate agents and brokers, as well as selling brand advertising to real estate professionals and others interested in reaching a targeted audience of home buyers, sellers, and movers. Move also sells a web based customer relationship management tool to realtors, called Top Producer.
SA: Can you talk a bit about the industry/sector? How much is this an "industry pick" as opposed to a pure bottom-up pick?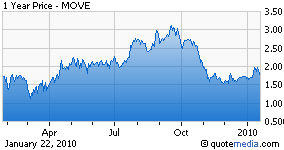 DN: Real estate related advertising has been shifting from traditional offline media like newspapers to online venues for the past decade. The real estate industry has been slower to make this shift than some other segments, like job and auto listings, financial services, etc. Real estate transactions in the US, even at the trough of one of the worst downturns in history, represent a very large revenue opportunity: if we assume 5 million homes are sold at an average price of $200,000, with an average commission rate of 3 – 6% (we'll use the low end to be conservative), that represents $30B of revenues. This number doesn't include revenues generated from mortgage origination, insurance, moving services, inspections, and other businesses in the real estate value chain. Some percentage of these revenues will always be spent on advertising. The continuing share shift of those advertising dollars from online to offline represents a great growth opportunity for the online leader in real estate, Move.
We've recently seen the rapid reduction in classified ad spending in newspapers (among other things) nearly destroy the newspaper industry. At the same time, real estate advertising on Move's sites has only decreased nominally. This implies the share shift away from print media is accelerating. We haven't seen the spending that disappeared from newspapers materialize anywhere else. At some point the housing market will recover, more transactions will happen and at higher prices, and real estate professionals will begin increasing advertising budgets. Those budgets won't be going back to the newspapers. Move, as the online leader in both consumer traffic and realtor spending, stands to benefit.
At the same time, the company does have attractive bottom-up characteristics as well. Over the last two years, operating expenses have been reduced by $30M, several underperforming or non-core businesses have been sold or shuttered, EBITDA margins have increased despite a decrease in revenue, and a new, very high quality, management team has been installed. The market doesn't seem to have noticed.
SA: Can you describe the company's competitive environment? How is this company positioned vis a vis its competitors?
DN: Move is positioned well relative to offline competitors, such as newspapers and magazines. The company does have several online competitors at the national and local level, including the large portals. While some of those companies have done a good job building consumer interfaces and traffic, we believe they have yet to translate that into sustainable revenue models. The large portals are focused in many other areas in addition to the real estate vertical, and Move, as a pure player, is well positioned against them.
Move is the leader in unique site visits, and has an even greater lead in user time spent on the site. Move has about 230 – 240 user minutes per month, which is more than the next seven competitors combined. Move has maintained its lead in both unique visitors and engagement despite years of underinvestment in product and website upgrades and competitive assault. With a strong management that is focused on the core business, our hope is that they can grow the lead even further.
SA: Can you talk about valuation and how it compares to the competitors?
DN: If one is willing to look at potential performance over several years, Move is undervalued relative to a typical internet media company. The peer group for valuation purposes differs somewhat from the group of competitors. We think about other internet companies focused on single industry verticals like Monster (NASDAQ:MNST) in job listings, Ticketmaster (TKTM), WebMD (NASDAQ:WBMD), The Knot (KNOT), etc.
We believe we can exit at almost $9.00 at a 20x P/E on 2013 earnings, which represents more than 4.5x upside from the current price, without much downside. Net cash per share, assuming the convert held by Elevation Partners is debt and the ARS are recovered at their current, discounted value, is $0.35. If one assumes the convert turns into equity, and we do, net cash per share included discounted ARS is $0.90. In addition, Move is generating positive cash flow from operations.
SA: What is the current sentiment on the stock? How does your view differ from the consensus?
DN: The sentiment is mixed. It is negative due to the downturn in the housing market and the historical performance of the company under multiple prior management teams, including an accounting fraud almost a decade ago. But positive because we, and other people on the Street, believe that the current management team has and will continue to improve the financial and operational performance. Although we do not know when the housing market will recover, we know that it will at some point, and we want to be invested with this great team and the leading company in this niche before that happens.
SA: Does the company's management play a role in your position?

DN: Yes, they play a big role in our thinking about the company. CEO Steve Berkowitz joined Ask Jeeves when the stock was under $1 and sold the company four years later for more than $33. We'd be happy with a fraction of that return on Move. Berkowitz has also built a very strong management team around him, with backgrounds from places like eBay, Adobe, Intuit, and Ticketmaster. Last week the company released a Realtor.com iPhone app, and we think it is the best mobile app in the real estate search space. If the app is any indication of what this team can do, we have very high expectations.
SA: What catalysts do you see that could move the stock?
DN: In the near term, continued product improvements and new product releases for both consumers and advertising customers. Many residential real estate listings today are made by distressed sellers, as opposed to a genuine seller who would like to sell his home, and will likely pay a commission and perhaps buy a new home to move into. An increase in listings by willing sellers would likely drive resumption of spending by real estate advertisers. Also, the resolution of illiquid auction rate securities held by the company could be a catalyst.
SA: What could go wrong with this stock pick?
DN: If homeowners stopped using brokers to buy and sell homes and facilitate transactions, which is highly unlikely, or if Google decided to focus on real estate listings, Move could face serious challenges.
SA: Thank you very much, David.
DN: Happy to participate.
Disclosure: David Nierenberg is long MOVE