On Tuesday, November 12, PepsiCo (NYSE:PEP) CEO Indra Nooyi said that her company is the youthful energetic brand in India, while Coca-Cola (NYSE:KO) is the alternative for older people. Ms. Nooyi's comments come only a day after the company said it would invest $5.5B in India by 2020, making the region a top priority for the company over the next decade. In the wake of Ms. Nooyi's comments, I wanted to highlight a number of the reasons why I'm staying long on shares of PepsiCo.
Recent Performance And Trend Behavior
On Wednesday shares of PEP, which currently possess a market cap of $132.53 billion, a beta of 0.41, a forward P/E ratio of 18.24, and a current dividend yield of 2.64% ($2.27), settled at a price of $85.95/share.
Based on their closing price of $85.95/share, shares of PEP are trading 2.06% above their 20-day simple moving average, 5.04% above their 50-day simple moving average, and 7.45% above their 200-day simple moving average. These numbers indicate a short-term, mid-term, and long-term uptrend for the stock which generally translates into a moderate buying mode for most near-term traders and longer-term investors.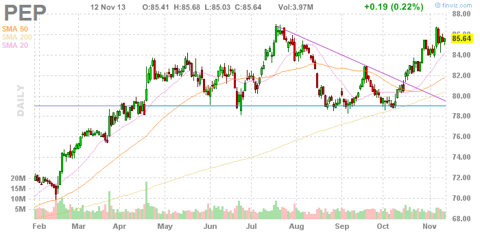 36-Month Dividend Behavior
Since September 1, 2010, the company has actually increased its quarterly dividend three times in the last 36 months. The company's forward yield of 2.64% ($2.27) still makes this particular consumer goods play a highly considerable option, especially for those who may be in the market for a moderate stream of quarterly income. It should also be noted that the company's dividend has grown 18.33% in the last 36 months.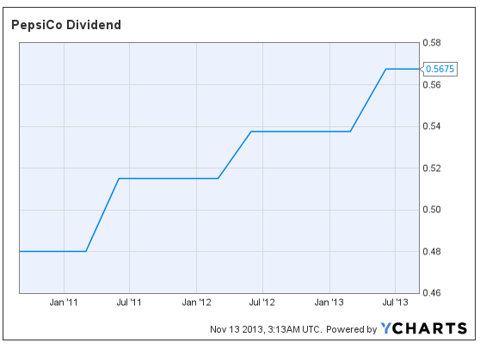 Recapping Q3 2013
On Wednesday, October 16, PepsiCo reported Q3 EPS of $1.24/share and revenue of $16.91 billion. These results surpassed EPS estimates by $0.07/share and missed revenue estimates by $120 million. It should be noted that the company's core gross margin jumped 70 basis points during Q3 and emerging market-based organic revenue also grew 9.0% during the third quarter.
Cumulative Cash Returned To Shareholders Since 2003 Could Exceed $60 Billion By 2014
One of the things that stood out the most in the company's third quarter earnings report was the fact that PepsiCo is currently on track to return a total of $6.4 billion to shareholders in 2013 through approximately $3.4 billion in dividends and approximately $3.0 billion in share repurchases. The $6.4 billion that is estimated to be returned to shareholders would only add to the $53 billion that has already been returned to shareholders in the form of buybacks and dividends since 2003.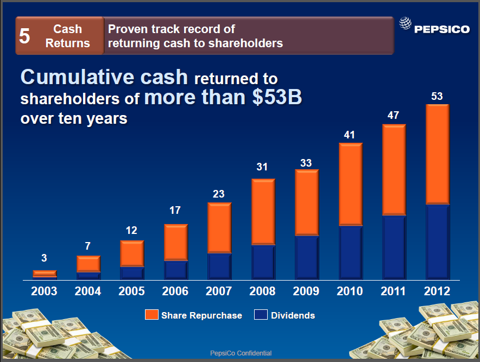 (Source: Barclays 2013 Back-To-School Consumer Conference Presentation)
How China Played a Key Role in PepsiCo's Q3
According to a recently published article by Anh Hoang, "Emerging markets, including China, have served PepsiCo well. In the third quarter, PepsiCo experienced 9% organic revenue growth in developing and emerging markets, supported by the double-digit revenue growth of the Chinese market. Organic snacks enjoyed a 15% surge in volume in China, and organic beverage volume had similar double-digit growth. While PepsiCo focuses on innovation, its manufacturing, distribution and sales in China were taken care of by its strong strategic alliance with Tingyi Holding, one of the leaders in the food and beverage industry in China."
If PepsiCo can continue to experience solid revenue growth from a number of key emerging markets such as China, I strongly believe that the company could very well increase its total investment in China from $2.5 billion to nearly $3.0 billion over the next 12-24 months.
Risk Factors
According to PepsiCo's most recent 10-K, there are a number of risk factors all investors should consider. These factors include but are not limited to the global demand for PepsiCo products which may be adversely affected by changes in consumer preferences and tastes or if the company is unable to innovate or market products effectively, any changes in the legal and regulatory environment could limit the company's business activities, any unexpected increase in operating costs or a reduction in demand of the company's products that may be caused by future litigation, and lastly, the company's financial performance could suffer if they are unable to compete effectively with such rivals as Coca-Cola .
Conclusion
For those of you who may be considering a position in PepsiCo I'd keep a watchful eye on a number of catalysts over the next 12-24 months as each could play a role in the company's long-term growth. For example, near-term investors should focus on the company's recent trend behavior, while long-term investors should pay close attention to any growth that may be directly related to the company's recent developments in both China and India as both could play a key factor in the company's long-term growth.
Disclosure: I am long PEP. I wrote this article myself, and it expresses my own opinions. I am not receiving compensation for it (other than from Seeking Alpha). I have no business relationship with any company whose stock is mentioned in this article.