"It's okay,' you know? It's okay to be you. It's okay to just not be okay. It's okay to not be okay." - Kristen Stewart
Everyone appears to be mesmerized by the Dow Jones Industrial Average (NYSEARCA:DIA), Russell 2000 (NYSEARCA:IWM), and S&P 500. US markets have had an unusually powerful year in 2013 given failed reflation in the economy, dropping inflation expectations, and still tepid overall growth. More and more people seem to be wanting to chase past returns, as the assumption of continued QE means stocks will never correct. Japan proves this is incorrect, and that equities can fall despite monetary intervention. Indeed this has been a year where risk management has not worked.
But keep in mind that for the vast majority of people, this actually has not been a rip roaring bull market. Many in the US do not have sufficient liquidity to invest large sums of money in stocks, and likely many came in towards the 2nd half of the year as fund flows seem to indicate. Developed equities have largely been the only things that have worked this year. Bonds have failed to hold on to their safe haven status (even though nothing really has changed to the economy this year), and emerging markets (NYSEARCA:EEM) are notably absent from the run.
In addition, 2013 has made a mockery of asset allocation. If you have your money with a financial advisor who has fiduciary responsibility to ensure that your investments fit your risk profile, you likely are lagging the S&P 500. Take a look below at the price ratio of the iShares S&P Moderate Allocation Fund ETF (NYSEARCA:AOM) relative to the S&P 500. As a reminder, a rising price ratio means the numerator/AOM is outperforming (up more/down less) the denominator/S&P 500. A falling ratio means the opposite.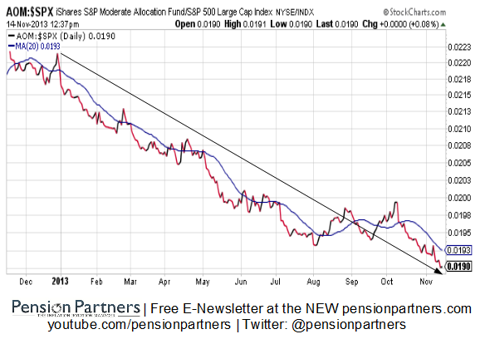 Note that all year, anybody who has any prudent mix of assets is by definition lagging the US stock market because the US stock market has so dramatically diverged from nearly all assets in 2013. If you use AOM has a benchmark for an asset class mix for someone in their early 40s looking to make some money and take moderate risk, you are up a little under 9% for the entire year.
No - it certainly has not a rip roaring market at all. Rather, its been just a good year.
Disclosure: I have no positions in any stocks mentioned, and no plans to initiate any positions within the next 72 hours. I wrote this article myself, and it expresses my own opinions. I am not receiving compensation for it (other than from Seeking Alpha). I have no business relationship with any company whose stock is mentioned in this article.
Additional disclosure: This writing is for informational purposes only and does not constitute an offer to sell, a solicitation to buy, or a recommendation regarding any securities transaction, or as an offer to provide advisory or other services by Pension Partners, LLC in any jurisdiction in which such offer, solicitation, purchase or sale would be unlawful under the securities laws of such jurisdiction. The information contained in this writing should not be construed as financial or investment advice on any subject matter. Pension Partners, LLC expressly disclaims all liability in respect to actions taken based on any or all of the information on this writing.