The Buckle (NYSE:BKE) and Aeropostale (NYSE:ARO), two teen retailers, have had startlingly similiar same store sales growth, overall sales growth, and no debt. However, the Buckle has outperformed ARO, all the more startling when you take into account BKE's generous dividend policy.
The BKE has a habit of handing out humongous one time special dividends that happen every year or two. Last October, BKE passed out $1.80 in a special dividend. That was on top of its already healthy regular dividend of $0.20. Over the last 4.75 years (to be exact), it has handed out $341 million in dividends to shareholders (it took in $373 million over the same period in net profits). What company do you know that gives out over 90% of its net income in dividends and still manages to grow its business these last 5 years?
BKE's sales revenues, which were 500 million five years ago, will go over 900 million when it reports next quarter. In contrast, ARO doesn't pay dividends.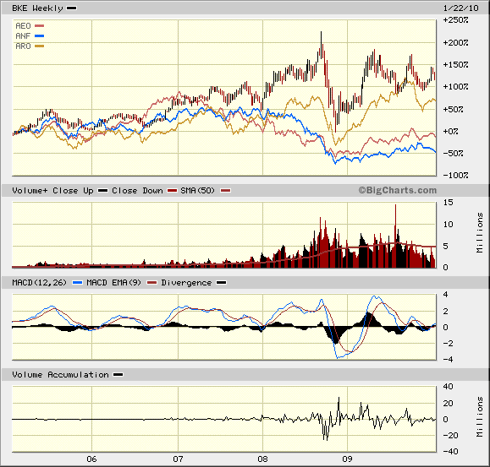 Click to enlarge
Buckle's quicker move has been more evident lately as evidenced by the pairing comparison.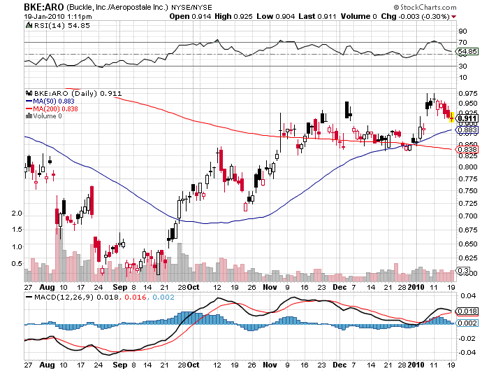 Click to enlarge
So why favor BKE over ARO? Shouldn't ARO play catch up?
No. ARO increased the equity on its books from $284 to $448 million over that 4.75 year period, while BKE built its from $300 to $318 million. Take the cash BKE handed out in dividends and you get a nice $359 million, by far beating ARO's $164 million equity build. ARO started as a far larger market cap company so proportionally, BKE is even more enviable. It is interesting to note that ARO took in $603 million in earnings during those same 4.75 years. (Where did it all go? $164 million equity boost and the rest? At least with dividends, you know where it went.)
I look forward to BKE's next quarter (like most retail, historically their biggest). I start to get excited knowing that almost all those net profits are going to be handed right back to me in the form of dividends (consensus figures EPS about $0.82). It is extremely likely that BKE will hand that over to shareholders in its regular dividend and an even bigger special dividend later in 2010. ARO is supposed to make $1.25 (no check coming from those guys).
Why is BKE so shareholder friendly? Maybe because insiders own 46% of the company as opposed to ARO's less than 1%. Makes me think that the powers that be at BKE will keep those checks coming.
Disclosure: Author holds a long position in BKE and no position in ARO, AEO, ANF