On Tuesday, November 12, a number of Deutsche Bank's MLP analysts pointed out several significant trends which indicate an improved outlook for the natural gas and MLP sectors.
According to the analysts at Deutsche Bank, "the annualized rate of dividend growth among the natural gas companies rose to 13.9% from ~12% earlier this year, and the MLPs' annualized rate of distribution growth rose to 8.7% from a previous estimate of 7%".
In the wake of Deutsche Bank's findings, I wanted to highlight a number of the reasons why I remain long on shares of Kinder Morgan Energy Partners LP (NYSE:KMP), especially since the MLP is considered to be a top pick at DB.
Recent Performance & Trend Behavior
On Wednesday shares of KMP, which currently possess a market cap of $35.09 billion, a beta of 0.39, a forward P/E ratio of 29.32, and a current dividend yield of 6.69% ($5.40), settled at a price of $80.67/share.
Based on their closing price of $80.67/share, shares of KMP are trading 0.56% below their 20-day simple moving average, 1.40% above their 50-day simple moving average, and 2.02% below their 200-day simple moving average. These numbers would normally indicate a short-term and long-term downtrend for the stock and generally translate into a moderate selling mode for most near-term traders and some longer-term investors.
That being said, and as a long term investor, I plan on highlighting a number of reasons why I think investors should buck the current trend and establish a long-term position at current levels.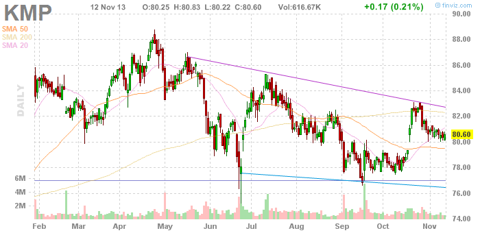 A Recap Of The Partnerships Q3 Results
On Wednesday, October 16, Kinder Morgan Partners reported Q3 EPS of $0.51/share and revenue of $3.28 billion. These results missed EPS estimates by a margin of $0.10/share even though KMP surpassed revenue estimates by a margin of $210 million. It should be noted that the company's distributable cash flow jumped 25% during Q3 and the company's CO2 segment also demonstrated a 5.0% increase in earnings during the third quarter ($349 million Q3 2013 vs. $332 million Q3 2012).
One of the things that stood out the most, in my opinion, was the fact that Kinder Morgan Energy Partners completed the parallel compression portion of the Doe Canyon CO2 source field expansion ahead of schedule and on budget. Doe Canyon now produces about 200 million cubic feet per day (MMcf/d) of CO2, substantially higher than the initial projection of 170 MMcf/d.
KMP's Product Pipeline Business Demonstrated Strong Growth in Q3
KMP's Products Pipelines business produced third quarter segment earnings before DD&A and certain items of $202 million, up 9 percent from $185 million for the comparable period in 2012, and currently is expected to be slightly below its published annual budget of 12 percent growth.
According to Chairman and CEO Richard Kinder, "Segment earnings would have been higher except for lower revenues on SFPPs intrastate pipelines in California, primarily due to the adverse California Fourth District Court of Appeal ruling in the second quarter which denied an income tax allowance on the company's intrastate pipelines in that state".
The increase in Q3 2013 earnings compared to Q3 2012 was driven by contributions from additional investments in the Kinder Morgan Crude and Condensate pipeline and Double Eagle Pipeline (a joint venture with Magellan), along with higher volumes on the Pacific and Central Florida systems and at the Southeast Terminals.
If the contributions from KMPs additional investments continue to have a positive impact on the partnership's earnings, than I strongly believe the partnerships earnings growth could demonstrate positive behavior over the next 12-18 months, if not longer.
24-Month Distribution Behavior
Since October 27, 2011, the company has increased its distribution in every quarter over the last 24 months. The partnership's forward yield of 6.69% ($5.40) coupled with its ability to continuously increase its distribution on an annual basis, make this particular oil & gas stock a highly considerable option, especially for those who may be in the market for a sustainable stream of quarterly income.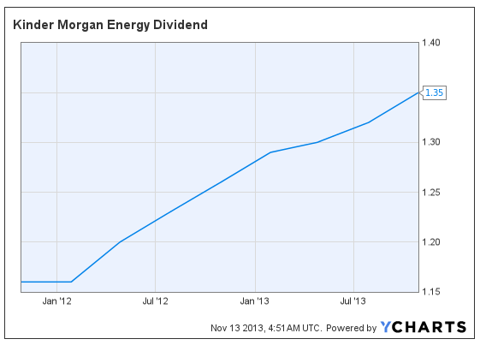 Risk Factors
According to Kinder Morgan Energy Partner's most recent 10-K, there are a number of risk factors all investors should consider. These factors include but are not limited to new regulations, rule-making and oversight, as well as changes in domestic and international regulation, and any agency which has jurisdiction over KMP's operations could adversely impact our income and operations. Secondly, any increased regulatory requirements relating to the integrity of our pipelines may require the company to incur significant capital and operating expense outlays to comply. Lastly, the company's substantial debt could adversely affect its financial health and make it more vulnerable to adverse economic conditions.
Conclusion
For those of you who may be considering a position in Kinder Morgan Energy Partners I'd keep a watchful eye on a number of catalysts over the next 12-18 months as each could play a role in the partnership's long-term growth. For example, near-term investors should focus on the company's recent performance and trend behavior, while longer-term investors may want to focus on the partnerships continued developments at both the Eagle Ford Shale and Doe Canyon as both could positively contribute to the company's long-tern earnings and revenue growth.
Disclosure: I am long KMP. I wrote this article myself, and it expresses my own opinions. I am not receiving compensation for it (other than from Seeking Alpha). I have no business relationship with any company whose stock is mentioned in this article.