Waste Management Inc. (NYSE:WM) provides waste management environmental services. It engages with municipal, residential, commercial and industrial customers to manage and reduce waste at each stage, from collection to disposal, while extracting valuable resources and creating clean and renewable energy. But for investors, it is important how WM transfers investors' money into premium returns through dividends and price appreciate. Let's have a look whether WM is a good investment for you.
Acquisitions for Growth
In January 2013, WM acquired Greenstar by paying $170 million, with $40 to be paid later provided Greenstar meets certain index positions. Greenstar, an operator of recycling and resource recovering facility, will now allow WM to better cater its customers by having more access to recycling capabilities through WM's already extensive nationwide recycling network together with operations of one of the largest private sector recyclers.
Investors can be happy as benefits have started to flow. In the third quarter of 2013, Greenstar posted a 25% YoY in revenue, bringing in $39 million in revenue this quarter and a total of $104 million in revenue to date.
Expansion in Canada
In line with increasing its recycling capacity, WM paid $481 million in the third quarter of 2013 to acquire all the assets of RCI Environment; a Quebec based waste management company. RCI provides collection, transfer, recycling and disposal operations throughout the Greater Montreal area. With the acquisition, WM expanded its existing asset base and operations in Quebec. Being just months away from acquisition, RCI brought in 45 million in the third quarter of 2013 and contributed $7 million to the net income of WM. It contributed 28% to the increase in the total revenue as compared to the third quarter of 2012.
WM's acquisitions in the recycling sector, therefore, resulted in the highest segment wise revenue, as the recycling segment increased by more than 16%. In total, 50% of the increase in revenue of this recent quarter came from the recent acquisitions.
As for discussing the revenue performance of WM, WM reported an increase of 4.6% in the total revenue for the third quarter of 2013 relative to the same quarter in previous year. 2% of the revenue growth was internally driven. The rest was explained through the high electricity prices at merchant waste-to-energy facilities, increase in revenue from acquisitions, fuel surcharge program and high recyclable commodity prices.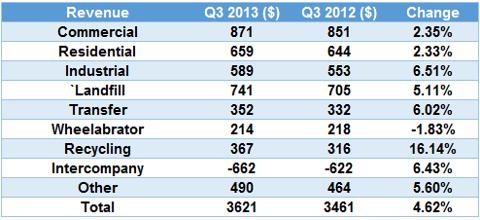 Renewable Natural Gas Facility
WM is not just a waste management company but it includes energy production as well. This is good news for investors since recently WM announced constructing a renewable natural gas facility aimed at processing waste gas from WM's Milam landfill in Fairmont City. This gas will be used to power WM's facilities and truck fleets that run on compressed natural gas, or CNG. WM will use Ameren (NYSE:AEE) Illinois pipelines to transfer the gas. It is expected that this facility will be able to power more than 10% of WM's CNG truck fleet, bringing cost efficiencies and improved margins even further in the near future.

Source: Morningstar
These acquisitions and development explain the recent hike in share price as seen from the graph above. Since October 2012, share value has jumped up by more than 35% owing to recent acquisitions. With prices averaging $32 in October 2012, they now stand to cross the $45 bracket. As the acquisitions and the new gas facility sets more in place within WM, I expect share price to follow this trend for the coming years.
'Fundamentals Look Good'
WM provides a better return to investors on stock.
Net margins increased in line with company's strong overall performance between the third quarter of 2013 and 2012. An increase of 2% between quarters came from controlling operation costs as even though cost of sales didn't show an improvement but remained stable, WM utilized its cost efficiencies and expansion.


Having a look at the fundamentals above, it can be seen that WM stands at a better position than the industry due to its better customer dealing and strategy. It is known that the industrial and commercial customers have contract with a tenor of at least 3 years while industrial and municipal customers tend to stay with WM for at least a decade. This efficient dealing, accompanied with WM's growth and margin expansion strategy, promotes returns higher than the industry.
P/E ratio stands well below the industry implying the still undervalued status of the company despite the stock providing an above average return due to the share price hike. Comparing the P/E components, EPS increased from $0.46 in the third quarter of 2012 to $0.62 in third quarter this year. Net margin also hiked and is approximately one percent above the industry. The return on equity offered to the investors is 14.3%, almost 55% higher than the industry's ROE. Such a strong performance is explained by the 17% organic growth in 2012.
Since 2007, WM has returned more than $6 billion as dividends to its investors, with recent dividend of $1.1 paid in 2013 to date. It has maintained a steady and rising dividend level, giving an above market positive return on investment. Steady dividends imply WM's status as a stable and less risky company as compared to its rivals.
Not a Waste Company for Investors
WM is committed to extract an increasing amount of value from the waste stream through expanding its recycling facilities and improving conversion technologies in pursuit to keep increasing market share and margins. It strives to retain customers through its tailored solutions in order to increase retention and sell more within the contracts it already holds. It accepts its customer dealing as a top priority. Combining it with its growth strategy and healthy net margin history, WM promises its investors safe returns. I expect the stock value to rise further in the future. It is a good time for you to put your money in WM.
Disclosure: I have no positions in any stocks mentioned, and no plans to initiate any positions within the next 72 hours. I wrote this article myself, and it expresses my own opinions. I am not receiving compensation for it (other than from Seeking Alpha). I have no business relationship with any company whose stock is mentioned in this article.