The mining sector has been one of the worst performing sectors this year. Companies such as Newmont Mining Corporation (NYSE:NEM) have seen their share prices depress owing to a decrease in global gold prices. This year, in January, gold was priced at $1700 per ounce. Since then, it has taken a downward road by dropping 23 percent to $1300 per ounce.
Newmont has seen a similar trend. Its shares have fallen by more than 40 percent over the last year, dropping from $49 to a record new low of $27 this November. Certainly, with such issues going on, it is becoming hard for Newmont and other gold companies to regain investors' confidence.

Source: Morningstar
Lower gold prices have shortened mine profitability and hence have affected share prices of the mining industry. In one year, Goldcorp (NYSE:GG) shares have fallen 43 percent, Barrick (NYSE:ABX) 48 percent and AngloGold Ashanti (NYSE:AU) by 55 percent.
In the latest release of the third quarter earnings, on 31st October, Newmont reported a net profit of $408 million against $367 million in Q3 2012. Adjusted net profit for the quarter, excluding one-time items, stood at $227 million. The comparable period figure last year was $426 million indicating a 46 percent decline. As expected, revenues also fell by 20 percent to $1.98 billion from $2.48 billion in Q3 2012.
Lower prices of gold and copper were primarily responsible for the lower revenues, which could not be offset by even a higher production. Profits rose despite lower revenues due to one-time gains as well as lower costs and expenses. Some relief came from reduction in costs and expenses as they declined by $131 million as compared to the last year.
Reserves Declining
Newmont's future seems uncertain due to the declining reserves and hindrance in upcoming projects. Reserves in the Peruvian mine Yanacocha are less. Till last year, the company reported 3 million ounces of gold reserves left. Considering the 132,000 ounces of gold that Newmont extracted this quarter and the extractions of Q1 and Q2 this year, estimates reveal that Newmont's Yanacocha mine will last only further for 6 years.
In addition to that, new replacement projects seem too difficult to start. Conga is a substitute for Yanacocha mine. However, the company's biggest $5 billion project is opposed by the locals. The project that is expected to start in 2015 has been suspended for more than a year. In April 2013, Newmont went to an extent as it said that it is considering investing and reallocating capital to different better opportunities in countries such as Australia, Indonesia and the US. Certainly, Newmont is finding it difficult to implement an effective strategy and show clear direction.
Some Optimism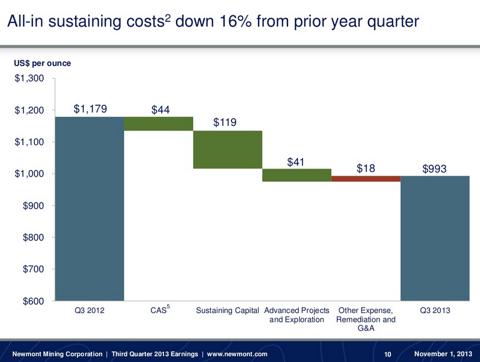 With falling gold prices, companies have shifted their focus on margin management and cost reduction. In this regard, Newmont has shown success. This quarter, Newmont reported an all-in sustaining cost of $993 per ounce of gold this quarter, which fell from $1179 per ounce in Q3 2012.
Relatively Lower Debt and Easy Schedule
In comparison to Newmont's competitor Barrick, Newmont holds a lesser debt. While Barrick possessed $14.5 billion of debt this quarter, Newmont had $6 billion. Importantly, the debt has an easy payment schedule. Taking in account the next few years, Newmont is expected to pay $544 million in 2014 and $486 million in 2017. Though the debt is a high figure, but considering the fact that this could be the debt limit of Newmont (as told by Newmont's CEO on 1st November conference that the company does not wish to issue more debt or equity) and along with the company's ongoing reduction in capital expenditure and cash and cash equivalent of $1.5 billion in reserves this quarter, servicing the debt will not be a problem.
Potential in Projects
Looking at the positive side, Newmont has started production at its Akyem mine in Ghana. The mine is expected to produce between 350,000 and 450,000 ounces of gold in the first five years of production. This is a major achievement given the problems that Newmont is encountering in its Conga project. The difficulties in the Conga project also mean that Newmont will not need additional capital for it.
Newmont also continues to spend on the development of the Turf Vent Shaft project. The Turf Vent project will improve ore grades and facilitate further exploration when it comes on line in 2015. Adding to that, Newmont continues to move forward with drilling at Long Canyon and the first production is targeted by 2017.
Also, though the Batu Hijau project is currently facing the problems of low grade ore and it is expected to persist for the rest of the year, Newmont is working through Phase 6 stripping campaign and plans to reach higher grade ore later in 2014. Upon completion of this stripping phase, it expects the gold production to increase by as much as 10 times in 2015 relative to the 2013 outlook.
Uncertainties Involved
Newmont has experienced declining stock prices. Though it is trying to achieve margins through cost efficiency, and has been somewhat successful, the current ongoing economic environment for gold is uncertain. Newmont seems a poor investment choice for investors due to the falling trend in stock prices, observed since the past year, and uncertainty associated with gold prices in the future. Newmont can be a good investment in the future (if future projects become active) but for now investors are better off in short selling their investments to benefit from the falling prices.
Disclosure: I have no positions in any stocks mentioned, and no plans to initiate any positions within the next 72 hours. I wrote this article myself, and it expresses my own opinions. I am not receiving compensation for it (other than from Seeking Alpha). I have no business relationship with any company whose stock is mentioned in this article.