The share price of Alcatel-Lucent (ALU) increased almost 200% year-to-date, but will the rally continue?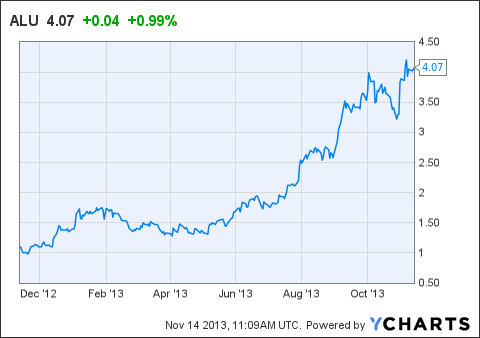 In fact, this rally may continue, but it will not continue with me as a shareholder of Alcatel. I think the bearish argument is more persuasive: Alcatel is at a competitive disadvantage, which is reflected in its high level of financial leverage and depreciation expense in excess of its investment in plant, property and equipment. Additionally, the historic performance of the company suggests the current turnaround effort will be inefficacious as Alcatel has demonstrated a lack of ability to generate substantial cash flows from operations.
Bulls will say that management is decreasing the debt burden and restructuring the company to improve profitability. Additionally, Alcatel's contract wins should generate significant revenues in the coming fiscal years, which should buy management enough time to successfully turnaround the company.
Both are good arguments, but in the final analysis, the risk of losing all of my equity investment is too large for me to take.
Recent Developments
Alcatel-Lucent launched the Motive Big Network Analytics solution, which enhances the way mobile operators capture data and extract intelligence from their networks.
Alcatel-Lucent deployed a 4G LTE network on Aruba for Setar, Aruba's leading telecommunications provider.
The Paris, France-based Alcatel-Lucent is raising $955 million of equity capital and $750 of debt capital. Personally, I'm in favor of capital raising if excellent plans to generate a ROIC are in place.
Fundamental Analysis
Alcatel scored a win in Spain signing a contract with Telefonica (NYSE:TEF) to deploy 8k 4G base stations, but strength in the Wireless segment's 4G sales is being offset by the runoff of 2G/3G contract wins from prior years.
Since peaking at the end of the calendar first quarter, adjusted total debt, which includes short-term, long-term debt and pension liabilities, declined by about euro 2 ($2.7) billion to euro 9.56 ($12.91) billion.
At the end of the calendar third quarter, the financial leverage ratio was 14.52. My rough estimate of the financial leverage ratio following the equity capital raising is 8.76.
In terms of solvency, Alcatel is a weak solvency and concern remains about its ability to remain a going concern, but those worries are tempered by the firm's contract wins and restructuring plans.
The decline in accounts receivable in percentage terms is larger than the decline in revenue on a percentage basis; consequently, the increase in receivables turnover is likely to be attributable to more stringent credit terms, which is wise considering the company's solvency position.
Additionally, the solvency position of Alcatel has lead to what I consider to be underinvestment in capacity; net plant, property and equity is trending lower.
Frankly, from examining Alcatel-Lucent's historic financial performance on a consolidated basis, this company is a short sale candidate. The financial performance in expansionary economic years is less than good and more importantly the cash flow generation ability of this company is poor. Also, the company has a weak solvency position.
At the same time, management is planning to significantly reduce headcount which could decrease the operating expenses by 500 to 1000 basis points as a percentage of total revenues. But there could still be a revenues problem and a debt problem.
For my money, there is too much uncertainty surrounding the future of this company for me to take a long equity position. There are a lot of companies with underlying businesses that produce excellent financial performance results, but right now this is not one of them.
Lastly, I estimate the cost of equity as 12.01% and Alcatel has shown an inability to generate that high of a return on equity.
Valuations
The valuations are adversely impacted by Alcatel's competitive environment, including but not limited to the bargaining power of customers and the rivalry amongst established competitors. Further, the relatively large debt footprint increases the financial risk and consequently adversely impacts the valuation.
The key take away here is that Alcatel may be worthless, or near worthless, to equity holders unless management increases profitability and free cash flow and decreases leverage.
Relative to the S&P 500, Alcatel-Lucent is overvalued; typically, based on the 5-year average multiplier model valuations, Alcatel trades at a larger discount. Additionally, the firm's high level of risk relative to the market suggests that Alcatel should be trading at a discount to the S&P 500, but the price/book is 5.1 while the S&P 500 is trading at 2.5 times book.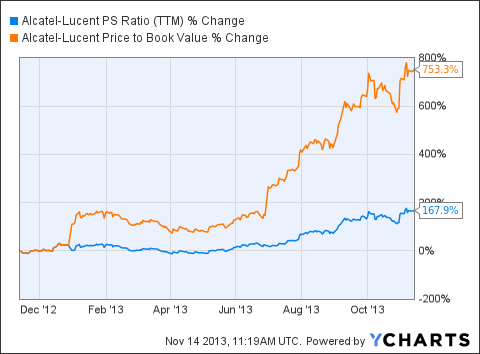 ALU PS Ratio (TTM) data by YCharts
On a time-series basis, the multiplier model valuations are near a recent peak; consequently, based on momentum, Alcatel is overvalued. Given the amount of financial and business risk, at this level, Alcatel is overvalued.
Disclosure: I have no positions in any stocks mentioned, and no plans to initiate any positions within the next 72 hours. I wrote this article myself, and it expresses my own opinions. I am not receiving compensation for it (other than from Seeking Alpha). I have no business relationship with any company whose stock is mentioned in this article.