Pengrowth Energy (NYSE:PGH) has had many ups and down in 2013. Earlier in the year, the stock price was in the gutter, largely thanks to transportation bottleneck issues in western Canada and uncertainty surrounding funding of the Lindbergh thermal oil project. However, in recent months, these worries have all but evaporated, taking quite some measure of the risk out of the stock. Pengrowth is a high dividend energy stock, with a compelling $0.04 monthly dividend. At current prices, Pengrowth yields around 7.25%.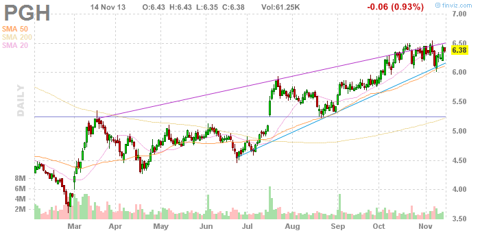 Q3 2013 Overview
Production Average: 83,725 BOE/D

Funds Flow from Operations: $162M, or $0.31 per share

Total Oil and Gas Sales: $414.2M

Oil and Gas Sales per BOE: $54.06

Operating Expenses per BOE: $16.39

Royalties per BOE: $9.47, or 17.5% of sales

Operating Netbacks per BOE: $27.10
On November 7, Pengrowth reported its Q3 2013 results. Overall, Pengrowth had a pretty solid quarter. However, compared to my earlier estimates, there were a few variations.
Production and Lindbergh Update
Production came in nearly 8,000 BOE/D above my estimate of 76,000 BOE/D. However, this was mostly due to the timing of asset dispositions related to Lindbergh funding. Pengrowth has yet to close on the sale of 5,900 BOE/D of mostly natural gas production for $203M.
Total oil and gas sales of $414.2M came in well above my estimate of $371. However, this was due to the timing of the asset dispositions. However, when looking per BOE, my estimate of $53.06 was only off $1.00 per BOE from actual results. This was mostly due to Pengrowth getting slightly better prices for its light and heavy oil than estimated.
The Lindbergh pilot continued to perform very well for the company. As expected, the Lindbergh pilot averaged production of 2,000 BBLs/D. In the conference call, Pengrowth noted that it expects to recover a total of 1.2M BBLs per well pair and achieve a recovery factor in excess of previous expectations prior to pilot results.
In essence, production rates from Lindbergh are exceeding Pengrowth's internal forecasts, with much of the expected production now already recovered at lower than anticipated costs and at a better steam ratio. As Pengrowth has recovered the reserves from Lindbergh sooner than forecasted, the net asset value of the project should increase. However, the downside to this is that these wells may now start seeing natural production declines, estimated to be around 10% annually along with an increased steam ratio.
As I have noted in previous articles, Phase One of Lindbergh is fully funded through 2014. This is expected to add 12,500 BBLs/D of low cost, thermal oil production, with first steam expected in Q4 2014, and the initial oil production in Q1 2015.
Operating Cost Update: Power Prices Remained Elevated
Operating expenses came in much higher than what I had estimated, largely thanks to increased power costs. For the quarter, Pengrowth's operating expenses averaged $16.39 per BOE, $1.64, or 11%, above my estimate of $14.75 per BOE.
As with the Q2 2013 results, Pengrowth continued to experience much higher prices for power. Pengrowth uses a lot of power for some parts of its production. For oil, power represents nearly 40% of operating expenses. Since 2010, realized generating and transmission costs in western Canada have nearly doubled. As a result, power costs have increased by around $2.00 per BOE.
Pengrowth noted that it is seeking to mitigate the volatility it power prices by increased hedging and by working with a third party to install internal power generation capacity of about 26 MW. A similar co-generation plant is also planned for the Lindbergh processing facility. For 2014, Pengrowth has 65% of its anticipated power consumption hedged at about $56.30/MWH, compared to the YTD average price of $88.15.
As a result of the increased operating costs, my estimate for operating netbacks also missed. I had estimated $29.30 per BOE which actual results came in $2.20, or 7.50%, below this figure at $27.10 per BOE. Also impacting this figure was an increase in royalties expenses per BOE. My estimate called for $9.00 per BOE, or 17% of sales, while actual expenses were $9.47, or 17.5% of sales. Adjusting for these two items, my estimate for operating netbacks was off by around $0.09 per BOE.
Final Thoughts and Conclusions
Overall, I am pleased with my estimates. While higher power prices again impacted my estimate for operating netbacks, these costs are typically seasonal and highly volatile. However, Pengrowth is taking measures to hedge itself from this volatility.
Pengrowth's Lindbergh pilot results were a pleasant surprise. I suspect that the company may need to boost its internal IRR estimates for the project given the successful pilot results.
Early 2015 is the current estimate for the first oil production from Phase One of Lindbergh. Construction commenced in Q3 and is on track and on budget. While Q1 2015 seems quite far away, the company is paying you handsomely to wait. Given its current high yield and incoming production growth from Lindbergh, Pengrowth is definitely a stock worth holding long-term.
Disclaimer: The opinions in this article are for informational purposes only and should not be construed as a recommendation to buy or sell the stocks mentioned. Please do your own due diligence before making any investment decision.
Disclosure: I am long PGH. I wrote this article myself, and it expresses my own opinions. I am not receiving compensation for it (other than from Seeking Alpha). I have no business relationship with any company whose stock is mentioned in this article.