A few weeks ago, we wrote an article about Hi-Crush Partners LP, (NYSE:HCLP), a fairly new stock which is prospering in the rapidly growing frac sand niche market.
One of HCLP's competitors, Emerge Energy Services LP, (NYSE:EMES), just went public in May 2013, and is also doing very well in this niche market. Due to their high dividend yields and attractive metrics, both EMES and HCLP are listed in the Basic Materials section of our High Dividend Stocks By Sector Tables.
Unlike HCLP, EMES is a mixed play on fracking sand, as it also has a fuel segment which currently delivers the majority of its revenues. However, EMES's management is firmly committed to growing its Sand segment. Here's why - even though the Sand segment was only 15% of EMES's revenues through the 1st 9 months of 2013, it contributed 76% of the firm's Operating Profit. The Sand segment also increased its revenue by over 100%, vs. the first 9 months of 2012: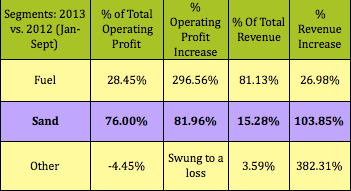 EMES just reported very robust Earnings and Revenue growth this week, for the third quarter and the 1st 9 months of 2013: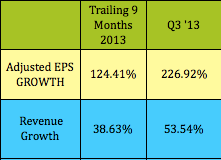 EMES has favorable logistics that should help it grow its Sand business: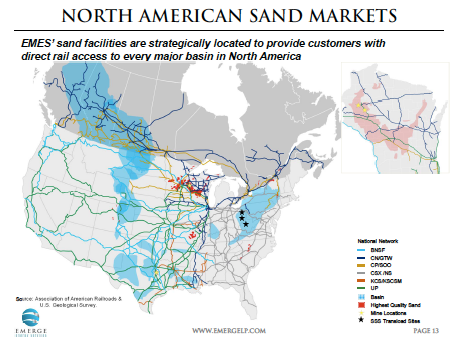 (Source: EMES website)
Adjusted Earnings: We stripped out the one-time May 2013 IPO costs to arrive at an adjusted EPS: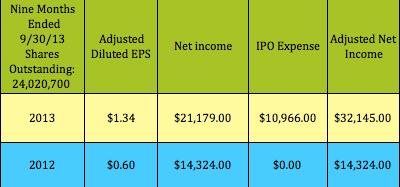 Analysts are estimating continued strong earnings growth for EMES through 2014, and even though its share price is up over 136% since its IPO, it still looks very undervalued on a PEG basis. One of EMES's insiders, Director Victor Vescovo, also must be very bullish: he bought 30,000 shares of EMES in August at $29.70/share.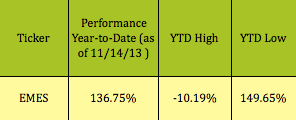 Big Dividend Growth Ahead: So far, EMES has paid 2 quarterly distributions - a $.37 payout in August, for its 1st partial public quarter, which was equivalent to a pro-rated $.70 for the quarter, and an $.86/unit payout in November.
The 8.60% Dividend Yield below is based upon this recent $.86 payout, but that may too low, as the distribution may grow to $4.00 for 2014, which would be around a 10% yield at EMES's current price/share. EMES's general partner's Chairman of the Board, Ted Beneski, stated on its earnings release, "Our distribution continues to exceed the forecast contained in our prospectus, thanks to our high-quality products, customer-focused services, and continued focus on operational improvements. Further, we expect that the fourth quarter will once again exceed our projections contained in our IPO Prospectus, and are pleased to announce preliminary distribution guidance of $3.80 - $4.00 per unit for 2014."

Options: Given that EMES may raise its distributions soon, and may also continue to gain in price, should you even consider selling covered calls? One idea would be to sell out-of-the-money calls. The trade below, from our free Covered Calls Table, expires in March, and has a $45 strike price, which leaves you over 12% headroom for potential price gains, while allowing you to more than double your dividend $, via its $1.15 call premium:

This table details the 3 income scenarios for this covered call trade:

Cash Secured Puts: Seeing that EMES has had such a big run in 2013, a more conservative approach would be to sell cash secured puts below or near EMES's price/share. You won't participate in distributions or price gains, but you will receive a $3.40 put premium now, which is around 8.5% below EMES's price/share. You can see more details for this and over 30 other trades in our free Cash Secured Puts Table. (All of our options tables are updated throughout the trading day.)

Financials: As you may know, LP's can often take investors on a big dilution roller coaster ride. However, EMES's management addressed this point in its recent Investor Presentation - "We do not need new equity financing at this time, nor do we plan to withhold cash from our unitholders in order to avoid raising new capital. We anticipate that our near term growth opportunities, require negligible capital. We believe that the capital requirements for our near-term organic growth opportunities will return the capital invested quickly and can be financed using our credit facility." (Source: EMES website)

Disclaimer: This article was written for informational purposes only.
Disclosure: I am long HCLP via being short HCLP put options. I may initiate a position in EMES in the near future. I wrote this article myself, and it expresses my own opinions. I am not receiving compensation for it (other than from Seeking Alpha). I have no business relationship with any company whose stock is mentioned in this article.