Background
Align Technology, Inc. (NASDAQ:ALGN), is a maker of an alternative technology to the old metal braces to help straighten teeth. Unlike earlier devices, its proprietary Invisalign braces uses a new material that makes these braces clear, removable and don't rely on metal or ceramic brackets and wires, making them more comfortable.
Recent News
On Thursday morning, Align was down over 4% premarket. The news? Danaher Corporation (NYSE:DHR) sold out a major stake (4.6 million shares) in Align for a price of 54.60. No reason was cited, but when a large insider liquidates, investors should take note. Does that mean Align is no longer worth investing in? I think it still has a bright future ahead.
Upon the news coming out of the Danaher sale, the stock dropped over 6% down to the 25 DMA, on over 200% above average volume. It seems to be finding support around that area. If it holds there, I'll take it as a bullish sign. If it breaks, I will sell my starter position and take a loss.
Technicals
Align recently gapped up on 10/18/13 to a new high at 57.98. This 26% jump came after reporting third quarter sales and earnings results that easily beat views. The stock then began trading in a tight range on relatively low volume. Many investors and traders believed it was consolidating gains and anticipating a breakout above $60 to start a new uptrend. Thursday's news however, was a curve ball that has me and I'm sure others questioning selling or holding. As a CANSLIM investor, I should sell and take my 7% loss; however, I can't find any fundamentally sound reason to sell. All I have is a technical reason.
The stock originally broke out of a cup-shaped base back in July and has been grinding upwards since then. It stalled and dropped below the 50 DMA just before the earnings beat sent it to new highs. I noticed a pocket pivot occurred on 11/04/13, which drew my attention enough to initiate a starter position.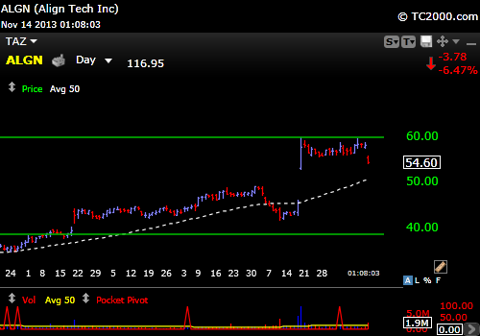 Fundamentals
Below are some key metrics I gleaned from IBD's Stock Checkup
Current Earnings
EPS % Chg (Last Qtr) 62%
Last 3 Qtrs Avg EPS Growth 22%
# Qtrs of EPS Acceleration 3
EPS Est % Chg (Current Qtr) 65%
Last Quarter % Earnings Surprise 40.0%
Annual Earnings
3 Yr EPS Growth Rate 18%
Consecutive Yrs of Annual EPS Growth 4
EPS Est % Chg (Current Yr) 30.08%
Sales, Margin, ROE
Sales % Chg (Last Qtr)21%
3 Yr Sales Growth Rate 19%
Annual Pre-Tax Margin 22.1%
Annual ROE 17.4%
Debt/Equity Ratio 0%
These numbers show that Align is doing a good job at growing the company. There should be no reason for concern.
Earnings Summary
Align had a great third quarter. Transcripts can be found here.
• Earnings growth slowed late 2012 and was flat in the first quarter of 2013. But since then has accelerated, hitting 62% 3Q 2013. According to their latest report, third-quarter net income was $34.5 million, or 42 cents per share, compared with a net loss of $0.3 million, breakeven on a per share basis, last year.
• Sales growth improved. Revenue rose about 21% to $164.5 million, driven by higher sales of Invisalign braces.
• Overall, analysts expect earnings to climb 30% this year and 16% next year.
Summary
Align has a great product. A new material used in teeth aligners making them stronger and more comfortable to wear than the old Frankenstein braces most of us wore growing up. The need for braces is not going away anytime soon. Sales and earnings are increasing. Just because Danaher decides to liquidate a large position does not mean Align is a bad investment. Was the breakout in July, the ensuing uptrend and gap up on an earnings beat completely driven by Danaher's stake in the company? I don't think so. Smart investors look for companies with a great product with strong sales and earnings growth. Accelerated sales and earnings growth from the prior quarter turned a lot of heads creating a bullish case for Align. That should be enough to convince investors that Align is worth investing in.
Disclosure: I am long ALGN. I wrote this article myself, and it expresses my own opinions. I am not receiving compensation for it (other than from Seeking Alpha). I have no business relationship with any company whose stock is mentioned in this article.
Additional disclosure: I may sell if price is still weak a few days from now.