Cisco Systems (NASDAQ:CSCO) reported its first quarter earnings on November 13, 2013 and the stock was literally thrown under the bus as a result. Shares closed down 11% lower at $21.37 because revenue guidance suggested that emerging market revenues and sales to cable service providers are likely to decline by up to 10% this quarter. The NSA surveillance scandal obviously contributed to the large declines in sales volume and even took CEO John Chambers by surprise who complained about the scale and pace of such.
Q1 2014 results
It is important to notice that the revenue warning overshadowed Q1 2014 results which weren't too bad. In addition, Cisco announced a meaningful expansion of its share repurchase program which the market barely seems to acknowledge.
Cisco achieved revenues of $12.1 billion in Q1 2014 vs. $11.9 billion in Q1 2013 (a plus of 2%). Earnings per share declined 5% to $0.37 compared to $0.39 in Q1 2013. For the second quarter 2014, Cisco predicts earnings per share of $0.45-0.47 and sales of just around $11 billion. Cisco expects full-year 2014 EPS to come in somewhere between $1.95 and $2.05 while analysts expected $2.10. Overall, the projected decline in sales and EPS seem to justify an 11% share plunge.
However, I believe that the recent sell-off is exaggerated. The NSA spying scandal obviously contributed to lower revenues in the emerging market business especially in China, Russia and Brazil. Revenues in China were down 18%, in Russia 30% and in Brazil 25%. Russia and Brazil are among the countries that reacted the harshest after reports on US spying activities on high-ranking government officials in those countries emerged.
Share repurchase program massively expanded
Cisco has repurchased shares in the amount of $2 billion during Q1 2014. In addition, Cisco's board of directors has authorized an additional $15 billion for share repurchases adding to the $82 billion that had previously been authorized. The remaining authorized amount for share buybacks now stands at $16.1 billion.
Free cash flow
In light of Cisco's new revenue guidance I have adjusted my free cash flow to equity valuation model. I have previously estimated that Cisco will earn $1.77 of FCFE per share in 2014 which I have now revised downward to $1.67. I have also estimated more conservative growth rates for Cisco's FCFE per share. In any case, the resulting intrinsic value of $27.31 indicates that Cisco still has meaningful upside potential of nearly 28%.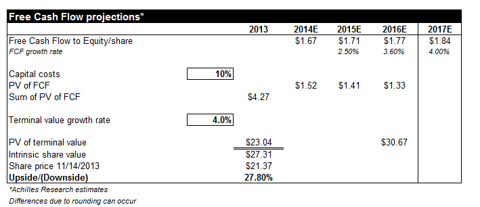 The sell-off has pushed Cisco into bargain territory for contrarian investors who don't think that Cisco's long-term earnings- and revenue prospects are impaired. Cisco's shares now trade at only 9.5x forward earnings and shares should experience substantial support from the additional $15 billion share repurchase program.
Conclusion
Cisco is an interesting investment for long-term investors who aren't shy to go against the crowd. Truth be told, the revenue- and earnings guidance came as a surprise and rightfully send the shares lower. For long-term investors who believe revenue declines are temporary in nature, this might offer an interesting entry point at a low valuation based on both earnings and free cash flow. The NSA spying scandal likely contributed to a massive extent to the projected revenue declines in Cisco's emerging markets business. Sales declines did not occur because Cisco's product & service offering has suddenly lost its competitive appeal but because of political motivations. Investors who can see past short-term disruptions might want to consider opening a long position at a very attractive 10.5% earnings yield and a current 2.8% dividend yield.
I'd also like to point out that the current sell-off in Cisco shares is comparable to Cisco's sell-off on May 9, 2012. On this day, Cisco issued a Q4 2012 guidance that was below analysts' estimates; the stock subsequently fell 12% to $16.51 but quickly recovered. Just three month later, the stock had recaptured its lost territory and closed above $19. For long-term oriented investors, this proved to be a good entry point after all: Cisco shares are up 29% since then despite yesterday's 11% drop. Strong, long-term contrarian BUY.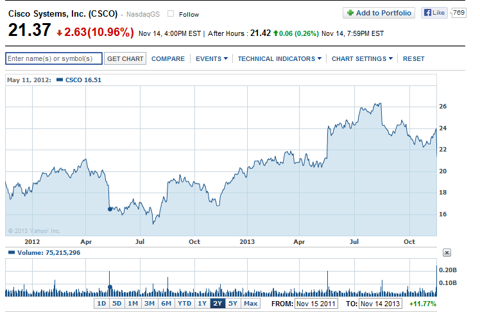 Disclosure: I am long CSCO. I wrote this article myself, and it expresses my own opinions. I am not receiving compensation for it (other than from Seeking Alpha). I have no business relationship with any company whose stock is mentioned in this article.