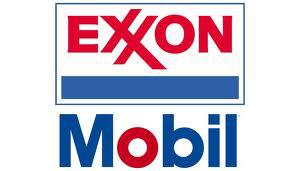 Berkshire Hathaway's (NYSE:BRK.A) latest disclosure revealed the company sold 10.7 million shares of ConocoPhillips (NYSE:COP) shares while buying 40 million shares of Exxon Mobil (NYSE:XOM). At first blush, it is hard to understand Mr. Buffett's rationale. We'll look at several different reasons why Buffett may have made the move and try to figure out what he's thinking.
Stock Performance?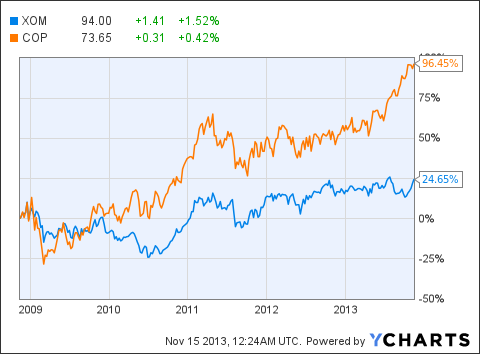 Stock price appreciation doesn't seem to be the reason unless Buffett thinks the next 5 years will be different than the last 5 years. As the chart above shows, COP has outperformed XOM over the past 5 years by more than 3x. I am assuming YCharts took into account the Phillips 66 (NYSE:PSX) spin-off. Yet if we consider the performance of PSX since going public in May of 2012, the outperformance would be even more dramatic. Perhaps Mr. Buffett feels COP has come too far too fast and that XOM's time has come.
Valuation?
But valuation levels don't bear that out: XOM currently has a P/E of 12.2 and COP's P/E is 11.3. So the market is giving XOM a higher valuation than COP. I find that very interesting considering the performance of COP over the past 5 years.
Total market cap could be a reason. 40 million Exxon shares are today worth about $3.76 billion. In comparison, Exxon's total market cap is $407.3 billion and COP's is $90.2 billion. So it could be that Buffett was just looking for a nice, liquid, oil company to park a large sum of money. His stake in XOM was only 1% of the company's market cap. The same size stake in COP would have been 4.2% of the company.
Yield?
COP currently yields 3.7%. Exxon currently yields 2.8%. So this can't be the reason - unless Buffett feels COP won't make its dividend payment. But if that was the reason, why would Buffett hang on to 13.5 million shares of COP? On the other hand, perhaps Buffett believes XOM will (finally) significantly raise its dividend yield. As a long-time XOM shareholder, all I can say is good luck with that one. XOM has paid the lowest dividend yield in its peer group for years now. You can see how XOM's yield stacks up against its peer group in my last article on Exxon: Open Letter to Exxon's Board: It's Time To Sell Assets To Reward Long Suffering Shareholders. It ain't pretty.
Integrated Vs. Independent Oil & Gas Explorer?
Now we might be getting somewhere with this issue. Conoco is, of course, no longer an integrated company since spinning off its midstream, chemicals, and refining businesses into PSX. Perhaps Mr. Buffett wants to profit off the Brent/WTI spread - and that would mean focusing more on the downstream businesses - chemicals and refining. And this makes some sense to me. While Buffett did keep all of his PSX shares in the recent filing, it is interesting to note he bumped up his holdings in Suncor Energy (NYSE:SU). Which is interesting - if he thinks the Brent/WTI spread is going to widen, why would he increase holdings in SU, a company that is somewhat exposed to WTI prices and has no chemicals or midstream businesses?
Management?

Click to enlargeThis simply cannot be the reason as the nod here has to go to ConocoPhillips. Conoco's management began a strategic overhaul of the company several years ago and has delivered on every commitment it made: from spinning off PSX, to asset dispositions, to the exploitation of the Eagle Ford. In fact, I cannot think of one commitment COP management has made over the past few years that it not only met, but in most cases exceeded expectations. On the other hand, Rex Tillerson's career will likely be judged by XOM's $40 billion takeover of natural gas producer XTO. So far, the severe and sustained drop in domestic natural gas prices haven't proved kind to Tillerson's legacy. In addition, XOM was slower than most companies to shut-in nat gas production and shift dry gas drilling over to oil. Also, Exxon has been slow to embrace shale oil in the US, some of it right under its nose in Texas - like the Eagle Ford, arguably the most economic shale play in the US. COP has been printing money in the Eagle Ford with margins in the 50% range.
Safety?
This may be the reason. Buffett has been quoted recently as saying he's having a tough time finding bargains in the market. In this regard, XOM has a couple things in its favor:
XOM historically outperforms in down markets.
XOM has an "AAA" rating higher than that of the US government.
On the other hand, Morningstar rates ConocoPhillips' debt as "A". As of Q3 earnings (Sept. 30, 2013), ConocoPhillips had $3.9 billion of cash and cash equivalents and debt of $21.7 billion and a debt-to-capital ratio of 30%. But those numbers do not take into account the $5.4 billion in proceeds from the sale of COP's Kashagan stake.
So I would consider XOM "safer" than COP. But if Buffett expects market volatility on the downside, why not stay in cash instead of buying 40,000,000 shares of Exxon?
Summary & Conclusion
I own (and like) all the companies discussed in this article except Berkshire: XOM, COP, PSX, and SU. Yet of all these companies, ConocoPhillips is probably my favorite going forward into 2014. It's on track to nicely grow production and margins and is basically, now, the company management decided to make by implementing its strategic plan. Perhaps XOM will snap out of its multi-year funk. I sincerely hope so. Maybe Mr. Buffett can influence XOM's management to significantly raise the dividend so that it is competitive with its peer group. While the 0.9% difference in yield between COP and XOM might not seem like much, on Buffett's 40 million XOM shares, that works out to ~$37 million a year less in dividend payments to Berkshire.
Disclosure: I am long COP, PSX, SU, XOM. I wrote this article myself, and it expresses my own opinions. I am not receiving compensation for it (other than from Seeking Alpha). I have no business relationship with any company whose stock is mentioned in this article.
Additional disclosure: I am an engineer, not a CFA. The information and data presented in this article was obtained from company documents and/or sources believed to be reliable, but has not been independently verified. Therefore, the author cannot guarantee its accuracy. Please do your own research and contact a qualified investment advisor. I am not responsible for investment decisions you make. Thanks for reading and good luck!