Most DIY dividend investors focus their attention mainly on "blue-chip", large capitalization stocks like Wal-Mart (NYSE:WMT) and McDonald's (NYSE:MCD), but small capitalization stocks should not be ignored. While small-cap stocks are widely viewed as relatively higher risk investments, the risk-reward tradeoff of this segment can be very compelling for even the most conservative investors. Generally speaking, smaller companies tend to be less financially stable than larger firms, which often leads to higher price volatility. However, smaller companies are often able to increase their earnings at a faster clip and therefore have the potential to deliver greater capital appreciation (since stock prices are a function of earnings growth).
In fact, over the past 5 years (see chart below), small-cap stocks (Russell 2000) have outperformed large-cap stocks (S&P 500) by a decent margin (+159.7 vs. 129.7%).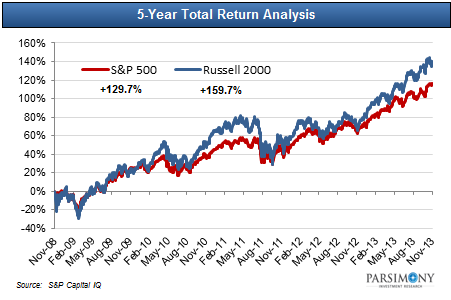 Note that year-to-date, small-cap stocks are up almost 30% (vs. a 25% gain for the S&P 500).
Small-Cap Dividend Stocks For Your DIY Dividend Portfolio
While proven large-cap dividend payers should make up the bulk of your dividend portfolio, we recommend that investors also consider selectively mixing in some small-cap stocks as well.
That said, we recently scanned our entire dividend stock universe and came up with our current "All-Small-Cap" Team. This team is made up of the 25 small-cap dividend stocks with the highest Parsimony Ratings(that also meet the parameters below):
Stock Price > $10.00
Market Capitalization < $5 billion
3-Month Avg. Volume > 100,000 shares
Dividend Yield > 2.5%
Parsimony Rating > 70
We will highlight each of these stocks over the course of a 5-part series. Below is a schedule of the entire series. Please make sure to "follow" us so that you will be notified when each new article is published.
Part 2: Fourth Team (stocks #16-20)
Part 3: Third Team (stocks #11-15)
Part 4: Second Team (stocks #6-10)
Part 5: First Team (stocks #1-5)
The All-Small-Cap Team: Fourth Team
Our 25 All-Small-Cap Team stocks have an average market cap of $2.5 billion and an average dividend yield of 4.5%. In addition, these stocks have an average beta of 0.85x (despite the higher volatility stereotype) and an average 5-year total return over 300%! This article highlights the 5 stocks that made our Fourth Team (stocks ranked #16-20). The tables below summarize some of the key data points that we analyze when ranking our dividend stocks.
#20 Cedar Fair (NYSE:FUN)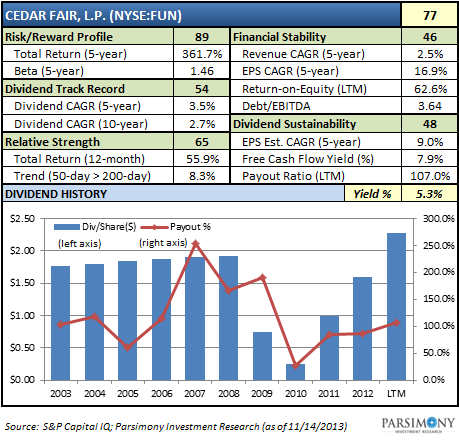 Cedar Fair owns and operates amusement and water parks (including the famous Cedar Point). The recession forced Cedar Fair to cut its distribution in 2009 (after paying a distribution for 22 consecutive years). Since troughing in 2010, visitor traffic has been on the rise and so has its distribution to shareholders. In fact, FUN's total distribution in 2013 is the highest annual distribution paid in company history. If this trend continues, it could be a FUN ride for investors.
#19 Suburban Propane Partners (NYSE:SPH)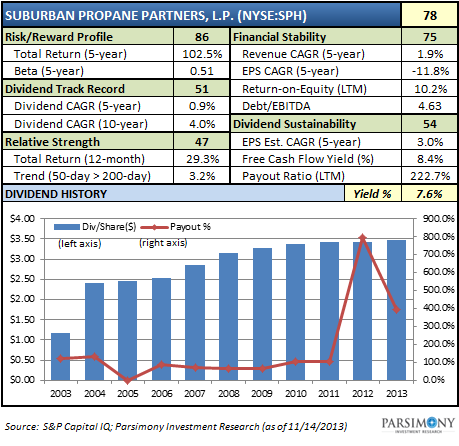 Suburban Propane is a retail distributor of propane. SPH has paid a distribution to shareholders every quarter (without a decrease) since becoming a Master Limited Partnership in 1996. Although its distribution growth has slowed in recent years, SPH has a very attractive yield (7.6%) and the stock is worth putting on your radar.
#18 AmeriGas Partners (NYSE:APU)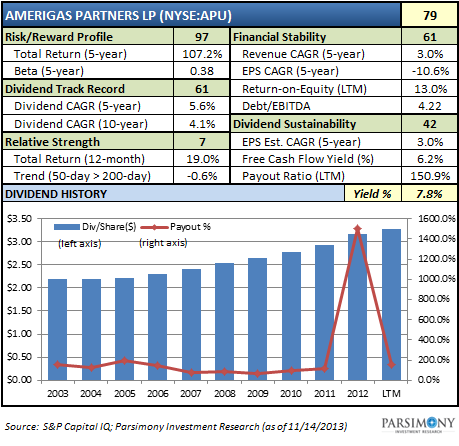 AmeriGas is also a Master Limited Partnership operating as a retail and wholesale distributor of propane gas. The company's 7.8% yield is very attractive, but investors should note the MLP K-1 tax filing requirements (similar to SPH and FUN). APU has delivered shareholders a 102% total return over the past five years, and it has increased its dividend at a compound annual rate of 5.6% over that period.
#17 Leggett & Platt (NYSE:LEG)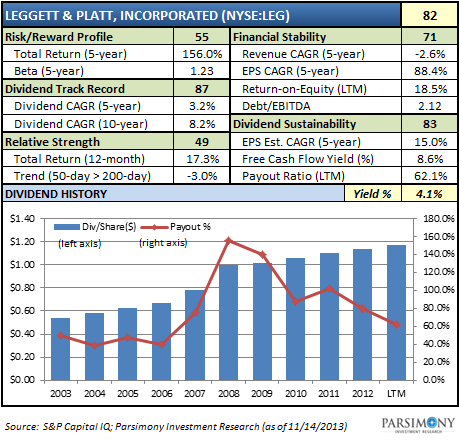 Leggett & Platt is a manufacturer of home furnishing and commercial fixtures. LEG has increased its annual dividend for 42 consecutive years, at a 13% compound average growth rate. Only 11 members of the S&P 500 have a longer string of consecutive annual dividend increases. LEG has delivered shareholders a total return of 156% over the last five years and it currently pays one of the highest dividends (4.1%) of any "Dividend Aristocrat".
#16 American States Water (NYSE:AWR)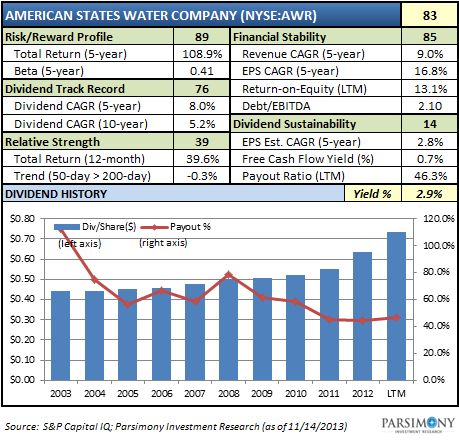 AWR is a water utility company that distributes water in the state of California. AWR has paid dividends to shareholders every year since 1931 and it has increased that dividend for 59 consecutive years. Over the past 5 years, the company has grown its dividend at a compound annual rate of 8% and delivered shareholders a total return of 109%. AWR is an extremely stable dividend payor that certainly warrants consideration in your DIY Dividend Portfolio.
Summary
Selectively adding some well-researched small-cap stocks to your DIY Dividend Portfolio can offer both diversification and higher capital appreciation potential. Use this series as the starting point for your own due diligence.
Disclosure: I have no positions in any stocks mentioned, and no plans to initiate any positions within the next 72 hours. I wrote this article myself, and it expresses my own opinions. I am not receiving compensation for it (other than from Seeking Alpha). I have no business relationship with any company whose stock is mentioned in this article.