As I write this Amazon.com (NASDAQ:AMZN) is up happily to $362.50. It seems investors welcomed the news put out by Wal-Mart (NYSE:WMT), where online sales were said to be increasing at a near 40% clip over the latest quarter. In a world where all news are good news for Amazon.com, that's understandable.
But there's an alternative interpretation. That interpretation, which is borne by the numbers, is that Amazon.com is losing relative share in e-commerce versus Wal-Mart. Walmart.com is growing faster right now than Amazon.com. And even those optimists bidding up Amazon.com today wouldn't dispute this notion. "near 40%" is more than what's expected of Amazon.com as a whole for Q4 (+22.4% consensus), or what it achieved in Q3 (+24%).
But it doesn't stop there
It's not just Wal-Mart outgrowing Amazon.com. There's another threat rising in the form of Google (NASDAQ:GOOG) Shopping. Google Shopping is a much cheaper way to sell for third-party sellers. They pay just for the search advertisements and not the heavy selling commissions demanded by Amazon.com or Ebay. Hence it's not surprising that it's gaining relevant versus Amazon.com. But how fast is this happening? The recent numbers published by ChannelAdvisor for the first week of November, as well as for October, tell us the story: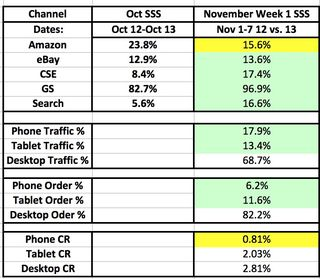 While Amazon.com continues to see a massive slowdown in ChannelAdvisor data, Google Shopping is expanding at 82%-96.9% yearly rates. At some point, Google Shopping is going to be a problem for Amazon.com (and Ebay), much in the way Alibaba might also turn into a significant problem - simply because it's a much cheaper way to sell for third party sellers.
Kindle HDX continues to do badly
Finally, mostly as an aside, the Kindle HDX continues to do badly in Amazon.com's sales rank. As a result, this year there won't be any "Kindle sold double of last year" press releases. Amazingly, the HDX has been discounted in at least 3 different campaigns already, since its launch just 1 month ago:
In a $60 coupon for some Amazon.com customers;
In the "15% off" FAA day;
And in a $40 coupon for Kindle purchases.
That's just in a single month.
Conclusion
While the stock parties yet again, there are multiple signs that two large online competitors, Walmart.com and Google Shopping, are at this point outgrowing Amazon.com. At the same time, Amazon.com seems to be seeing significant slowdown, which might be masked by the ebook accounting change.
Disclosure: I have no positions in any stocks mentioned, and no plans to initiate any positions within the next 72 hours. I wrote this article myself, and it expresses my own opinions. I am not receiving compensation for it (other than from Seeking Alpha). I have no business relationship with any company whose stock is mentioned in this article.
Additional disclosure: I own an options position which stands to gain from AMZN share price dropping.