The first leaks of Intel's (NASDAQ:INTC) next generation "Cherry Trail-T" system-on-chip aimed at low power tablets have begun to surface. This is the 14 nanometer successor to this year's "Bay Trail-T" which has found its way into some rather nice designs such as the HP (NYSE:HPQ) Omni 10, Dell (NASDAQ:DELL) Venue 8 Pro, and the ASUS Transformer Book T100 (the latter of which is now the 15th best selling tablet on Amazon, and the second most popular notebook).
While "Bay Trail" was truly the first tablet system-on-chip from Intel that was legitimately "good" (leadership CPU performance and power, good GPU), the next generation chip looks even more exciting for a couple of key reasons, as I will illustrate here.
The Leak
Courtesy of the ever-resourceful VR-Zone, here is a slide detailing some of the improvements that can be expected from next year's 14 nanometer "Cherry Trail-T":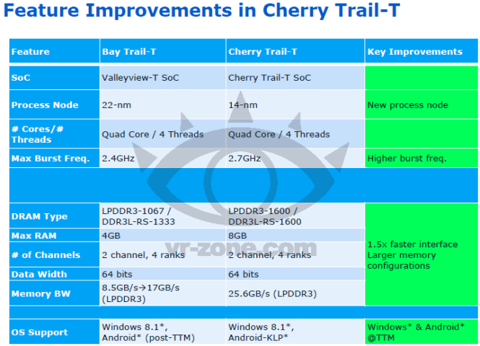 This slide, on the surface, doesn't seem to tell us much, but there is plenty of information embedded on here.
Massive Increase In Memory Bandwidth: With Bay Trail-T, Intel already had a significant memory bandwidth advantage over its competitors (Snapdragon 800, for example, offers 12.8GB/s in its highest shipping configuration against Bay Trail-T's 17GB/s). It looks as though Cherry Trail supports faster DDR3 memory and as a result we get memory bandwidth on par with today's highest end Ultrabook CPUs. This is likely in support of what will be a massively improved graphics engine (new architecture in addition to significantly more execution units)
Minimal CPU Clockspeed Bump, No Hyperthreading: Intel's "Silvermont" CPU core has a max turbo frequency of 2.4GHz in the Bay Trail-T configuration (and consumes less than 1W per core at full load). It looks as though the next generation "Airmont" CPU core will come at a max turbo of 2.7GHz (+12.5%). It is also likely that the core will come with non-trivial microarchitectural enhancements over "Silvermont", so I'm expecting CPU performance to improve on the order of 30% within the same power envelope. Intel also did not bring back simultaneous multithreading in this generation.
Android Key Lime Pie Support At Launch, Likely 64-bit Android: While "Bay Trail" has yet to recieve Android support (Windows 8.1 has been the priority), it looks as though the latest version of Android, Key Lime Pie (or Android 5), will be ready for "Cherry Trail-T" at launch. Given that Intel is touting >4GB memory sizes for "Cherry Trail-T", I can only assume that Android 5.0 will support 64-bit X86 and that Intel's silicon will be ready to go with 64 bit support. While this doesn't buy much in the way of performance in itself ("64 bitness" doesn't buy you more than 5-10% of performance in itself...but shiny ISA extensions can buy you a lot), it will be a great marketing point, particularly if the ARM (NASDAQ:ARMH) players aren't ready (either on hardware or software - you need to enable both) with ARMv8 implementations next year.
The Implications
While many folks like to spread FUD about this year's "Bay Trail", it is important to understand that it provides leadership CPU performance (I prove this claim in a minute...), leadership power consumption, and "good" graphics performance (although the GPU on Bay Trail is handicapped because it is far more feature rich than any of the other mobile GPU architectures like Adreno, Mali, and PowerVR). To illustrate this point, I show a pretty relevant CPU benchmark (since Geekbench has major issues/is a synthetic benchmark and Javascript tests are dependent on more than just the CPU). In particular, I show the results from 3DMark Ice Storm Physics on an Intel Atom Z3740D (a fairly low end, crippled SKU of Intel's "Bay Trail") against the top of the line Qualcomm (NASDAQ:QCOM) Snapdragon 800:
Snapdragon 800 (Average in 3DMark Database)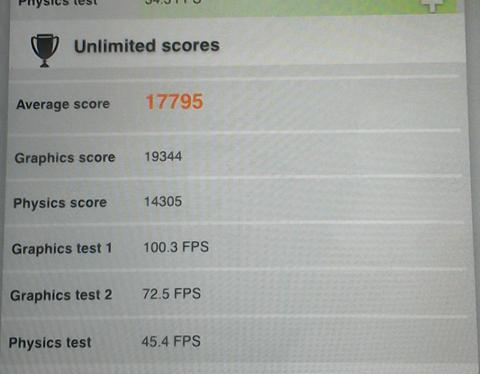 Intel Atom Z3740D (low end SKU of "Bay Trail" at 1.8GHz and with single channel DDR3-1600 in Dell Venue 8 Pro)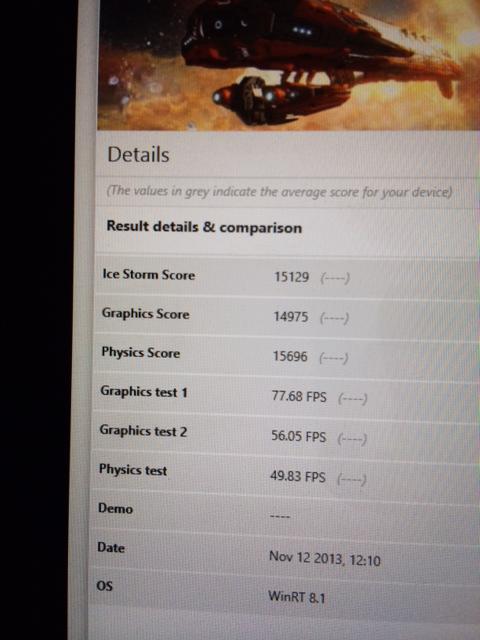 So, see something interesting here? As far as GPU goes, the much-touted Snapdragon 800's Adreno 330 GPU manages to score 19344 in a GPU-limited test and 14305 in a CPU limited test. The low end Bay Trail SKU that is missing about half of the memory bandwidth of the top end Z3770 and about 33% of the CPU clock speed manages to provide 77% of the GPU performance in the top end Qualcomm part and 110% of the CPU performance (note that this is a 2.3GHz Qualcomm part against a 1.8GHz Intel part - the top Bay Trail would do much better).
Keep in mind that Bay Trail's GPU supports DirectX 11 and even comes built in with a video transcoding engine ("QuickSync") that none of the other mobile GPU architectures have.
Oh, so I bet some of you are interested in how the iPhone 5S with the Apple A7 performs...well, I've got the results right here: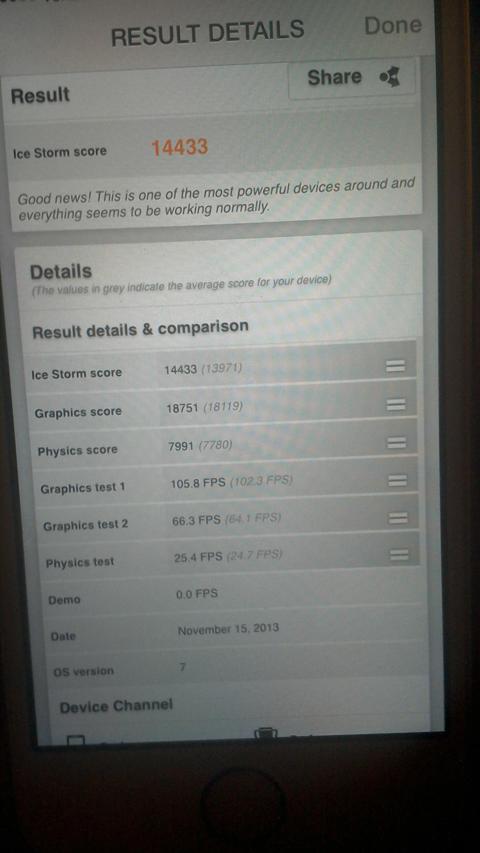 Interestingly enough, in the CPU-bound physics score, A7 is no match for either Snapdragon 800 or Z3740, but the GPU (courtesy of Imagination Tech (OTCPK:IGNMF)) seems to pack quite an "oomph". Of course, these results don't at all jive with what Geekbench wants us to believe, but synthetic tests like Geekbench are supposed to predict real world performance - actual tests are much more important, and a very intense 3D graphics and physics test (GPU and CPU intensive, respectively) are probably as "hardcore" as it gets on a mobile device. And Intel's "Bay Trail" holds up beautifully.
So, what's my point? Well, the point is that Intel is here today with leadership CPU performance, very good GPU performance, all at the right power consumption. Do note that the GPU is based on a very old design (Gen 7 was first introduced in early 2012 with "Ivy Bridge") and that Intel has it's biggest GPU revamp ever (according to Intel's driver team, anyway) is on its way with its Gen 8 GPU architecture that will be found in both "Broadwell" and "Cherry Trail-T". Intel will also be using a many more GPU execution units of its new Gen 8 architecture in the upcoming "Cherry Trail" chip (up from the quite anemic 4 EUs found here in "Bay Trail").
On the CPU front, I expect Intel to maintain performance/watt leadership, particularly as "Silvermont" has proven to be able to outgun higher clocked (and likely higher power) CPU cores from its competition. "Airmont" will see a clock speed bump and probably some interesting microarchitectural advancements/tweaks. All in all, while "Bay Trail" was very competitive, "Cherry Trail" stands a very good chance of being, unequivocally, the fastest mobile system-on-chip for sale at its time of release.
Conclusion
Intel is moving very quickly in the tablet space, and although I'm still waiting to see meaningful progress in handsets, it's now clear that Intel will be one of the top dogs in the merchant tablet SoC space (as well as the smartphone SoC space once it begins to deliver similarly competitive products). While the decline in traditional PCs may still serve as a headwind to offset the multiple years of share gains + secular growth to be had in mobile for Intel, the big question of whether Intel has what it takes to be a leader in mobile chips. The answer, at least for tablets, is a resounding "yes".
Disclosure: I am long INTC. I wrote this article myself, and it expresses my own opinions. I am not receiving compensation for it (other than from Seeking Alpha). I have no business relationship with any company whose stock is mentioned in this article.