While I was watching Apple's (NASDAQ:AAPL) Keynote for the new iPhone in early September, I felt very disappointed. Apple didn't add any new "revolutionary" feature to its new flagship, as it did in the past. I wouldn't say the Touch ID is innovative because it causes a security/privacy threat, it's more a gadget than anything else. In my opinion, Apple's success is related to the fact that the company can sell an exclusive product with premium features to its customers, being helped by a great marketing campaign. In this article, I'm going to make hypothesis about Apple's iPhone sales for the current quarter, as well as giving reasons why Apple won't reach it.
In spite of this, Apple said they sold more than 9 million iPhones 5s/5c in the first three days after its launch. That seems quite good when you compare it with the 5 million iPhone 5s sold during the same period one year earlier. Nevertheless, you have to notice two factors. First, the iPhone 5s/5c was launched in more countries (including China) than the iPhone 5. Second, the iPhone 5 was sold out due to limited supply. At that time, some people were predicting sales of 10 million iPhone 5 for the first three days.
As everyone knows, Apple's financial situation is driven by iPhone sales, which account for approximately 50% of total revenues. The iPhone is the key product in Apple's current strategy. In the future, this situation will stay the same, even if the company launches the iWatch or the iTV.
In the table below, I compute the key numbers for 1Q 2014, namely iPhones Sold, Revenues and Earnings per share. We see that Apple will have to sell at least 55 million iPhones during the period to beat the consensus. It won't be an easy task in today's more competitive market. In fact, Apple's market share continues to decline due to the fact that Samsung's (OTC:SSNLF) Galaxy phones are aggressively priced and come with more trendy features (more pixels, larger screen, extended memory, etc.).

I compute two tables to show how many iPhones Apple will have to sell to beat the consensus. For the first table, I checked sales of iPhones during the first quarter of the last three years and I compare it with the launch of the new iPhone. As you can see in the table, the first three days' sales accounted for 10% of total sales in 1Q. If we assume the iPhone 5s launch didn't occur with limited supply, the proportion would have reached 20%. To match as much as possible the reality, I assume a % sales of 16% for the iPhone 5s/5c, which means Apple will have to sell at least 55 million iPhones to beat the consensus.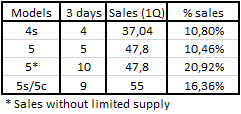 In the second table, I computed the historical iPhone's sales and the % change quarter over quarter. If I take into account the % increase of iPhone from 4Q to 1Q, the iPhone's sales improve by 70% on average. If I apply the same % increase from 4Q2013 to 1Q2014, Apple should sell 57 million iPhones during this quarter. Although it is really hard to predict iPhone's sales, the two previous analysis lead to the analyst consensus, which is approximately 55 million iPhones sold. But, market conditions have changed and this is why I won't use it to make my point.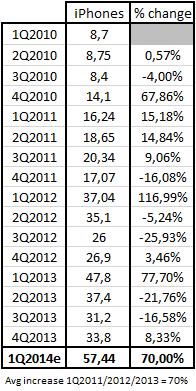 The company won't be able to reach such a number of iPhones sold during the quarter for several reasons. The company cannot grow indefinitely due to its current position and the smartphone market size. The more competitive market will negatively affect units sold and margins, which will impact Apple's financial results. Moreover, Apple might have cut its iPhone 5c production in half due to lower demand.
The only positive catalyst for Apple is China's smartphone market. According to IDC, it is the world's biggest market for smartphones. In 2014, IDC expects shipments of 450 million units. China Unicom and China Telecom are currently offering the new iPhone5s/5c. There are also rumors about China Mobile (the world's biggest mobile operator) carrying the iPhone. Currently, there is no official statement. If China Mobile carries the iPhone before the festive season, Apple could boost its iPhone's sales and deliver a robust quarter (above 55 million units sold).
Conclusion
Apple could be negatively impacted by slower growth in iPhone sales. In my opinion, the company cannot grow indefinitely in the smartphone market area and one day, it will materialize in its share price. However, China's market is one positive catalyst for the company. But, I think the risk/reward isn't attractive at these levels. There are better investments elsewhere.
Disclosure: I have no positions in any stocks mentioned, and no plans to initiate any positions within the next 72 hours. I wrote this article myself, and it expresses my own opinions. I am not receiving compensation for it (other than from Seeking Alpha). I have no business relationship with any company whose stock is mentioned in this article.