How important is TripAdvisor to the travel and leisure industry? I recently went on a short vacation to a place that I read about on the internet. The pictures of the place were fantastic. The restaurants looked superb and the golf course- inviting. Throw in beautiful beaches plus world class fishing and I could hardly wait!
I looked up recent temperatures in the area and packed for 89 degree weather. A comb, a toothbrush, a bathing suit, some shorts, and flip-flops…what else does a guy need?
The flight was great, the weather was beautiful, and the sea was calm. The shrimp and bacon tacos were as good as any that I had eaten. The room was spotless, and the view was spectacular. I was settled in, ready to write my weekly newsletter.
Something was not quite right, however. It seemed like the room was awfully warm. I opened up all the windows to get some fresh air while I tinkered with the thermostat. I figured the room would turn into an iceberg any minute. After repeated attempts to turn on the A/C, nothing happened. Finally, I decided, it was time to call the front desk.
The front desk told me that someone would be down right away to fix the A/C. Eventually the A/C repairman did come. He banged around with his tools for an hour and a half then declared the A/C was fixed and went on his way. But still, nothing.
I called the front desk again. They told me they would be unable to switch my room but that they would send the repairman back. While I was waiting the second time, I logged onto Trip Advisor (NASDAQ:TRIP) and wrote a blistering review of a so-called five star resort! That was the best thing that I could have done.
When I showed the manager my posted review, I was promptly moved to a vacant room down the hall where the A/C worked just fine, thank you.
That review earned me two free nights and three free breakfast buffets.
How important is TripAdvisor to the Travel and Leisure industry?
How about the stock? Is it a Best Stock Now?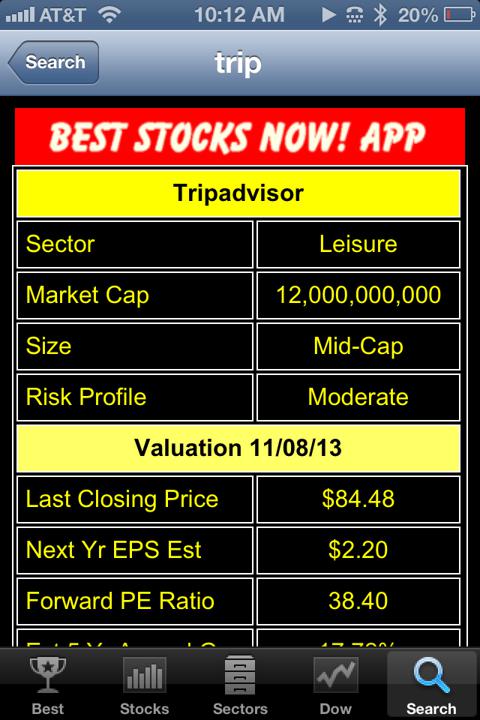 Image courtesy of the Best Stocks Now! App
TripAdvisor became public in December of 2011 at $24 per share. Today the stock trades well north of $80 per share and it is now a $12 billion company.
I cannot help but compare the company to Priceline.com (NASDAQ:PCLN). I wrote about Priceline in my book a few years ago and I continue to own the stock. It has been one of the best performing stock in the entire market over the last one, three, five, and ten years! You can read my most recent article about the stock here.
Priceline continues to possess the three qualities that I demand in a stock: performance, value, and a healthy stock chart.
How about TripAdvisor?
Let's begin with performance:
Performance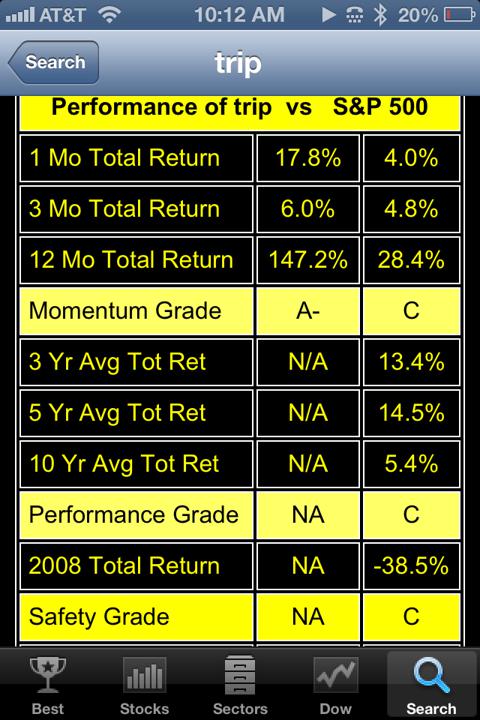 Image courtesy of the Best Stocks Now! App
Obviously, the stock does not have a three, five, or ten year track record yet, but the last twelve months have been sensational. The stock currently earns a momentum grade of A-.
It is nice to have momentum, but value is equally as important.
Valuation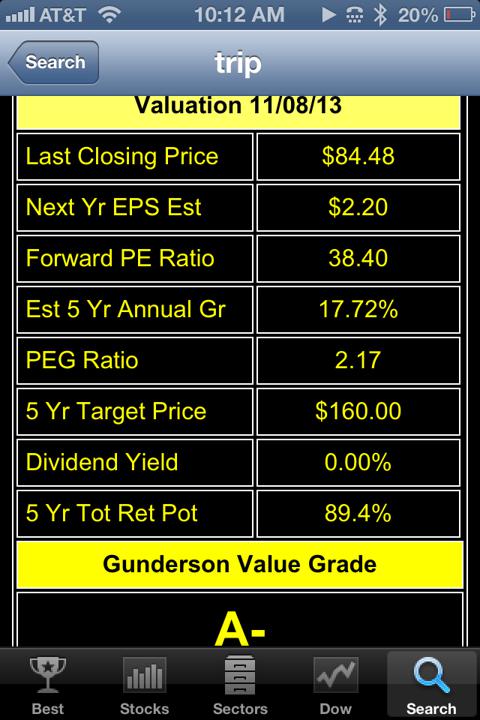 Image courtesy of the Best Stocks Now! App
I use a formula that takes next year's earnings estimates ($2.20 per share) and extrapolates them out by the consensus growth rate (17.7%) over the next five years.
I then apply a multiple that I think is appropriate for the shares and I establish a five-year target price. I like stocks that have at least 80% or more upside potential over the next five years.
TripAdvisor currently meets this criteria.
Stock Chart
Lastly, I like a good, healthy stock chart.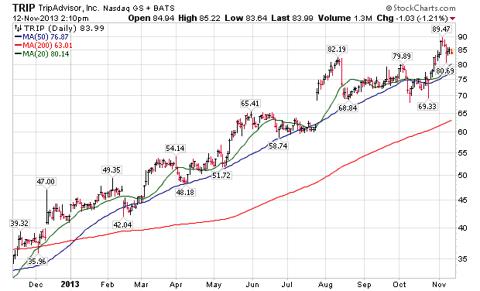 Nothing wrong with this one!
TRIP currently has the three criteria that I require in a stock. That is why I continue to own it here at my firm.
Of the 3,641 different investments that I track daily in my database, TRIP comes in at number 169.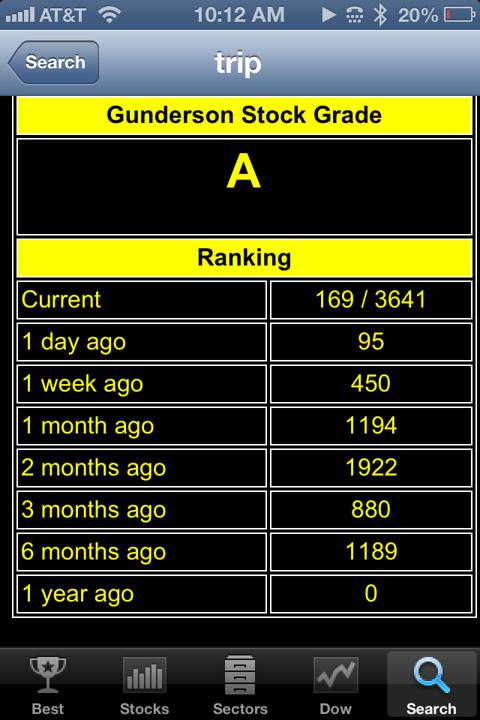 Image courtesy of the Best Stocks Now! App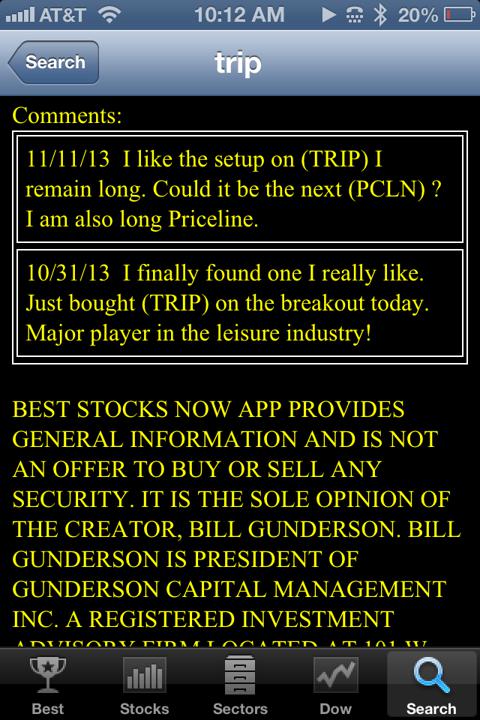 Disclosure: I am long TRIP. I wrote this article myself, and it expresses my own opinions. I am not receiving compensation for it. I have no business relationship with any company whose stock is mentioned in this article.