The third quarter earnings season came to an end Thursday now that Wal-Mart (NYSE:WMT) has released its numbers. Of the 2,268 companies that reported this season, which started in early October, 58.6% beat earnings estimates. Below is a chart comparing this quarter's beat rate to past quarters since 2001. Since the bull market began in March 2009, this is the second worst earnings beat rate we've seen. Only Q1 of this year was worse.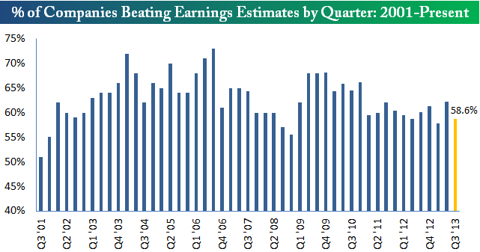 Coming into this earnings season, we had our eyes on two earnings-related streaks. The first was the 8-quarter streak of more companies lowering guidance than raising guidance. Unfortunately, the streak was extended to nine quarters this season, as companies lowering guidance outnumbered companies raising guidance by 4.5 percentage points. When will companies finally offer up positive outlooks on the future?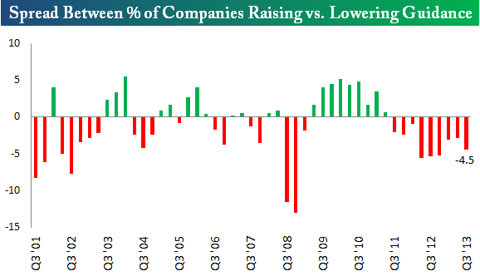 The other streak we had our eyes on this season was the 5-quarter streak of companies reacting positively on their report days. Coming into this earnings season, we had seen companies' average gains on their report days going back to the second quarter of 2012. (For companies that report in the morning, we look at that day's change. For companies that report after the close, we look at the next day's change.) As shown below, this season, the average company that reported declined 0.07% on its report day. Not a horrible reading, but enough to end the streak of gains.