In this series, of which the last segment installment is this piece, I've profiled General Electric's (NYSE:GE) Home And Business Solutions, Transportation, Healthcare, Energy Management, Power And Water, Oil & Gas and Aviation businesses. In this article we'll take a look at GE's mighty Capital unit and assign it a standalone value. GE Capital is a pretty straightforward business; it takes in deposits along with other sources of funding and loans them out. In other words, it operates as a bank. Of course, Capital isn't a traditional bank with branches and is heavy into business lines traditional banks don't necessarily compete in, such as credit cards, but for all intents and purposes, it's a bank.
Note: In order to save some space here, for an explanation of the methodology I'm using to value these businesses, please see Part I, Home and Business Solutions linked above.
Below, I've shown Capital's operating results for the past six years.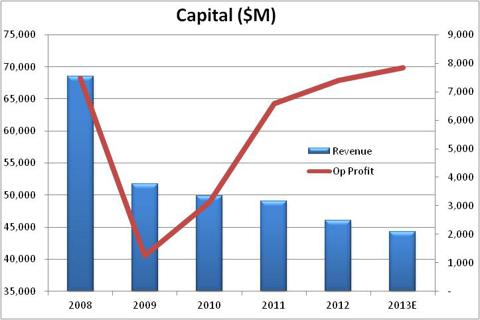 Click to enlarge
(Click to enlarge)
There are several interesting things to note on this chart. First, Capital has been very steadily shrinking its revenue, as evidenced by the columns in the graph. After producing nearly $70 billion in revenue in 2008, Capital is likely to produce just $45 billion for 2013. This is a staggering drop in revenue but the reason is important. Management has made it a goal to reduce GE's reliance on Capital as a source of earnings and in doing so, is shrinking the business. Recall that during the financial crisis GE shares plummeted to $6; the reason was because of Capital. The industrial business, while dinged, was still plugging along. Investors feared the worst regarding Capital and the shares fell precipitously before rebounding once those fears subsided. At any rate, Capital's revenue is falling but it is on purpose, per management guidance, so I'm not concerned. In fact, it's likely a good thing if you think GE should make things instead of run a bank.
Apart from the steady decline in revenue we see an operating profit number that is very interesting indeed. In 2008, when revenue was close to $70 billion, Capital produced roughly $7.5 billion in operating profits. When revenue plummeted in 2009 that same number fell to just over $1 billion, implying significant margin compression. However, what we see following 2009 is extraordinary. Notice that even though revenues are falling steadily, operating profits have ramped such that this year is on track to produce more operating profits than 2008 when revenue was 55% higher. The reason can be seen below.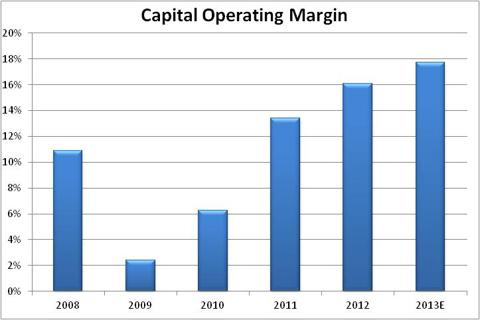 Click to enlarge
(Click to enlarge)
We see the operating margin story play out here and the results are astonishing. Capital has managed to not only recover from the drop in revenues and margins during the crisis but thrive since that time. We see margins increase very rapidly from just over 2% during the depths of the crisis to 6% in 2010 and then more than double that number the next year. Last year and this year have built upon that momentum such that operating margins for Capital are likely to be 18% this year. Consider that for a moment; this business has been shrinking at management's direction for several years now but it is clear it is being done the right way. You need no further evidence than this chart to show that management is keeping only the best business for Capital. Operating margin expansion like this is extremely desirable and is keeping Capital's profits above where they were when revenue was higher by a factor of 50%. So while Capital is being downsized it doesn't necessarily mean profits must suffer as management has taken care to divest only the lower performing lines of business.
So what does this mean for the standalone value for Capital? First, there are many ways to value a bank but in order to keep things similar for the sake of this exercise, I'm going to value Capital based on operating profits and theoretical standalone net income as I have for all the industrial lines of business for GE. If we do this, Capital's estimated 2013 operating earnings of $7.8 billion minus the 25% theoretical tax rate I've been using throughout this series gives us estimated net income in the area of $5.9 billion.
We actually have a peer group for Capital and I've chosen JPMorgan (NYSE:JPM), Bank of America (NYSE:BAC) and Citigroup (NYSE:C) for the comparison to Capital. There are others and you could certainly make a case to include different banks but these are the ones I think best fit in order to compare to Capital. If we look at earnings for these three banks and their respective market valuations, we have trailing earnings multiples of 12, 23 and 13, respectively, for our peer group. JPM has been expanding margins in the past couple of years while BAC and C have been ceding margin. Since we know that Capital has been expanding margins at a rapid pace but also decreasing its revenues, I think an earnings multiple of 15 is reasonable given the peer group numbers and the situation at Capital that I've already explained. If we use this multiple on Capital's earnings we get a standalone value of $89 billion.
To wrap up, in this series I've profiled each of GE's eight operating segments: Home and Business ($3.8 billion), Transportation ($18.6 billion), Healthcare ($38 billion), Energy Management ($1 billion) Power and Water ($65 billion), Oil & Gas ($26.3 billion), Aviation ($72.5 billion), and in this article, Capital ($89 billion). If we take all of these values and sum them, we get a total theoretical standalone value for GE's business lines of $314 billion. This compares favorably to GE's current market cap of $273 billion.
In the final installment of this series, I'll take a look at these comparative valuations and reasons why the discrepancy may exist. In addition, I'll take a look at potential impacts of splitting up the company.
Disclosure: I am long GE. I wrote this article myself, and it expresses my own opinions. I am not receiving compensation for it (other than from Seeking Alpha). I have no business relationship with any company whose stock is mentioned in this article.