Investors were disappointed last week as upscale retailer Coach (NYSE:COH) reported North American same-store sales that were slightly less than analysts estimated. However, results showed the company enjoyed a strong holiday season, and plans to accelerate expansion in Asia should help the accessible luxury handbag maker resume the robust growth investors have become accustomed to.
For the quarter, total sales grew 10.9% from a year ago to $1.065 billion, while earnings increased 11.9% to $0.75 per diluted share. Comparable sales in North America rose 3.2% after four straight quarters of declines, but this was below the 5.1% analysts expected.
CEO Lew Frankfort said: "The consumer in North America remains cautious. She is more value conscious than ever." This relative weakness was evident in the 8% decline in the wholesale business, primarily due to reduced shipments into U.S. department stores. (Click charts to enlarge)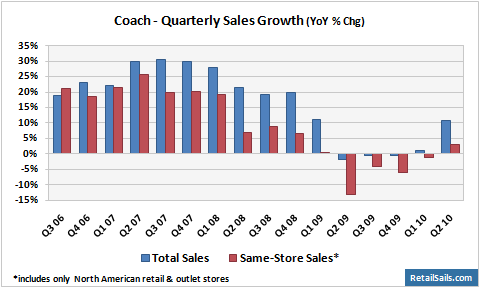 In Japan, sales increased 7% aided by a strong yen, but fell 2% on a constant currency basis. Mr. Frankfort noted that even with the sales decline Coach continues to gain market share "Our growth in market share in this very tough Japanese environment reflects the relevance of our accessible luxury positioning with the Japanese consumer who is becoming more value oriented."
China sales continued to be robust, as the company said: "POS sales continued to comp at a double-digit rate." Four new locations were opened during the quarter, bringing the total to 37, and Coach continues to build out its multi-channel distribution model including flagships, retail stores, shop in shops, and factory stores. Noting the faster than expected growth in this market, the company is accelerating expansion plans and revising its long-range plans substantially higher. Commenting on growth prospects, CEO Lew Frankfort said there are plenty of opportunities in a country with 125 cities with a population of 1 million or more, compared to 50 cities in the U.S., adding:
"Coach's potential in the China market is reflected in our very low unaided awareness of 8% compared with 72% in the US and 63% in Japan among target consumers. What we also learned last fall through our market research is that the Chinese consumer loves Coach.

She rates us highly on all of the attributes she values such as fashion, sophistication, quality, and value and as our awareness increases her future purchase intent is holding among those who have not yet purchased Coach. And among existing Coach China consumers, repurchase intent is surprisingly high at 94%, a higher level than we've experienced in the US or Japan."
The company has been able to build extremely strong brand loyalty, yet have actually decreased advertising as a percentage of sales from 3% in 2004 to 1.6% in fiscal 2009. Traditional marketing has been limited to gift cards, magazine inserts, newspaper advertising and in-store signage, while the company has embraced a digital marketing strategy which it said drove considerable brand interest along with web and store traffic. Mike Tucci, president of North American retail, said:
"We introduced an online gifting application that was interactive and fun suggesting a focused assortment of gift ideas for everyone on your list. Not only was it present on our own website but we launched it on our first iPhone application and through Facebook. In fact Facebook continues to provide us with a dynamic platform to communicate targeted and relevant messages to over a half a million of our highly engaged fans. We launched on Twitter in early October and now have over 200,000 followers there."
Coach has been one of the fastest-growing retailers over the past 10 years, with compound annual sales growth over 20% and earnings growth of over 40%. While traditionally they were positioned as entry-level luxury from a pricing standpoint, the company noted increased brand awareness and penetration through more offerings in the $200-$300 range and factory exclusive merchandise.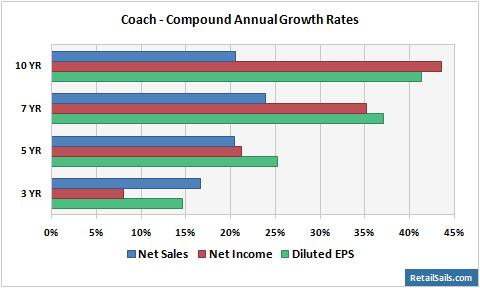 While not immune to recessionary forces over the past year and a half, Coach's multi-channel strategy and geographic diversity helped to cushion the blow from weak North American sales. While nobody is expecting consumer spending to return to pre-recession levels in the near future, the company will benefit from increased brand equity and the growing middle-class consumer base in Japan and China.
Disclosure: No Positions